Does modern technology guarantee cheap quartz worktops?
Quartz worktops were first developed around two decades ago. This fairly simple blend of resin, ground quartz, pigments and other additives quickly revolutionised the worktop market. Until that point, it was natural stone, in form of granite worktops and marble worktops, that ruled the worktop space.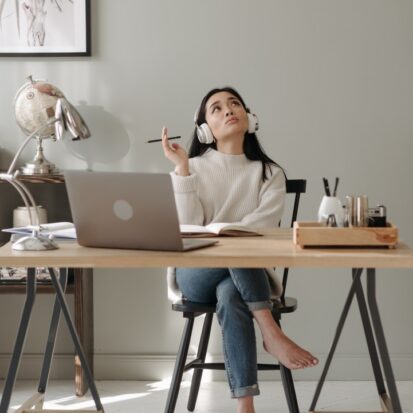 When manufacturers of quartz emerged with their products, boasting their colour designs, the incredible benefits, durability, anti-porosity – many were in awe. The architects, interior designers and individual clients alike. Quartz quickly became known as an almost infallible product which borrowed the range of colours from laminate worktops, and the durability from natural stone.
But it also improved on these attributes – quartz eliminated the need for sealing the solid surface stone; it offered resistance to UV light or 3D depth, as the patterns embedded in resin (like mirror chips or faint sparkle), gave off a tangible, luxurious feeling. People were no longer limited to painted-on, flat designs as with the case of laminate. Quartz truly changed it all.
Evolving technology = quartz affordability and low price worktop guarantee
As with many new, exclusive products freshly emerging on the market, quartz worktops were initially pricey. Mostly because of monopolisation – few companies had the high tech to produce these products back then, and few had the capabilities of creating those near perfect quartz worktop slabs.
However, year by year the technology improved, resources got less expensive and easier to obtain. More and more Companies emerged around the globe which began dabbling in the quartz tech, eventually becoming fully fledged suppliers of quartz slabs.
This healthy competition finally allowed the quartz market to flourish, and for many quartz kitchen worktops UK manufacturers, like ourselves, this was a blessing. By about 2013 we were finally able to offer quartz worktops at really affordable prices, as the cost of a single L-run worktop project fell down by roughly 15%.
Currently, in 2023 the price of quartz worktops is even up to 35% lower than it was a decade ago. These cheap stone worktops are no longer a luxury to possess – they are available for everyone.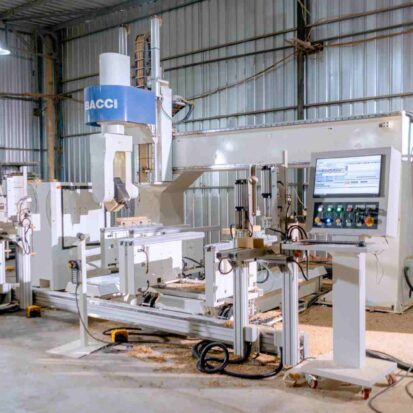 What impacted the decrease in quartz worktop prices the most?
There are many factors which contributed to the massive reduction in costs. As we highlight in this article, the constantly developing technology became more abundant, cheaper to make, acquire, but above all the machines themselves are more efficient.
Nowadays, many stone suppliers use purely CNC machines for production of quartz slabs, therefore the need for manpower during quartz production process has dropped.
The production process has changed. While 10 years ago most machines cut and polished the slabs with classic saws, drills and plenty of water, now the CNCs are equipped with more efficient, eco-friendly and cheaper laser or water-jet technology.
The parts for the machines are cheaper to acquire – better contracts with developer companies, contacts with enterprises from around the world, made everything more accessible.
Shipping costs are now lower than ever, despite of UK exiting the EU. Manufacturers can now purchase whole bulk containers full of slabs at really attractive costs.
Thanks to modern lorries and transport vehicles, the delivery of slabs is quick, efficient and generally a lot cheaper, despite the rise in fuel costs.
How much is the cheapest quartz countertop?
These days, customers can purchase a quartz kitchen worktop set for a small L-shape kitchen for as little as £2.1k . Of course, this final cost will depend entirely on numerous factors: the colour, the brand, the size of the kitchen, template & installation labour, your location etc. If you wish to get a more precise price plan for your quartz worktops project, we cordially invite you to try out our online quote calculator. If you contact our staff directly, they will also generate you an individual quotation.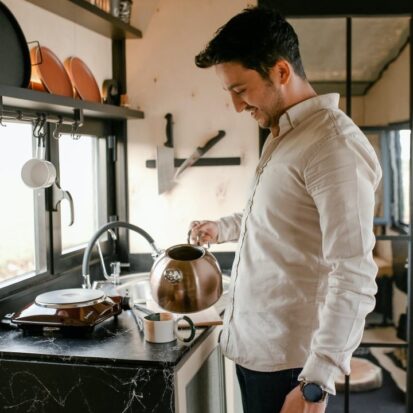 The mere fact that quartz – an ever lasting, non porous, durable product that repels damage and survives generations – is available for around £2k is incredible. Some sofas, which probably last 5-6 years max in a decent condition, will set you back around £2k. Meanwhile, quartz stays with you for a lifetime.
Which stone worktop is cheapest as a result of technological advancement?
Both quartz and granite have benefitted sufficiently from the technological boom in the last decade. While the production costs of quartz are lower than ever, which decreases the overall price of quartz slabs, granite was indirectly – and positively – hit by this factor.
Yes, the granite quarrying process has also been more efficient in recent years due to better, reliable machinery. However, the increasing popularity of quartz has certainly pushed granite aside a little in terms of purchases. We have observed this as well – far more people demand the synthetic, man-made quartz work surfaces which don't require sealing and colour fluidity and availability is more flexible.
Granite, after all, is probably limited to 50-60 colours max, since it's naturally mined product; its patterns produced not by professional designers, but mother nature herself. Quartz suppliers, on the other hand, boast a collection of 500+ colours – everything from grey shimmer to white Calacatta marble look types and designs.
This meant that suppliers of granite had to find ways of encouraging more people to purchase natural stone – one way to do that was to make granite a price competitive product. The sealants are also easily acquired and cost less than £10. This quartz vs granite competition, therefore, resulted in a general decrease of worktop prices. Us, manufacturers of solid surface stone kitchen worktops and you, the customer, have benefitted from that.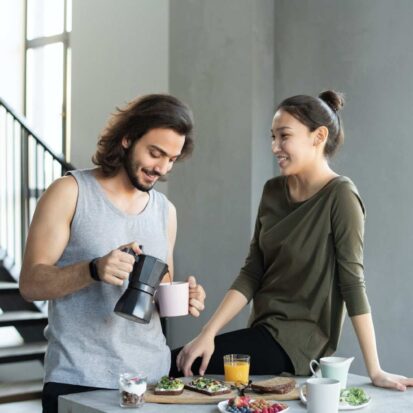 Presently, in 2023 you can find granite colours, like Absolute Black (or Indian Jet Black) which can also be purchased for also as little as £2.1k (for a small-to-average kitchen). All in all, both granite and quartz are cheap stone worktops that can save you a lot of the budget when refurbishing your home.
Ceramic worktops – something that quartz used to be
Ceramic worktops, like Dekton, Neolith or Marazzi currently find themselves where quartz industry was a decade ago. The technology is still relatively new – the competition is gradually increasing, however it's not making much impact just yet.
The average price of a ceramic worktop is still roughly £2.8k. Some are cheaper, others cost even more. We predict that this will change over time, as technology progresses and more suppliers battle it out with their products.
Certainly, the novelty of this product and the complex technology of combining extreme heat and pressure compression to produce these stone slabs, still prevents it from levelling the prices of granite, quartz or marble. Despite that, we are confident that the time of affordable kitchen worktop from ceramic will come soon.