Back
Quartz Worktops Bristol & Granite Worktops Bristol
Operating areas:
West Yorkshire
Merseyside
Lancashire
Greater London
Dundee City
Wales
Bristol
Greater Manchester
West Midlands
Newcastle City
Cheshire
Nottinghamshire
South East
Cambridgeshire
Staffordshire
Yorkshire
Contact us today and receive an instant, free quote for your quartz worktop or granite worktop. Select your favourite stone, familiarise yourself with our great kitchen worktop prices and place an order, without any further hassle.
We carry out the rest: from ordering the granite slabs, to templating your kitchen and fitting the quartz worktops in a professional, efficient manner.
Receive your high quality Bristol quartz worktops in under 7 days:
Polish Granite LTD is one of the primary suppliers of natural (granite) and man-made (quartz) stone in the South West of England: Bristol, Bath, Wiltshire, Somerset, Gloucestershire and many others in that region. We boast high grade products,  friendly and efficient all-around service and quick delivery and installation times.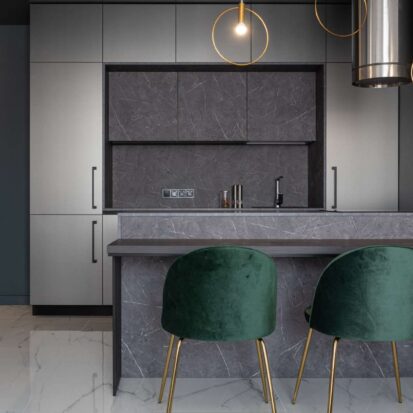 We offer various stone-related products: from granite chopping boards, quartz bathroom cladding, fire surrounds, bath surrounds, fireplace hearths, kitchen flooring and windowsills to quartz sinks or an entire range of vanity units. All of these can be created from our range of available offcuts. Custom, bespoke requests are always welcome.
We predominantly specialise in the full production of granite and quartz worktops – for kitchens, bars, receptions etc. Polish Granite's limitations are few, and we respond positively and ambitiously to any request – from individual trivial demands, to huge commercial company-specific requests!
Granite worktops Bristol and Quartz worktops Bristol – Why choose Polish Granite?
Our stock is filled with only top-quality slab materials derived from vast European suppliers who have garnered themselves many positive opinions across Europe, especially in the UK. Our products are reliable, non porous and extremely resistant to UV light or harsh weather conditions. Not to mention they are scratch resistant, heat resistant, stain resistant and impact resistant.
Our renowned quartz, granite or ceramic worktops materials are unfailing products and for the last 17 years graced thousands of households in this country alone. The extensive range of our colours is immense:
The likes of Levantina and their classic Star Galaxy granite that brightens up any interior;
Silestone and their iconic, polished black, veiny Marquina quartz;
Neolith's commonly purchased concrete-lookalike Beton sintered stone;
Compac's pure, grainy and shimmering Lactea quartz, known for its depth and beauty;
Fugen's fantastic selection of beautiful marble-lookalikes e.g. Superior Calacatta quartz.
Every single worktop surface colour you have seen on the internet or had envisioned in your Bristol kitchen, is available for purchase at Polish Granite. Even natural stone, like marble or granite which is still frequently purchased, can be ordered with our company and installed at your place.
Please bear in mind that we also tackle various large scale products e.g. commercial bars, flooring in banks, shopping centres or even cladding of reception desks. Creating and fitting your new kitchen worktops is merely a small part of our weekly routine. Our team is very flexible, while our friendly staff will accept almost any project or demand.
FAQ – Answering your Kitchen worktops Questions
'When can we deliver your Bristol granite or quartz worktops?'
Usually a week after templating is finished. Whether you live in Bristol centre or surrounding areas, the time won't differ. Once you receive a price plan from us, we'll arrange to measure your kitchen cabinets accordingly, and thereafter begin the cutting of a given quartz or granite material. Our worktops fitters will be with you either 5-7 days later to complete the bespoke Bristol granite worktops installation.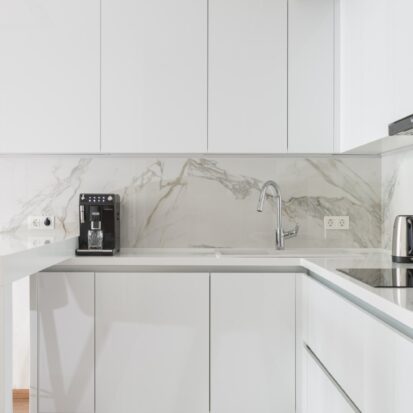 'Why Polish Granite stands out from local kitchen worktops Bristol companies?'
It's simple. As mentioned above, we are very fast at what we do, surpassing most companies who are based in Bristol and South West of England. This is because we employ skilled and efficient masons & fitters, each with at least 15 years of experience in the trade. All of our staff have dedicated time and effort into the granite and quartz worktops business.
What's more, the prices offered by Polish Granite for worktops project completion are very attractive. This is because our company has existed on the British market for over 16 years now. As such, we have been granted multiple discounts by every stone slab supplier based within the UK.
Besides, we only aim to earn enough profit to sustain the granite & quartz business, and therefore can allow ourselves to cut down on the costs we charge our customers.
'Do you have a Bristol showroom where I could view the granite samples?'
Unfortunately, we do not yet have a showroom in the south of England. Albeit there are plans to open one in the near future.
However, if you request a quote from us for a new worktops colour you like, and our prices convince you, we will send you a special sample via post. For now, however, we kindly ask all of our customers from Bristol and local areas to browse our digital sample gallery. Indeed, the samples do not always reflect the true nature of the stone, but as we said, if something really catches your eye, we'll send you a sample right away!
We also encourage everyone to view our project galleries on this website, or our Facebook page. Large, HD images of our past jobs should help you visualise how each colour looks in real life. The 3D Visualisation tool available on our Sample Gallery also facilitates that immersive, digital browsing process.
'Does Polish Granite supply the latest engineered stone surfaces?'
Of course. Our relationship with suppliers like Compac, Caesarstone, Neolith, Cosentino, Fugen and Technistone is exceptional.
We have the representatives of these companies visit our showroom at least once a month, bringing us brand new quartz samples and ceramic samples of the newly released (wide array), of quartz worktops products.
Many bring great quantities of such quartz and sintered stone samples, so we can hand them out to our customers. Others hand out various catalogues where the quartz / sintered stone palette is showcased, the design process is outlined and the exemplar kitchen worktops with quartz materials are detailed.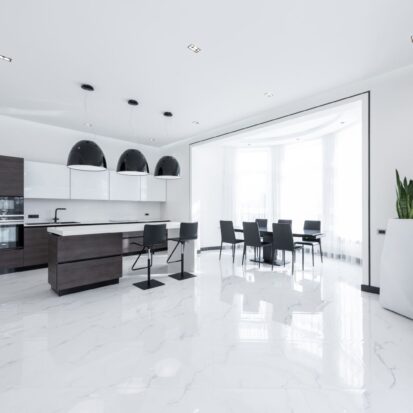 Our quartz showroom is filled with an abundance of the most recently designed quartz / sintered stone colour samples. The following, classic products are also displayed:
Compac's Ice Genesis or Unique quartz range, Thomas Group's Atlas Plan sintered stone colours, Levantina's Techlam solid colour ceramic collection, and Fugen's brand new marble lookalike quartz options.
With Polish Granite, you will be able to acquire the newest, state-of-the-art quartz materials – a true definition of contemporary modernism.
Although, please bear in mind that we do not supply Corian products.
If you think your kitchen could require natural stone kitchen worktops, call or email us!
Contact us today either via phone, email or the numerous contact forms on this website if you require stone worktops.
Our staff can help you with figuring out the budget, creating a custom quote, explaining the cost, or picking the right material from a range of elegant styles and patterns.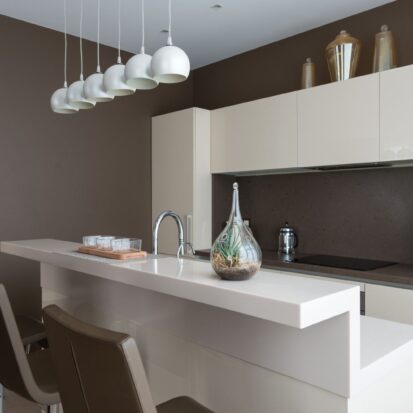 How we can thank our customers for choosing Polish Granite:
We aim to deliver you, our customer, the best possible service. We can guarantee that we will execute all high quality worktops in Bristol with swiftness, care, precision and the finest accuracy.
Our team of professional experts are always available should you desire some help, further info, consultation or advice – in regards to anything stone-related e.g. choice of quartz colour or colour matching solutions.
Our company employees will grant you a smooth, down-to-earth and pleasant service. From start to finish.
However, on top of that, we also gift every Bristol customer a free chopping board, made from the same material as your stunning worktops. We also give out a special cleaning spray for your quartz or granite tops, free of charge! All of it will be handed to you at the end of the Bristol quartz worktops installation.
Latest Granite, Ceramic or Quartz Materials Available For Purchase! Contact Us Today!
For more information regarding our all our granite worktops projects, be sure to view our Facebook & Twitter pages, or our website gallery. Lastly, we welcome you to explore our testimonials: either click here, or visit our Google Reviews, Yell or Facebook pages in order to find out how we've fared with the Bristol customers over the years!