Back
Granite worktops Preston & Quartz worktops Preston
Operating areas:
West Yorkshire
Merseyside
Lancashire
Greater London
Dundee City
Wales
Bristol
Greater Manchester
West Midlands
Newcastle City
Cheshire
Nottinghamshire
South East
Cambridgeshire
Staffordshire
Yorkshire
Polish Granite – Top suppliers of quartz and granite worktops in Preston and surrounding areas
Polish Granite LTD is one of the leading suppliers of granite worktops across the North-West of England, and in particular the county of Lancashire.
We operate virtually anywhere, throughout the UK, visiting our customers for quartz worktop and granite worktops installations across the county: from rural areas like Ribchester to cities & towns like Preston, Blackpool, Bolton and Blackburn.
Our primary goal is to distribute high quality, man-made and natural stone material to clients that desire such for projects such as kitchen worktops, wall/floor cladding or smaller projects such as granite / quartz windowsills, coffee tables, chopping boards etc.
Why Polish Granite provide a reliable granite & quartz worktop service:
We have an extensive knowledge in regard to stone and the field of masonry. Each of our employees possesses 10+ years of masonry and fitting experience, which why we are able to tackle virtually any challenge and complete the process with full confidence, flawless precision and customer satisfaction.
We only deal with the most prestigious granite and quartz brands. From Silestone quartz to Levantina granite and Dekton ceramic. Our company manufactures long-lasting, extremely durable, non porous materials that are made to withstand scratches, stains, or signs of wear & tear.
We deliver our products throughout the UK, not just the Preston area. Not only that, we distribute our granite tops in a timely fashion, as agreed with the customer. There is very little hiccups to our way of working and our ethos has always been to provide a start-to-finish service that will bring our clients utmost satisfaction.
Our granite worktops templating and installation services are unerring. We'd rather spend a little longer finishing everything off than make errors and blunders that could work out quite costly. As such, our granite tops are fitted with care and precision on levelled kitchen cabinets, while the joins are almost seamless.
Why you should choose Polish Granite granite & quartz worktops in Preston?
1. We have one of the biggest sample choices in the North West
Our assortment of kitchen worktop products is incredibly impressive. Our Preston showroom contains over 400+ samples of engineered stone like quartz & ceramic or natural stone, such as the beautiful granite and marble.
In terms of colour, there are solid colour / homogenous granite & quartz worktops varieties, mineral-rich styles and marble-lookalike imitations, among many other patterns and colours. Feel free to visit our showroom, explore our entire range of materials, pick up a free sample and choose the granite tops you prefer!
2. We only deal with reliable, quality stone
Our granite worktops and quartz worktops are only made from premium grade stone. We don't bother with recommending cheap stone at a cost of loss in quality. We only promote hard wearing granite tops from trusted, leading UK suppliers such as Silestone, Caesarstone, Neolith, Dekton, Fugen, B-Stone, among many others . . .
The surfaces produced by these companies have a wide renown. Their product are infallible, tough, long-lasting and requiring low maintenance. High quality, resistant granite & quartz products that aren't only steeped with sturdiness, but also incomparable and elegant beauty that cannot be matched by wood worktops or laminate worktops.
What's more, the granite worktops we supply are genuine and authentic pieces of rock quarried from various deposits, then certified and distributed across the world, UK including. They're not replicas that will display an immediate sign of weakness.
In this industry, we want to lead by example and strive to be a business that stands out above the rest when it comes to high standards of quality goods & service.
3. We grant you a free, instant quote
If you visit our Preston showroom, Matthew (the branch manager), will prepare you a comprehensive, detailed free quote that, apart from displaying the granite prices, encompasses all of our services: from templating to fitting and installation.
4. Superb, competitive and affordable prices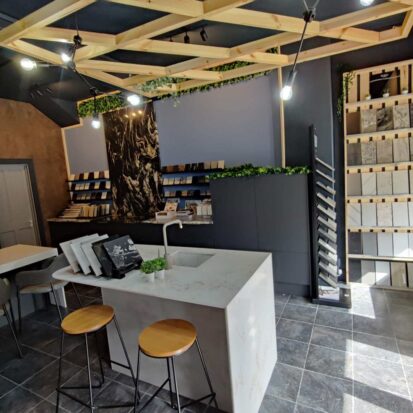 It must be mentioned that our company offers one of the best prices in Lancashire, North West and potentially even the whole of England. We are constantly praised by our past clients for not only the great granite & quartz all-round service, but fantastic prices that are rarely matched by our competition.
An overall price for your new kitchen worktops Preston will depend first and foremost on the material you purchase (i.e. colour, brand, composition) and the size of your kitchen. After all, if our customers have a large kitchen, naturally more material needs to be ordered and the price increases.
Regardless, we can supply your beautiful granite worktop, ceramic and quartz worktops at an amazing, affordable price that matches your budget. We can suggest high quality yet well-priced products. We can limit your costs by providing discounts on installation and templating services. We only provide honest quotes that reflect true quotes, making minimal profit just to ensure you get the perfect quartz worktops Preston in your home.
We have a Preston showroom! All are welcome to visit! No appointments needed.
We welcome all to visit our granite worktop and quartz worktop Preston showroom located at 415 New Hall Ln.
The immense choice of stunning samples and their textures
We display hundreds of quartz and granite tops samples. Our manager, Matthew, can provide you invaluable advice – not only regarding insight on engineered stone but interior design, kitchen cabinets, or even the fitting and logistics process!
In you showroom you'll be able to browse through and feel all the quartz and granite samples. You'll be able to gauge all the different finishes (from smooth, polished textures to rough, riverwashed Dekton finishes).
You are free to inspect our popular choice varieties and our beautiful granite best sellers – but above all, see in real life how stone can be utilised for worktops Preston, flooring and cladding.
The visual display of our workmanship
After all, the granite & quartz showroom itself uses a visual-learning method. Samples aren't always enough to showcase the true potential and magnificence of quartz worktops. That's why we ensured to layer our island, walls and flooring with such stone material, allowing you to see how our craftsmen can manufacture the product to suit any project.
We have a kitchen island containing some countertops, wall cladding that boasts our best-selling ceramic materials, a reception desk that showcases the intricate details of our unique range of colours and even bathrooms with small accents. When you enter the interior, you are instantly presented with choice and a display of possibilities.
Pick up a free quote for your quartz worktops or granite worktops project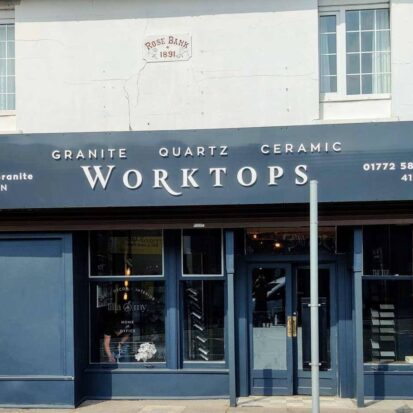 Upon entering, our manager will first help you pick out your favourite colours.
Once that is narrowed down, you will discuss all the project details. Then kitchen plans, your location, details that you require (e.g. side panels, undermount sinks, supply of upstands etc.). Once the specifics are covered, Matthew will prepare you a comprehensive, free quote for the given project.
It really is as simple as that, and depending on how long you take to pick out your optimal samples, the price quotation process takes no longer than 10 minutes.
What happens after the quote?
Well, if you like the price and the detail remains unchanged, you may contact us either over the phone or by coming in again to discuss the future process.
Once we know that you are happy to go ahead, we will order the slab of your chosen material. In the meantime we'll book you in for a quartz worktops template, a process during which we measure all of your kitchen surfaces to understand how exactly we should cut the slab into full fledged granite worktop surfaces.
Once the templating is complete and the slab is cut into appropriate pieces of worktop surface, we pack everything up to our van and with our man-force travel to your property and thereafter begin the Preston countertops installation process. This travel-to-fit process takes roughly 3-5 hours. It all depends on the size of your kitchen our our destination to your local Preston area.
What is our quartz worktops Preston turnaround?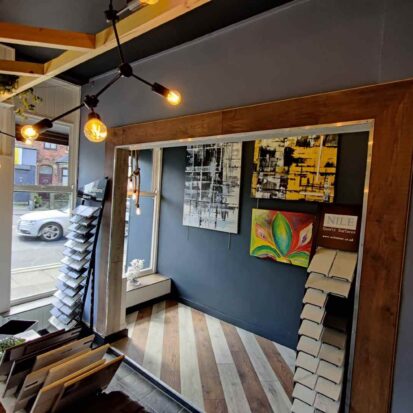 We try to complete every job we get, from day of templating to installation within 7 days. Of course, that is still a flexible estimate. During busy periods of the year e.g. Christmas time, our turnaround might take up to two weeks, but this is a max. We rarely go above that fortnight period unless a customers home is located somewhere in Scotland or Cornwall.
For local jobs, as the one in Preston, we can safely say that we complete the template to installation process within 7 days.
Granite worktops Preston – Contact us today!
Be sure to contact us and ask for professional advice if you have any enquiries. You can speak to our professional staff & advisors who specialise in all topics concerning interior design.
Our team not only comprises of experienced fitters and masons, but also a variety of energetic and vigorous customer service assistants who will be willing to help you with any queries or arrangements.
Don't forget, our team also provide you with a free quote for your individual, granite worktops Preston. The same applies for a free sample, if we have any granite and quartz duplicates in our Preston showroom.
Alternatively, you could simply visit us and check out the granite, quartz and ceramic samples for yourself!
Our Showroom Details:
415 New Hall Ln, Preston PR1 4SY
Phone: 01772 584588
We are open Monday – Friday 9am – 5pm & Saturday 9am – 1pm