Back
Quartz worktops Manchester & Granite worktops Manchester
Visit our Manchester showroom and pick your granite or quartz worktops sample!
Operating areas:
West Yorkshire
Merseyside
Lancashire
Greater London
Dundee City
Wales
Bristol
Greater Manchester
West Midlands
Newcastle City
Cheshire
Nottinghamshire
South East
Cambridgeshire
Staffordshire
Yorkshire
Offering best stone worktop installations in the North West
Manchester, or specifically Salford, has been our home base for over a decade. During this time we installed thousands of kitchen surfaces, whether it be granite worktops, quartz worktops or even sintered stone products like ceramic.
Polish Granite always strives to provide top grade service, to individual customers and big corporations alike. We pride ourselves on the range of fantastic feedback we receive & aim to continue the excellent granite worktop service for decades to come.

Our granite worktops and quartz worktops range of products is wide and extensive. You may choose highest quality materials like mineral-rich natural stone, or high quality kitchen worktops like the marble-looking synthetic quartz worktops Manchester.

Whether you choose granite, quartz or ceramic stone, your kitchen worktop can be delivered to any UK location within less than a week. And the order-to-fitting process is always simple and stress free, guaranteeing highest levels of customer satisfaction.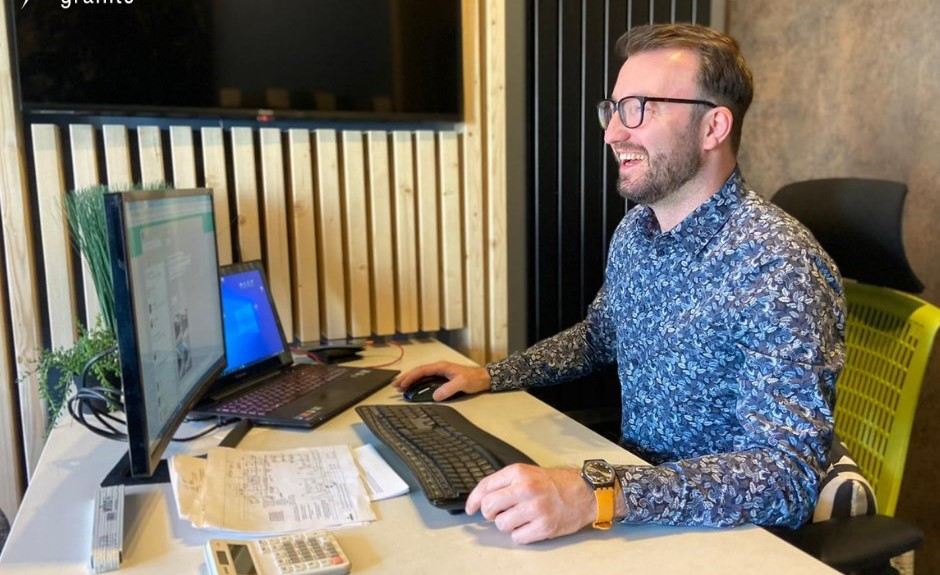 Polish Granite's working methods guarantee efficiency and reliability
After 14 years in the marble & granite worktop market, we developed an organised system which ensures all kitchen worktops & related services are smoothly undertaken + well executed.
Following the quartz worktops installation, we want our Manchester customers to remain satisfied for years, if not decades, with their new worktops Manchester purchase.
What to expect from our kitchen worktops in Manchester service:
Our friendly staff complete accurate and attractive quotations that customers receive instantly after providing us their kitchen plans. We offer the most competitive, best price in the area for Manchester quartz worktops and the like,
We arrange quick quartz worktop Manchester templating and installation dates + always aim to set a turn-around of 5-8 days max,
Due to vast experience of our professional fitters, we template the kitchens (big and small) in as little as 1-2hrs, with our team always arriving in a timely, pre-arranged manner. We measure, inspect the kitchen cabinets, provide practical suggestions, recommend decent solutions. As well as explain last requirements, create templates and deliver them back to our workshop,
Our installations last between 2-3hrs, with our team coming prepared and carrying out the job without any delays or complications. We give the kitchen cabinets a last check, fit the granite, quartz or marble worktops, join them with specially-pigmented glue, give the quartz worktops and the whole vicinity a thorough clean and be on our way,
Enjoy your highly durable beautiful Silestone / Compac quartz worktop material – we ensure the brand new materials may last you for decades, and your experience with our work process is flawless. We'll help to choose your quartz worktop sample, plan out your kitchen worktops, select the cheapest under mounted sink solution and have your stylish quartz worktops installed in no time.
Not just marble, granite, quartz or ceramic worktops . . .
Besides supplying worktops in Manchester UK, we take other projects on board. Stone offcut services, deliveries, professional repairs, worktop modifications or dismantling of existing granite worktop or laminate worktop clad kitchens etc. We fulfil all of that with minimal wait time, and small costs.
We also provide invaluable help and advice regarding interior design. We'll use our experience to tell you which quartz worktops suit which cabinets. We'll cover all your kitchen dimensions & sizes to recommend optimal design solutions – to ensure everything fits like a glove – aesthetically and functionally.
What benefits do Polish Granite services offer?
Stunning product range & finishes that fill kitchens with a symphony of bespoke uniqueness and awe-inspiring visuals.
A selection of durable stone brands that collectively boast hundreds of durable (hardwearing like diamond) product options.
A cut to size granite service. We manufacture all worktops according to an individual template recorded in your kitchen.
An efficient, friendly service that relies on good time management, invaluable consultations and masterful job precision.
Competitive prices for a massive range of granite, quartz and ceramic product types. We'll try to match any best price.
Frequent consultations. Simply pick up your phone or send us an email and we'll be at your disposal 24/7.
Send us your kitchens plans and we'll have a free granite quote estimate prepared in little to no time.
We deal with small clients and large business partners, regardless of location.
Visit our Manchester showroom. Our customers require no appointment to pick their Manchester quartz tops.
Our specialists will gladly answer all your questions and try to directly solve all dilemmas or difficult cases.
We tackle and cut to size any custom project: from polished dining tables to fitted granite worktops Manchester.
Public spaces like banks or humble home environments – we'll be there to execute any challenge.
Such policies make Polish Granite LTD a truly one-of-a-kind masonry company – and the feedback we receive proves this.
Our granite worktops Manchester get delivered everywhere:
We have strictly adhered to the model presented above, and thus far successfully realised thousands of projects across the whole of UK – especially in Greater Manchester: Salford, Bolton, Rochdale, Prestwich, City Centre, Chorlton, Oldham, Ashton and other suburbs. Our work stretches to London, Liverpool, Cornwall England or even Scotland.
Such ethos is precisely why our company has been dubbed a well-grounded and devoted granite / quartz worktops stone masonry firm. And the reviews we get reflect our style of work, but not only . . .
Our quartz worktop Manchester product range
For a long time, we've been cooperating with only the most prestigious, trusted granite and quartz Manchester partners who supply us with the highest quality, durable natural stone. These slabs are quickly delivered, manufactured by us into kitchen worktops and distributed across the UK.
That's why within less than a week, we are able to supply you a new kitchen worktop that won't scratch, blemish, stain or chip. Granite & quartz materials assist you with an easy, happy life, turning your kitchen place into an enduring playground for cooking.
Wide choice of stone worktop colours
Upon entering our showroom, you'll be greeted with hundreds of quartz, granite or ceramic samples. This colour range is supplied by around 25 different companies – our partners that we wholeheartedly trust and who have been providing us with resistant worktops material for decades.
Our branded quartz worktops and granite worktops form a comprehensive palette
Our customers are free to explore our range and pick anything from white marble looking quartz countertop with veined patterns to plain, black Manchester granite worktops that embellish any kitchen design environment.
Our showroom is filled with a range of samples, therefore you may browse any colour in real life before we supply you the quartz worktops Manchester.
We provide far more than simple granite quotes for kitchen worktops Manchester
The experience, knowledge and passion emanating from our office team is astonishing. Each person working for Polish Granite is equipped with at least 8 years of experience in the quartz worktop trade, therefore we can help you with little enquires and large-scale, complex questions.
And not just the questions relating to ceramic, granite, quartz countertops Manchester. We are well versed in the field of interior design; we are able to help you pick the best colour schemes, contrasts or styles. We know what is trendy and what design choices are slowly becoming obsolete.
A wide network of people that can help you with renovation
We know what trends architects should select and what individuals, with small homes should avoid. In fact, we can even set you up with fitters, carpenters, painters or decorators to help you achieve the project of your dreams.
Our contact network is impressive. So remember, if you are looking for a quartz worktop Manchester, with us you can get much more. . .
You are welcome to contact us via phone or email. Alternatively, please get in touch via one of many contact form fields leading to our mail distributed across our website – we will try and respond instantly.

FAQ: Do we supply anything other than kitchen worktops in Manchester?
Absolutely. We have a stock of around 500+ kitchen worktop offcuts that we can turn into any creation imaginable.
A granite windowsill, a chopping board, speaker stands, shelves – we even provide floor, roof and wall cladding services. You send us the plans, choose your given offcut and we'll take care of the rest.
Feel free to browse our Gallery for a portfolio of most images from our past and present projects.
Granted, beyond granite, quartz or ceramic, we do not supply any other materials like laminate worktops or Corian worktops. In our opinion such materials are inferior products that will last you 5-6 years max. Especially Corian worktops, which are known to scratch, bend and stain.
Apart from installing kitchen worktops in Manchester, cladding and custom granite offcut supply, we can also arrange other design services for you home or workplace.
We have very good networks with experienced tradesmen who are able to design and fit your kitchen cabinets or create a steel metal frame for your bar or dining table . . .
If you are interested in anything other than Manchester kitchen worktops, please get in touch. We'll provide you a competitive quote, calculate your quartz worktops project cost or source third-party help for any other home refurbishment solutions.
You can also visit our showroom to discuss in person any home design ideas or bespoke garden designs. During the consultation, our staff will advise you with any concerns.
So, get in touch with us today!
Our opening hours range from Monday – Friday 9am – 5pm & Saturday 9am – 1pm.
FAQ: Why we provide swiftest and most reliable granite quartz worktops service in Manchester:
We have been told on many occasions (by past and present customers) that it is rare nowadays to find a quality Manchester company who will carry out complex procedures such as renovations or installations from start to finish without any major issues or obstacles arising along the way (e.g. delays, price changes, final effect lacking lustre etc.).
But we break that stigma by simply doing what we do, as well as we can do it.
When you receive your free quartz worktops quote from us, it will detail the final price for everything that you've requested e.g. VAT inclusion, delivery and fitting price for your kitchen worktops etc.
And whatever the Manchester quartz worktop quote details, will be implemented with no issues!
It's our family business mentality and a composition of an experienced, honest team that allows us to stand out from our competition.
We do not pull off pricing tricks, we are honest and open about delivery & installation dates, we are transparent about your project and always try and provide valuable advice: from the choice of product & colours, to kitchen design ideas.
Not to mention we provide a quick quartz worktop delivery – even during busy periods (usually August to December). Our quartz worktops installation Manchester turnaround ranges between 5 to 7 days, all depending on your location.
Polish Granite offers huge savings, fantastic service, loads of custom stone solutions, highest quality worktops in Manchester and hands on experts workforce that will guarantee a perfect fit, plus safety and longevity of your product.