Manufacturers of bespoke granite, quartz and sintered-stone worktops. Delivering goods across the whole UK!
Polish Granite:
Receive a free quote
Select Your Quartz, Ceramic & Granite Kitchen Worktops
Browse our plentiful collection of stone material samples,
choose your favourite ceramic, quartz or granite worktops colour,
meet your price budget by looking at our competitive prices,
order with us to complete your dreamy kitchen work tops,
rely on our fabrication & installation expertise to obtain the best possible worktop service.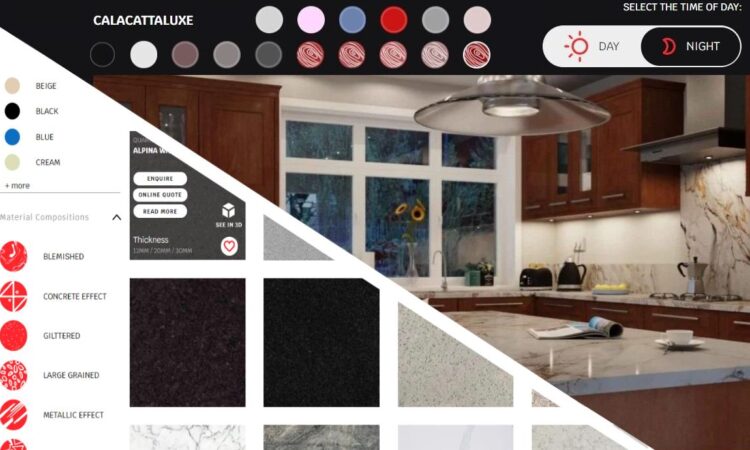 Browse our digital samples & view your favourite colours in a rendered 3D Kitchen Worktops system
Show more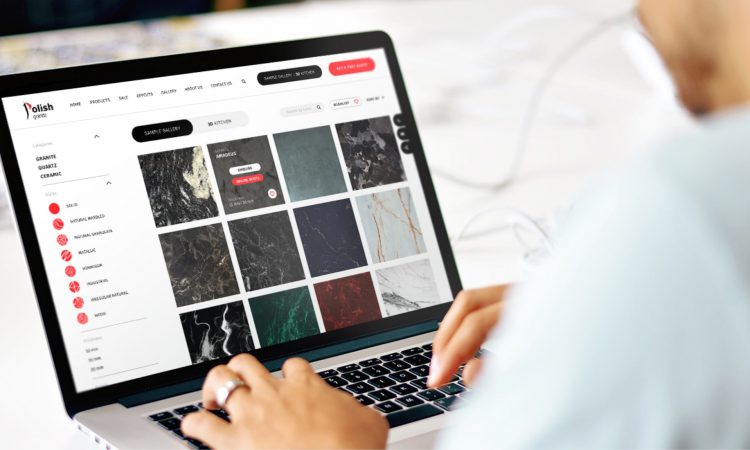 Select your favourite worktop material and generate an instant estimated quote
Show more
Check out our wide selection of available offcuts
Offcuts
Enquire about the discounted offcut prices here:
Why order your worktops with us?
What makes us unique?
About Us
We offer one of the best prices in the UK; dedicate ourselves towards each project; complete each job in a timely manner;
execute each worktop in a professional way . . .
Read more about us
What's our work process?
Select Your Stone
Select your favourite material in our physical showroom or online Sample Gallery
Receive a Quote
Allow us, or our Online Quote system, to prepare you a price plan for your selected material
Templating
Once you accept our quote, we'll visit you for a template to measure up all your cabinets
Installation
During the Worktop Installation we fit the worktops fashioned from your selected material
Enjoy!
After 5-7 days since templating, you can enjoy your kitchen surfaces for years to come
Why choose Polish Granite?
Our Work Ethos
Polish Granite LTD strives to provide each customer a top quality, full kitchen work top service, from start to finish. From granting you access to a wide palette of granite, quartz, or ceramic products, to offering cheap worktop prices and using our 16 years of professional expertise to deliver + install kitchen work surfaces at your property.
Our professionally trained team works consistently and use their experience to match the highest standards in this industry. They utilise our high-tech tools and collective knowledge to ensure your stone kitchen worktops meet all your expectations. Our primary objective is to complete your desired kitchen tops project quickly, efficiently, with care, and utmost excellence!
We aim to grant our customers the best possible quotation cost and offer the cheapest worktops possible. Our primary business goal isn't to achieve much profit, but to match your budgets and enable you access to high quality kitchen countertops for a relatively decent price.
Our Service Across the Whole UK
We deliver our granite, ceramic, and quartz worktop goods across the whole of UK, even remote places such as the Isles of Wight, Man, and Scottish Highlands. Our timely installation, templating, and delivery service is always met with complete satisfaction of our customers. All information regarding our most commonly visited places can be found on the Operating Area webpage.
Our Breadth of Abilities
Our specialisation extends beyond the creation of worktops for kitchen projects. At Polish Granite LTD, we stock a wide range of offcuts composed of ceramic, granite and quartz, which can be cut an polished to match any custom dimension & design. These mini projects may range from breakfast bars, utility room work surfaces, bathroom vanity tops or tiling, windowsills, fireplace encasings to external BBQ kitchen worktops, coffee tables, splashbacks and many, many more.
Any imaginative design style or ideas for internal or external application can be requested on our website. The skill of our fabricators has no limits – we tackle any requested project, irrespective of its complexity. Please visit the link above to fill out an online form or contact our office via email / phone to enquire about advice, colours and availability of materials.
We help you out before you even contact us
Not only our staff are an open encyclopaedia of stone-related & home design knowledge – at your disposal at any moment – but our website is designed specifically to provide you as much help as possible, before you even get in touch.
Our Online Quote system is currently unmatched on the British market. Nowehere else you'll be able to create multiple quotes, for multiple colours & thicknesses at once, without using our help. Our price calculator system is extremely simple, not to mention it gives you the ability to compare up to 9 different prices. All of that can be done in measly 5 minutes.
We offer a one-of-a-kind 3D Kitchen Visualisation system for 90% of all digital colour samples. That means you don't just have to rely on a square sample when choosing your colour, you can visualise it on a bigger scale, comparing the rendered material against 17 different cabinet colours and a day/night lighting cycle.
Our blogs and dedicated product webpages contain various information regarding quartz, granite, ceramic and general home design. You may also find tips on cleaning the worktops or purchasing the right furniture to match your new stone surfaces.
Why choose Stone Kitchen Worktops?
Long-lasting Durability
Stone kitchen worktops (granite, quartz and ceramic) are the ideal products for your kitchen due to their longevity and hard-wearing properties. Compared to cheap kitchen worktops ( e.g. solid wood, acrylic or laminate kitchen worktops), granite, quartz or ceramic are able to withstand high heats, scratches, liquid absorption, impact damage, chipping, splitting etc. thus potentially lasting you for life.
That's why with a quartz, ceramic or granite worktop, kitchens (whether it be professional restaurants, average home kitchens or small flat kitchenettes) instantly become far more flexible. You may finally use your kitchen worktop as a tool, enabling you to slice and dice your fruit directly on the surface worktops; or as a one giant trivet, after all these kitchen countertops can withstand even extreme heat. You may eliminate all your chopping boards and use the work surface kitchen as one large cooking station.
Stone kitchen worktops aren't just an investment (sparing you the hassle of replacing the worktops every couple of years) – they enable you to render your kitchen top counters into a fluid, flexible and helpful cooking environment. A resilient work surface for kitchen restores the enthusiasm within us for cooking and rids us of two anxieties: worrying about damaging our worktop for kitchen & having to use multiple utensils or accessories during the process of cooking.
Everything regarding the benefits, styles, finishes, edges or thicknesses of quartz, ceramic of granite worktops can be found on the Granite Worktops webpage.
Simple Maintenance
Contrary to wood kitchen worktops or laminate worktops, quartz, ceramic or granite are very simple to clean and maintain. All that's usually required is a dollop of washing up liquid on a damp sponge to clean the worktop kitchen to perfection, making it shine with radiance. The convenience of gloss, fine polishing and non-porosity of quartz and granite are unparalleled.
Meanwhile, dedicated worktops for kitchens such as laminate worktops are usually coupled with the need for constant scrubbing, difficulties in removing heavy stains and possible damage during cleaning (think of splitting or warping when wood worktops are exposed to frequent wetness and the collected bacteria in such crevices). Forget about using a heavy-duty steel scourer on your wood worktop, laminate or metal for that matter – only stone worktops offer the ultimate resistance.
While stone worktops, sintered-stone in particular, tend to be slightly more expensive compared to cheap worktops alternatives, they are a great, lifetime investment for the future and an excellent value for money thanks to the aforementioned abundance of virtues.
A Wide Choice of Hues
Unlike granite worktops or even laminate kitchen worktops, Quartz worktops are available in a mind-blowing range of colours. Our showroom stores almost 550 varieties of quartz itself, up to 100+ of ceramic and 60+ of granite hues offered by various brands. You may browse majority of those digitally on our Sample Gallery. Quartz and sintered-stone can be supplied in almost any variety of colour, pattern, texture or finish imagined. So no matter what your kitchen units are composed of, what sort of thing layers your floor, or what colour the door is, among all the options you'll certainly find suitable kitchens worktops + fill your kitchen with charm & glamour.
As of today, the marble-lookalike range of hues is most sought after. We have over 50 most popular varieties of such worktop materials, classically beautiful in appearance and unmatched when it comes to composition. Our customers seem to love the designs of natural stone, the unpredictability of the earthstone veins, the contrast of white and grey particles, and of course the cool to the touch nature of the stone. Despite being cheaper, laminate kitchen worktops lack these attributes, not to mention their choice of colours & textures is scant and their beauty . . . questionable.
Visit our showroom, browse our affordable products and book your granite or quartz worktops Manchester service
Polish Granite LTD is a Manchester based company that will soon celebrate its 18th year on the UK market. We've occupied the J4 unit, in Salford, since the beginning – a prime location for our Manchester customer base, as it is very central, located merely 5 minutes away from Media City UK. This means that everyone from across Greater Manchester, can reach us in under 20 minutes.
We encourage everyone to visit our granite worktops Manchester showroom and explore our vast range of samples. Our shelves boast 500+ ceramic, quartz or granite samples, from vast renowned suppliers like Levantina, Silestone, Compac, Technistone, Caesarstone, Fugen, Dekton, or Nile Stone.
Our Salford, Manchester showroom is one of the biggest stone sample centres in the North West. The amount of choice distinguishes our Company, but above all, grants you, the customer, far more freedom.
Picking the right stone worktop for your kitchen is a big decision. It's a colour you'll be seeing on a daily basis – therefore the kitchen worktops need to make you smile.
Hence why observing the product in real-life, prior to purchase, is recommended. Viewing how the colour behaves in different lighting, touching the matte surface, counting the mirror chip clusters…
All of that can be done in our Manchester quartz worktops showroom. Before you commit to the kitchen worktop, be sure to visit us and browse the kitchen worktop options, touch the textures and compare the choices.
If you cannot visit our place, don't hesitate to get in touch regardless. We'll either send you a physical sample of your favourite colour, or email you plenty of digital photos that will help you visualise the nature of the colour. Our Kitchen Worktops Manchester worktops service is offered across the UK – so no matter where you live, we'll come out and install your granite kitchen worktops.
Our brands
The stone brands we cooperate with are filled with renown and high regard. We select slabs only from suppliers that are trusted partners, ensuring their products meet the highest possible standards so the worktops can last you, the customer, for decades.
Feel free to click on any brand below. We created dedicated webpages for each partner to enlighten our customers what their product range entails; exploring their history; production process and the core of our partnership . . .