Back
Kitchen worktops Birmingham & Granite worktops Birmingham & Quartz worktops Birmingham
Operating areas:
West Yorkshire
Merseyside
Lancashire
Greater London
Dundee City
Wales
Bristol
Greater Manchester
West Midlands
Newcastle City
Cheshire
Nottinghamshire
South East
Cambridgeshire
Staffordshire
Yorkshire
Professional Granite and Quartz worktops service in West Midlands
Despite Polish Granite's main HQ location in Manchester, we advertise our kitchen worktops services across the whole of UK, especially throughout major cities like London, Birmingham, Bristol etc.
Our company can guarantee an inexpensive and reliable delivery of reliable stone products. Among them our kitchen worktops speciality: quartz, ceramic and granite worktops. But not only.
We deliver to Shropshire, Wolverhampton, Coventry, Walsall and all other places neighbouring Birmingham. Thus distance should not deter you from reaching out to us. Especially since our turnaround is very fast: 5-8 days to fit the quartz / granite worktops in Birmingham. Distance is not our limitation.
Why you should use Polish Granite services?
Our experience helps us to achieve our projects
For the last 14 years we have fitted roughly 450 kitchen worktops in Birmingham alone.
The large and the small, the quartz islands, quartz cladding and granite splashbacks, or marble windowsills – we have completed it all.
Our gallery and Facebook page is filled with an abundance of quartz / granite pictures which showcase the abundance of projects and the wealth of experience we developed since making an entry to the UK market in 2006.
We provide a high quality quartz worktop service
The reviews we have collected over the last 14 years speak for themselves. Our customers are very satisfied with their granite or quartz worktops Birmingham and extremely pleased with the way we carried out such project.
Our staff are friendly and continue to sport the 'family company' mentality, because Polish Granite still remains a family business. We only have two granite kitchen showrooms and can count all our workers on two hands, therefore the excellent service doesn't reflect typical corporation standards.
We therefore tackle each Birmingham quartz worktop project individually, and treat each valued customer with utmost priority, executing everything with preciseness, fastidiousness and creativity.
Our manufacturers & fitters have got their experience in USA, Europe and now the UK. Earning a combined age experience of 65. Working on solid surface worktops is therefore their magnum opus.
Incomparable, affordable granite worktops prices
We will only charge you what we must for the new quartz worktop project in Birmingham. That means the price of the material, extracted from our trusted quartz and granite suppliers, a fee for our fabrication and templating & installation service.
Once you visit or call us to get a quote, we will outline all the granite kitchen prices in a comprehensive, transparent manner. There's no small print; you get what you see.
Just because we are located in Manchester doesn't mean we charge much more. Our granite worktop costs and installation prices compare to local, Birmingham suppliers of natural stone.
Free quote for an entire range of durable, long lasting products
Indeed, you can call us, email our team or come to one of our showrooms and once we consult your kitchen plan, we'll present you with as many free granite kitchen worktops quotations as you like for bespoke Birmingham fitting.
As we already mentioned, our competitive prices are among best on the national scale. But above all, we provide only the best, extremely durable, hard wearing stone worktops.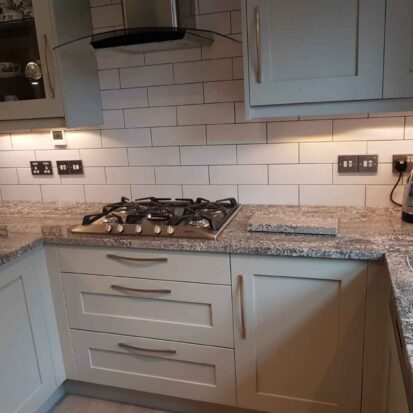 We do not deal with Corian worktops, laminate worktops or solid wood worktops. We think that stone is the only material fit for the job. After all, we subject our kitchen to daily cooking – a splash of hot oil, a wet stain left over night, a knife slips and scratches the worktop. These are all risks faced by your new kitchen tops daily. Therefore they need to be minimised.
Unfortunately, Corian plastic or cheap laminate & wood do not cut it. They stain, warp, scratch, dent, chip and experience plenty wear and tear over the years. On average, the replacement period for such vulnerable kitchen surfaces is between 4-5 years.
In our opinion, it's therefore best to invest a tad more in non porous, scratch & stain resistant work surface materials like stone. Whether it be marble granite, quartz o ceramic solid surface worktops.
Do we have a Birmingham granite and quartz showroom?
Unfortunately Polish Granite HQ is only in Manchester and Preston. But we always manufacture kitchen worktops for our Birmingham clients. We also carry out the template service and have everything installed ourselves.
Therefore if you do not wish to travel to our showroom, we encourage you to call us up and have a discussion regarding your new kitchen countertops. We'll supply you with a quotation and even provide more than one consultation regarding your project.
Our staff have experience in interior design, therefore they can create you a plan of action, recommend new worktop style, provide you insight regarding our popular choice of colours, unit and cabinet hue matching, overall appearance suggestions etc.
How to receive a granite or quartz worktops price plan:
You can place an order for your quartz worktops with our customer service team who, to start off, will gladly prepare you a quote, and provided you approve of the price, will thereafter arrange remaining details like the date of templating and installation.
Our team is brimming with passionate people who will also answer all of your concerns and pending questions in regards to any stone worktops related matters, or our services.
For example, if you are wondering about the best prices or Birmingham measurements of the newest quartz slabs, you are contemplating whether your quartz worktops will be strong enough to withstand impacts and scratching, or your are in dilemma which shade of quartz to choose for your new grey laminated cabinets in Birmingham – reach out to us, we will swiftly respond, and put your mind at ease.
We want to ensure that your quartz kitchen in Birmingham will grant you a lifetime satisfaction, and that each day you will pass the quartz worktops with a cheerful smile on your face.
Get your quote quicker than expected
Our Online Quote system is always also at your disposal. It's a perfect tool for our customers from outside of Lancashire and Manchester, allowing them to browse the multitude of digital samples, pick the right choice and follow a simple, straightforward 10-step Quote Online system that generates an estimated price for you.
At the end of the whole process, you'll be given a choice to pick your approximate location. This will then calculate the costs for the supply, delivery and installation of your surfaces accordingly.
Remember, if you ever need anything other than a quote for new kitchen worktops ready for fitting, please get in touch. We also have vast kitchen offcuts at our disposal, from which you may pick any colour you like at discounted price and create a truly unique design. Our customers often utilise our offcut range for windowsills, BBQ bars, chopping boards etc. Our list of offcut colours can be found here.
How to ensure you are choosing a reliable quartz and granite worktops company?
Within the testimonials left behind on our page and external sites like Google Reviews or our Facebook, you will notice evidence of people appreciating how we quote them, serve them, and how our work policy is deemed as professional, trustworthy and well grounded. This applies to everyone around the country, because the feedback we receive for our granite / quartz worktops services is dispersed across Birmingham and the UK.
It does not matter whether you're from the Scottish highlands, London city centre or whether you bought your granite or quartz worktops from us in an enormous city like Birmingham – the way we work, quote and carry out our services applies the the whole country, and our high quality standards are consistently maintained throughout the UK.
Our prices for kitchen worktops and other minor services (e.g provision of offcuts, fittings, repairs etc.) are genuinely positively surprising, as we are often told. The competitive pricing is among best on the whole British market. This is especially the case when our prices are compared to southern & midlands charges put forward by local granite, quartz and ceramic companies from those areas. For more detailed, further information on our quartz cost calculation, please visit here.
How do we keep kitchen surface costs so low?
Our philosophy is simple: We only wish to make enough profit for ourselves to sustain the wages of our employees, invest in new technologies or showroom designs.
We do not unnecessarily overcharge customers, who already regard granite and quartz worktops as a wise, but expensive investment. Getting ourselves wealthy is not the agenda. Deliverance of prime-quality services, and affordable goods is the ethos. In other words, we prioritise our own internal development (which allows us to make progress, employ better strategies and carry out even better service), and you the customer.
This is probably why we have managed to keep our business going for so many years and complete thousands of worktop projects across the country.
An established, trusted partnership with various quartz brands
In terms of stone tops, in Birmingham quartz is now the second most abundant mineral behind granite. But it's still rapidly growing and the popularity is slowly surpassing natural stone itself. However, this is a pattern that can be observed around the globe.
This is why we cooperate with a multitude of partners. Reliable, man-made stone suppliers who have vast certificates, awards and an established renoma in the UK, Europe and US. For example, Compac, Silestone, Fugen, CRL, but not only.
And because we have established a solid partnership with our granite, ceramic and quartz suppliers, we have received a number of slab discounts that we pass on straight to you, the customer. Our objective is for you to bask in the sight of an appealing price, and then enjoy your freshly fitted quartz worktops.
Supplying various maintenance free, high quality materials
Anything from Calacatta Quartz, to Azabache Quartz, Lactea Quartz, Luna Quartz or Cararra White Quartz – we are in possession of it all. It all comes from certified, leading brands that guarantee a long-lasting, lifetime quality worktops product that is produced in a factory and thoroughly tested against numerous qualities & standards checks.
If you would like to acquire granite or quartz worktops – Don't hesitate to Contact Us
If you fancy what you see on our website, e.g. the new selection of quartz, make sure to give us a direct call or email us with your kitchen plan. We will be here to help, and sort you out with anything that you request – additional price plans, setting up a date for quartz templating, helping to match your kitchen with a beautiful quartz, granite or ceramic worktop etc.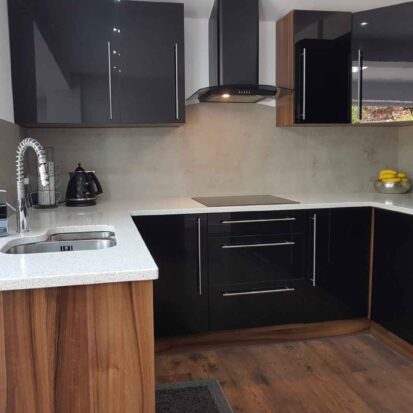 Or maybe giving you access to our offcut selection, providing further advice about next/further steps. It is all available through our office customer services team – experts who are always willing to assist you and have your questions answered.
We have other contacts beside quartz worktops
We have a fantastic network of contractors who are willing to help you finish the refurbishing of your Birmingham property.
From painters to joiners, carpenters or kitchen unit and cabinet providers who manufacture their solid wood and laminate cabinet shelves. We have trusted contacts to such partners and we're willing to make recommendations to our individual or trade customers.
Not to mention that if you require a tap, sinks or other bathroom or kitchen accessories, we can provide you a complete catalogue of the 1810 company. They deal with stainless steel, copper and other metallic fittings for kitchens and bathrooms, and they too can deliver to Birmingham. We vouch for their quality workmanship.
To get a closer look at their pricing, please feel free to contact our excellent customer service, and we'll pass on their details or further information packs.