Back
Birmingham
Operating areas:
West Yorkshire
Merseyside
Lancashire
Greater London
Dundee City
Wales
Bristol
Greater Manchester
West Midlands
Newcastle City
Cheshire
Nottinghamshire
South East
Cambridgeshire
Staffordshire
Yorkshire
Granite and Quartz worktops service in West Midlands – Reliable products, delivery & installation
Despite Polish Granite's main HQ being based in Manchester, we advertise our worktops services across the whole of UK, especially throughout major cities like London, Birmingham, Bristol etc. Our company can guarantee a cheap and reliable delivery of quartz, ceramic and granite worktops to all those places, thus distance should not deter you from reaching out to us. Especially seeing as we generally take between 5-8 days to fit the quartz / granite worktops in Birmingham. Distance is not our limitation.
For the last 13 years we have fitted roughly 450 kitchen worktops in Birmingham alone. The large and the small, the quartz islands, quartz cladding and granite splashbacks, or marble windowsills – we have completed it all. Our gallery and Facebook page is filled with an abundance of quartz / granite pictures which showcase the projects we have completed in the past. Feel free to inspect them!
We encourage you, our customer, to a trusted cooperation. Each week we have special deals on, sales and attractive prices. Not to mention that we always flow the trend, updates and include the latest quartz materials in our offer.
Anything from Calacatta Quartz, to Azabache Quartz, Lactea Quartz, Luna Quartz or Cararra White Quartz – we are in posession of it all. And because we have established a solid partnership with our granite, ceramic and quartz suppliers (like Compac, Fugen Quartz, Silestone, CRL Quartz or Levantina), we have received a number of slab discounts that we pass on straight to you, the customer. Our objective is for you to enjoy the sight of an appealing price, as much as you would enjoy the sight of freshly fitted quartz worktops, for example.
How to recieve a granite or quartz worktops price plan, and order your worktops today?
You can place an order for your quartz worktops with our customer service team who, to start off, will gladly prepare you a quote, and provided you approve of the price given, will arrange remaining details like the date of templating and installation. Our team is brimming with passionate people who will also answer all of your concerns and pending questions in regards to any stone worktops related matters, or our services.
For example, if you are wondering about the prices or measurments of the newest quartz slabs, you are contemplating whether your quartz worktops will be strong enough to withstand impacts and scratching, or your are in dilemma which shade of quartz to choose for your new grey laminated cabinets – reach out to us, we will swiftly respond, and put your mind at ease. We want to ensure that your quartz kitchen in Birmingham will grant you a lifetime satisfaction, and that each day you will pass the quartz worktops with a cheerful smile on your face.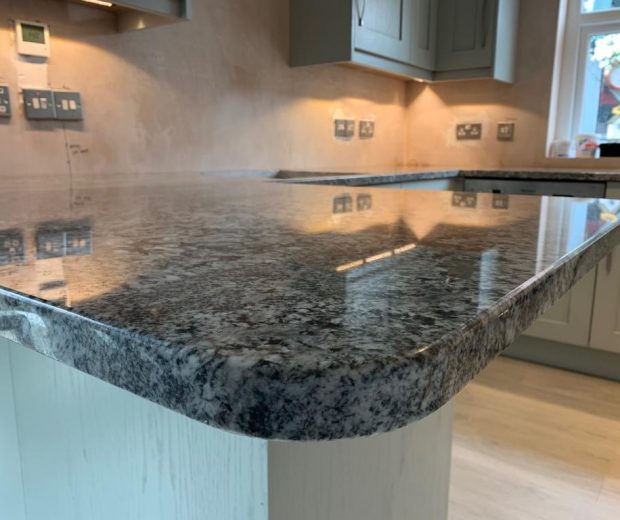 Superb Granite / Quartz Worktops and Service Prices:
Our prices for worktops and other minor services (e.g provision of offcuts, fittings, repairs etc.) are genuinely quite competitive and deemed as excellent when taking the whole British market into consideration. This is especially the case when our prices are compared to southern & midlands charges put forward by local granite and quartz companies from those areas.
Our philosophy is simple: We only want to make enough profit for ourselves to sustain the wages of our employees, invest in new technologies or showroom designs. That's why we are able to keep the costs so low. We do not unnecessarily overcharge customers, who already regard granite and quartz worktops as an expensive investement. Getting ourselves wealthy is not the agenda. Deliverance of prime-quality services, and affordable goods is. In other words, we prioritise our own internal development (which allows us to make progress, employ better strategies and carry out even better service), and you the customer.
How can you be sure that you are choosing a reliable quartz and granite worktops company?
Within the estimonials left behind on our page and external sites like Google Reviews or our Facebook, you will notice evidence of people appreciating how we quote them, serve them, and how our work policy is deemed as professional, trustworthy and well grounded. This applies to everyone around the country, because the feedback we receive for our granite / quartz worktops services is dispersped.
It does not matter whether you're from the Scottish highlands, London city centre or whether you bought your granite or quartz worktops from us in an enormous city like Birmingham – the way we work, quote and carry out our services applies the the whole country, and our high quality standards are consistantly maintained throughout the UK.
If you would like to acquire some granite or quartz worktops – Don't hesitate to Contact Us
If you fancy what you see on our website, e.g. the new selection of quartz, make sure to give us a direct call or email. We will be here to help, and sort you out with anything that you request – additional price plans, setting up a date for quartz templating, helping to match your kitchen with a beautiful quartz, granite or ceramic worktop, giving you access to our offcut selection, providing further advice about next/further steps. It is all available through our office team – experts who are always willing to assist you.