Back
Kitchen worktops Liverpool, Granite worktops Liverpool & Quartz worktops Liverpool
Operating areas:
West Yorkshire
Merseyside
Lancashire
Greater London
Dundee City
Wales
Bristol
Greater Manchester
West Midlands
Newcastle City
Cheshire
Nottinghamshire
South East
Cambridgeshire
Staffordshire
Yorkshire
The leading suppliers of stone kitchen worktops across the UK
Polish Granite LTD has been on the British market since 2006 when we first opened up our showroom and workshop in Salford, Manchester.
For the past 15+ years we've supplied numerous kitchen quartz worktops, granite worktops and ceramic worktops to residents of Liverpool area.
We have a very quick turnaround and carry out each project with accuracy, professionalism and impeccable workmanship. All to ensure your quality worktops last you for years and years.
Why you should use Polish Granite's quartz worktop & granite worktop service?
Experts that guarantee a 5-star, class service
Our expertise and prowess in the masonry industry allows us to specialise in the production and installation of high-grade worktops wrought from ceramic, quartz and natural granite. Each of our employees (from fitters to office staff) has at least 10+ years of invaluable masonry, sales, interior design or fitting experience. Therefore with us, you're guaranteed a 5-star service.
Deliver virtually anywhere across Liverpool
Among all the areas across the North West of England, we strive to deliver and fit the worktops in vast places, namely: Liverpool, Manchester, Blackpool, Preston and many other villages, towns and cities scattered across the North of England. There's no limits for us. So whether you live in an obscure, hard to get to area of Liverpool, or a flat on a top city centre building apartment, we'll fit your kitchen quartz worktops nonetheless.
Provide our customers a lot of colour choice
We value the properties and essence of stone. Its unique solid surface colours, patterns and everlasting durability, resistance to heat & scratching. It's a necessity for every kitchen. Therefore we provide you a lot of choice. Compared to many other kitchen granite worktops suppliers and companies, our showroom is bedecked with hundreds of high quality stone samples.
Complete a commercial or residential project – bring on any challenge!
We are fully qualified stonemasons who are willing to tackle virtually any project, not just kitchens. Our current portfolio of varied jobs is immense. We cladded the Polish embassy in Manchester in floors made of beautiful, golden natural stone. We've fitted granite or quartz in multiple flats and rooms within the Hilton Hotel. Our list of shop, cafeteria, hairdressing, office space lobs is vast. But of course, we've carried out thousands of non commercial projects too in vast Liverpool homes. Ensure to check out our Gallery!
Products are certified, reliable and long-lasting
We only deal with certified, reliable granite, quartz and ceramic products that are steeped in renown and reliability. The quality, natural stone is only provided to us via trusted partners who extract the product from around the world. Meanwhile the fabricators of quartz and ceramic solid surfaces are supplying us stamped products, made on European soil and following high standards of quality & durability. They are non porous, stain resistant and last for many years.
Do we supply Corian or laminate worktops in Liverpool?
We do not. We are of the opinion that materials like Corian, solid wood or laminate worktops are fallible. They may last a few years, but they are easy to scratch, dent, burn or chip.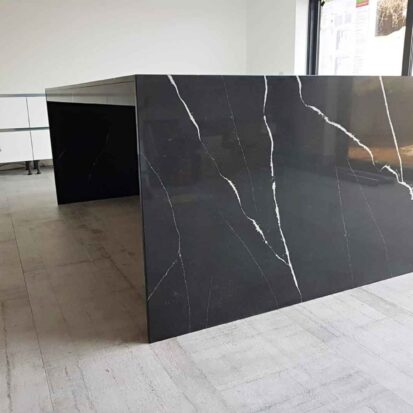 This is not the case with genuine granite, quartz and ceramic kitchen worktops that we deliver to your Liverpool home.
Stone is extremely durable, resistant to staining, scratching, chipping and general daily wear and tear. In a kitchen setting these solid surface attributes are crucial, because the threat of sharp blades, hot oil and high level of grease, grime and liquids are constantly looming.
Quartz worktops and granite worktops have the ability to withstand all these perils and maintain a colour, quality and original appearance for decades.
Not to mention that dangers of colour fading or discolouration are simply not a thing with kitchen granite, quartz worktops. These products are tested, certified and supplied by trusted partners of ours like Levantina, Compac, Silestone, Caesarstone, Fugen or Dekton & Neolith. They're a real thing that guarantees years and years of satisfaction.
Do we have a granite, quartz and ceramic showroom in Liverpool?
Unfortunately we do not, however we are located a measly 30-35 minute drive from Liverpool, in Salford, Manchester. Everyone is welcome to pop in during almost any day of the week, as we operate from Monday to Saturday.
There are no appointments needed, so everyone is welcome to come whenever, browse our rich sample range, receive some quotation prices, and even order + pay for the kitchen countertops at the desk. We will help you realise that perfect worktop project.
Alternatively, you may browse our list of products on the Sample Gallery and even get an instant, free quote & check out the price. You have a selection of vast colours: marble looking quartz, mineral rich quartzite or plain black granite. What kitchen worktops colour you end up choosing is completely your choice.
About our process of work
We are very transparent when it comes to our trade and cooperating with our customers.
The process of getting your kitchen quartz worktops fitted is very simple.
First you either complete our Online Quote, contact one of our office staff via phone, or physically come in to our showroom to pick up a comprehensive price plan for your selected granite, quartz or ceramic material. The choice is plenty, but you are welcome to take your time when picking the style, pattern or colour.
Once you have your prices and you approve of one of the kitchen worktop Liverpool quotes, we order your granite, quartz slab and select a date of templating & installation. You choose the dates – we determine our schedule according to your preferences.
When we arrive for templating, we thoroughly measure the surface area of your room or kitchen to fit the new worktop. We then transport these records to our workshop, where the slab awaits our manufacturer team.
The manufacturing process of cutting takes between 2-4 days, depending on our schedule. In that time we create your bespoke granite tops, drill out any hob or sink holes, polish the edges, make the drainer grooves etc. We manufacture the quartz worktops to correspond with your ideas and design. Our granite and quartz kitchen worktops can be cut in such ways that it fits almost any visualisation, therefore we adjust our work to even the most demanding & specific requirements.
Once all cutting is done, we travel and fit your quartz worktops in Liverpool accordingly. We first level out the cabinets, then place the new worktop pieces on top and glue everything by joining the pieces with specially dyed epoxy. This process will take between 2-5hrs, depending on the size of the job and manpower involved.
And that is it. You are then left to enjoy your brand new worktops Liverpool for the next years.
In the meantime, if you seek a small piece of material e.g. for a hard wearing bathroom worktop or windowsill, or modern kitchen breakfast bar, you are free to contact us regarding our entire range of Offcuts. We also deliver and install those in Liverpool.
About Polish Granite and worktops in Liverpool service
Making granite and quartz worktops is our passion and we wish to transfer some of these rich feelings to our customers.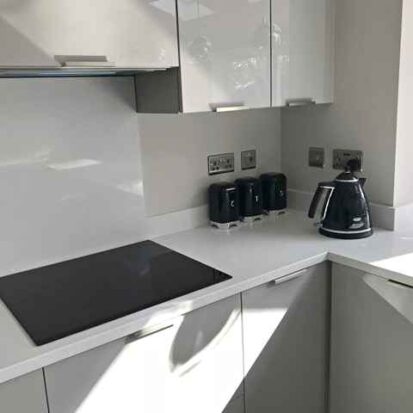 It is our primary objective to allow our customers experience the many attributes and true benefits of these organic & man-made kitchen quartz worktops.
After all, it's a satisfaction which will last a lifetime, and one that cannot be substituted with purchase of other worktop alternatives.
Over the last 12 years we have gained plenty of experience in the granite worktop business and established a solid, respected presence in Liverpool, Manchester and UK areas alike.
Spreading our granite wings into the heart of Merseyside
In the last 8 years Polish Granite has been gradually branching out to all places local to Manchester e.g. Liverpool or Chester. In fact, by 2019 we've been regular visitors in counties like Lancashire, Merseyside and Cheshire.
In these counties alone we've already fitted approx. 3,500 granite worktops (most of which are evidenced in our gallery, blog and Facebook webpage). Our bespoke quartz worktop materials are made from top quality slabs, provided by the best European stone suppliers.
Among the main brands, the likes of Compac, Samsung Radianz, Caesarstone, Technistone, Silestone, Levantina, Fugen can be found– all providing granite, quartz or ceramic materials.
Design your granite and quartz worktops and let us estimate your costs!
This is the beauty of working with stone: you can create original kitchen worktops in shapes & sizes that fit almost any kitchen layout or distinct cabinets.
It is a common misconception that there are limits to stone. But this is nonsense! Granite and quartz worktops can be shaped, polished and grinded as much as wood.
Our team of professional specialists always ensure that your Liverpool kitchen worktops are fitted perfectly. We're dedicated and passionate about our job, so we approach any project with care and full commitment.
As a result, we've never encountered disappointed or dissatisfied customers, rather, our granite worktop services satisfy and fulfil all those who cooperate with our company.
Don't hesitate to contact us!
If you're located in Liverpool and you're after some granite or quartz worktops, then feel free to contact us! We'll be happy to help and grant you the great service you require! It's as simple as sending us an email or phoning us up.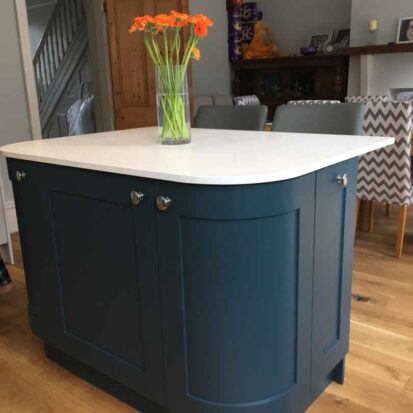 Other than that, we also have our online quote calculator system available on our website. By completing it, a price plan will be generated for your granite or ceramic or quartz worktops. You can also explore the latest offers and discounted products on our Sale page.
Creating your own quote will mean that you won't have to rely on the consultation of our amazing customer service team. In 5 easy steps and 5 minutes time you will be able to make your own kitchen quartz worktops quote, and receive an instant plan with attractive prices.
Our showroom doors are also widely open! Within, you can find a multitude of stone granite, ceramic or quartz samples and abundant material all around. Everyone is welcome to choose a particular material for their worktops / kitchens by browsing the wide selection we have displayed.
Select your favourite new quartz worktop sample . . .
We even give out a free sample of granite & quartz, if stock allows for it, so you can compare them against your cabinets at home!
So, if you're debating which choice of granite / quartz finish to go for (pencil edge, half bullnose, dupont) or you're in a dilemma about the quartz kitchen worktops surface type (polish, matte, honed etc.) then visiting a showroom is your best shout. Here you'll be able to touch and behold each material in real life, providing you a much better perspective.
We strongly recommend that you pay us a visit, especially that our quartz showroom is located merely 30-40 mins away from Liverpool. It will certainly be worth it, and our team will assist you with choosing that perfect worktop in Liverpool at affordable prices.
We offer invaluable granite worktops advice and recommend ideal budget options that save you money in the long term.