Back
Granite worktops Leeds & Quartz worktops Leeds & Kitchen worktops Leeds
Operating areas:
West Yorkshire
Merseyside
Lancashire
Greater London
Dundee City
Wales
Bristol
Greater Manchester
West Midlands
Newcastle City
Cheshire
Nottinghamshire
South East
Cambridgeshire
Staffordshire
Yorkshire
Granite and quartz worktops in Leeds – Instant Turnaround, Great Service, Professional Worktops Execution
Despite Polish Granite's main headquarters being based in Manchester, we offer a full fledged granite, quartz and ceramic installation service in Yorkshire.

We don't only install kitchen worktops, however. We also provide a fantastic range of stone worktop products.

Our customers are welcome to contact us, choose a stone colour from our huge range of hues, and book a quartz worktops Leeds templating, delivery and worktop installation service.
Why our Granite and quartz worktops Leeds fitting service is rated 5 stars?
Fully qualified stonemasons
We know we provide a high quality service because our team of specialists has a combined experience of 75 years. Some of us specialise in interior design, others in stone cutting or polishing.
Then there are various quartz worktops fitters and templators, who ensure your worktops in Leeds are professionally installed.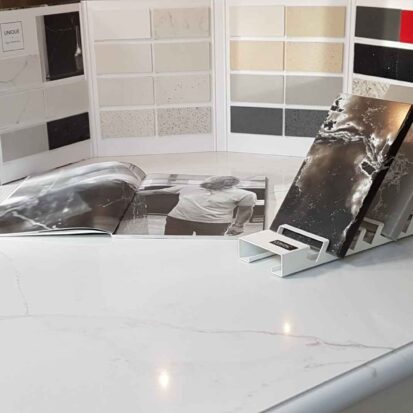 We are a dedicated bunch who always fully dedicate themselves to every granite and quartz worktops project.
Whether it's for an individual, home kitchen or a commercial property like a bank of shopping centre.
Extensive range of resistant colours
Whether you visit our Manchester or Preston showroom and browse our bunch of samples, or you run through the catalogue of available colours on our Sample Gallery, you'll most certainly find a perfect product for your quartz worktops Leeds project.
We supply Dekton ceramic, Neolith sintered-stone, marble lookalike Silestone quartz worktops or natural stone granite from companies like Levantina.
The wide selection of choice is immense and the styles, patterns + highest quality granite and quartz mean that you can choose something that suits your taste, but also invest in a durable, non porous, scratch and heat resistant product that (compared to laminate worktops or solid wood worktops), will last you a lifetime.
Quick delivery and installation
Despite having only two showrooms and workshops in the North West of England, we don't only fit granite and quartz worktops Leeds. We cover the whole of North Yorkshire, and more.
Our services stretch out to all customers and their kitchens across the entire UK – i.e. templating and fitting of bespoke kitchen worktops (from granite or quartz) to all who make such request.
Our ethos is to not only provide an excellent customer service, installation service and measuring service. We wish to have all UK areas covered. Ensuring that each person in the UK, not just Leeds or Manchester, has access to granite worktops and quartz worktops that can serve them for many years.
We fit in any Leeds household
We don't only fit kitchen worktops Leeds in homes. Our quartz worktops services stretch to visually any place possible. If you live in a block of flats, we'll strap the granite, quartz or ceramic worktops in safety equipment and drag the pieces all the way up.
If you live in a difficult to get to, rural suburb of surrounding area in Leeds, we'll also make that happen. Our drivers are very experienced and our vans are infallible, therefore there is no limits to where we can go or travel.
Showroom open to all
Travelling to our Preston or Manchester showrooms is a quick and easy process. We're less than an hour away and visiting us is very much worth it.
As we already said, we want to provide all our Leeds customers a 5 star service.
If you visit us to obtain worktops in Leeds:
Once we familiarise ourselves with your new kitchen plan, we'll grant you a free no obligation quote,
Introduce you to the whole process of stone quartz manufacture,
Help you pick that ideal hue. From superior quality Silestone quartz worktops to wall cladding from Neolith. The brands are many. Over 500 samples available.
Our team will provide you insightful information regarding stone: best uses, benefits, best prices, trends, colour matching & schemes etc.
We'll book you in for a fast templating and installation service. Our turnaround is 5-7 days from the day of templating, so with us you can have your quartz worktops fitted in no time,
We'll show you an extensive catalogue of our current and past projects. Our portfolio contains thousands of small-to-large kitchen worktop projects.
You are welcome to browse all our granite, quartz and ceramic samples – and if we have enough in stock, even take one home!
But worry not, if you cannot visit us, our customer service team will gladly provide you the aforementioned professional service via pone or email.
Competitive pricing for fitting
Manchester is by no means prioritised by our Company. Leeds is merely a stone's throw away from our HQ, so we can be with you as quick as any other stone / masonry companies who operate in your local area.
In Leeds, our quartz and granite installation turnaround from day of template is usually 5-7 days.
Not to mention that if we deliver your quartz worktops in Leeds, we will apply a normal, standard charge for our services. Therefore, just because we're not based in Leeds, does't mean we shouldn't be considered as the provider of your quartz worktops.
Flexibility and quartz worktops installation process
Travelling outside of Manchester to various (even most remote) locations around the UK is not the only obstacle we tackle with swiftness, confidence and pride.
We also face many other challenges on a daily basis, such as complicated granite worktops projects, floor tiles and wall cladding, fitted bathroom / stairs stone elements, or granite patio layering etc. Anything to embellish a room, making it look stunning and present itself in stunning fashion.
We are willing to create a range of bevels, matt/polished edges, perfect joins, cut outs among a plethora of other granite / quartz solutions with a stylish finish.
Our way of working is very flexible, and we never hesitate to realise something that on-paper seems difficult or complicated, especially because each of our employees has 10+ year work experience in the field of masonry and worktops creation.
This is why even the most unique and personal quartz and granite worktops demands are executed by our Company.
We deliver our customers in Leeds, and elsewhere the friendly, excellent and unfailing care & granite worktops services they expect and desire.
What's most popular among our Leeds customer base?
If you, as a Leeds customer, are curious which granite and quartz worktops are high in demand/popularity nowadays, we'd recommend visiting our Salford showroom, where our specialists (with background in internal kitchens design) will offer you professional granite worktops advice.
Here, in brief, we can say with confidence that the wow factor marble look quartz range is particularly popular with our clients at the moment.
The sinuous dark veins that stream across the quartz kitchen worktop are very desirable because they grant the kitchens an organic accent. These natural stone lookalike are also very universal.
They will fit any kitchen cabinet, bathroom fitting or stair railing. They're ideal décor pieces that also grant functionality: unmatched resistance to wear and tear, liquid absorption or staining.
Our most popular colours:
Calacatta Quartz,
Marquina Quartz,
Azabache quartz,
Cararra Quartz,
A multitude of high quality quartz and granite samples:
Our product ranges vary, and our granite sample abundance reaches over 400+, therefore we exclaim that the best choice is always to visit us in person.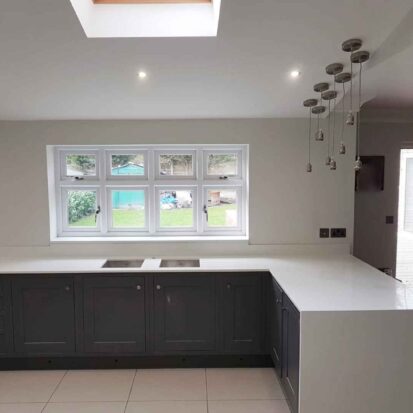 In no time, our team of experts will also provide you with a deep understanding of worktops finish, show you how these beautiful quartz / granite pieces are cut and manufactured, and lastly grant you a sample + a quartz quotation with all listed prices.
We also have an on-site digital album which showcases how we template and fit the quartz or natural granite worktops, but also how we approach each worktops project. The whole process is clarified on-site.
Our commercial understanding of the stone masonry industry is immense, and the team working in our showroom have an immense knowledge regarding quartz surfaces & interior design + décor.
Contact us today!
We can provide a quality workmanship granite or quartz stone service.
If you are located in North, South or West Yorkshire, and you require a granite, quartz or ceramic surface worktops delivery + fitting at your Leeds property, but at the same time you are thinking of creating something extraordinary, then simply give us a call on our company number: 0161 877 8361.
We will offer you an attractive, competitive quote, talk you through your idea, go over the design and advise whether your quartz worktops plan is practical and feasible.
If you would like such premium quality granite and quartz worktops service, feel free to get in touch. Our opening hours & further information can be found here. We will supply you with any work surfaces material imaginable.
Once that is done, we can begin to arrange other matters, such as on-site bespoke templating/measurement and start ordering the granite / quartz material.
Also available via email
Alternatively, we have an office email [email protected] and a Facebook page: 'Polish Granite LTD' & 'Polish Granite Preston' which can be used for a constant communication.
So, if you want to send us over plans of your Leeds kitchen, or any other peculiar ideas, or explore our granite worktops gallery, contact us via the aforementioned email!
We will gladly provide an instant response or arrange you an appointment with one of our suppliers.
Our doors remain open
Should anyone seek Leeds granite worktops, our HQ in Salford is always open.
Any customers from Leeds (including those from Yorkshire) who come to Salford, Manchester, and happen to be close to our Polish Granite showroom, we invite you for a visit.
The place contains vast natural & man-made stone samples that are showcased for all customers.
Anything from the outstanding Compac quartz, Silestone quartz, Cimstone, Fugen and B-Stone quartz to Levantina's bespoke Granite and Neolith + Dekton ceramic slabs.