Installing granite worktops – What's the proper fitting granite worktops process?
From a customer's point of view, installing a new granite worktop is very simple. That's probably because the customer does not see the whole granite worktop fitting journey, nor are they aware of all the challenges associated with the fitting granite worktops process, until our workforce rings on their doorbell.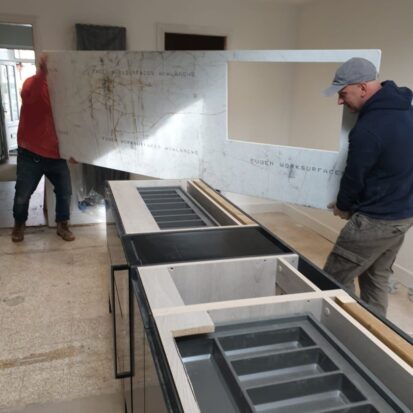 The buyer is often surprised by the costs that must be incurred for fitting a granite worktop. Yet that price is entirely justified.
Granite is a heavy product – it cannot be simply moved from place A to place B with one employee. There must be multiple hands, vast expensive tools like trolleys, handles or safety equipment, to ensure the stone isn't damaged and our employees maintain safe working procedures.
A Granite worktop – why's it worth buying over cheaper laminate?
A granite worktop used for a kitchen or bathroom is a material that is durable, solid and resistant to damage. In addition to serving a practical function, a natural stone grants the interior an elegant and unique character. Granite worktops are easy to keep clean, they tolerate heat and moisture, and when sealed, they repel staining, nor do they warp or scratch during use.
Granite, along with quartz, is the most popular solution for kitchen or bathroom stone worktops. With over 600 granite or quartz colour varieties to choose from, our customers are presented with a vast palette of choice. Designs ranging from homogenous pattern-free colours to complex marble-lookalike compositions. This is far more choice that the sellers of laminate or wood worktops could offer.
Our customers can browse almost all of these 500 samples in our Manchester showroom. Browsing a sample in real-life and real-light is an important step during the kitchen worktop selection process, therefore we highly encourage all customers to visit us from Monday to Saturday.
Granite worktops fitting – what the installation process entails:
Our main goal is always to complete the installation of new granite or quartz worktops to the highest standard. We do this not only to satisfy you, the customer, with a quality service, but also to accommodate our perfectionist mindset.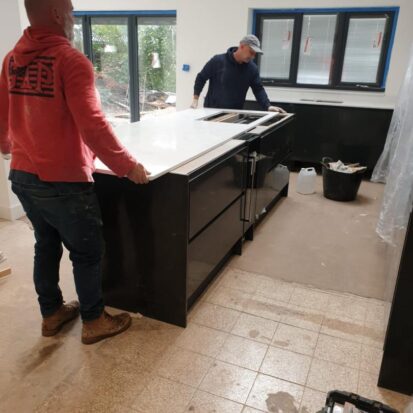 When we arrange an installation, it is usually done to fit with your schedule. Nowadays, we even complete installations during weekends, to ensure our clients always find suitable time to have us over.
The job will usually begin in the morning, and will last anywhere between 1-6hrs, depending on various factors: size of the kitchen, project complexity, location, workload requirement, number of fitters involved.
For example, if you have a small I-Shape kitchen in a home, with easy parking access, and the kitchen downstairs, we'll probably get the job done within 1hr.
However, if your large kitchen contains an L-Shape unit complex + an island, while your flat is located in an apartament on the 5th floor of a building in a busy town centre, you can imagine that such job will take up to 6hrs, or more.
Figuring out the kitchen worktop installation process
We always try to figure out the logistics  prior to attempting the endeavour. Our staff will ask for your address, they will work out whether your kitchen worktops need joins (if so how many), any additions (like side panels, hob cut-outs, undermounted sink or upstands) because each piece of extra work will require more time: gluing, polishing, grinding, cleaning etc.
At the end of the day, it is our goal to provide you the best quality marble or granite worktop possible, so it could last you for years. Therefore executing a kitchen installation correctly is absolutely crucial. After 18 years on the market, our fitters know exactly what it takes to nail a fitting process.
And it's not just experience, passion and determination. It's the knowledge of what comprises a good and safe installation process.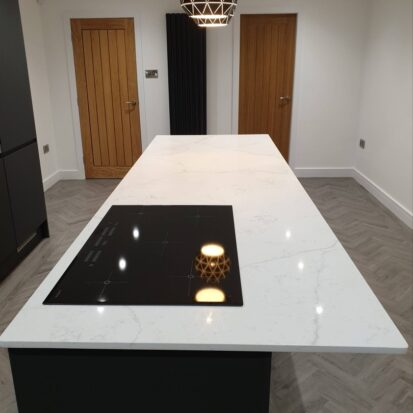 As an example, as we already mentioned, granite worktops or quartz worktops can be very heavy. If the cabinet constriction is not solid or stable, if there isn't enough support or the legs are loose, the whole worktop will droop down.
If a few pieces of granite are glued together, this could even risk in the worktops snapping or the joins breaking. Our lads know the ends and outs of the granite fitting process, and that is why some of our customers have had their worktops for 13+ years, and to this day have no complaints.
Of course our production process is rather long and complicated, but once again that's because we put extra effort and care, to ensure these granite tops last you forever.
Thankfully, while the installation process can be lengthy due to our professionalism and attention to details, the overall waiting period and turnaround is very brief.
It is guaranteed that after you book the installation date with us, and templating is completed, we will have the granite kitchen worktops ready to fit within a few days.
We offer Professionalism & Utmost Care
Please remember that our fitters are specialists at what they do – they are people who you can trust and depend on.
Not only are they reliable, but also willing to help you with anything else beyond the basic kitchen worktop install process.
As long as it isn't much of a hinderance, they will help you spread caulk in necessary places or cut the cabinets to make space for the sink, while in other times they will help you move some furniture around or fix the cabinets, to ensure they are level, stable and with sufficient support for the granite worktop. They are a flexible workforce, not robots, who care for the customer.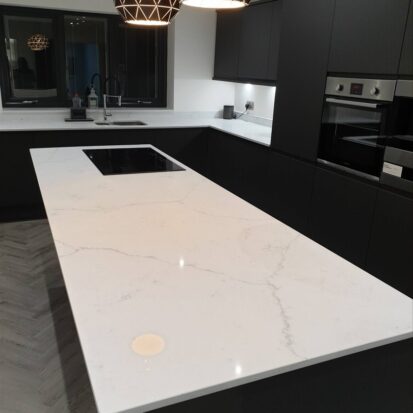 Last but not least, our fitters always leave your premise completely clean. If any glue or pigment falls on the cabinet, they will wipe it up. Any dust particles always get hoovered from the floor, and above all, the stone worktops themselves are cleaned to a pristine level.
Will our fitters connect your hob or pipes to the sink?
Unfortunately not. While our fitters are very flexible, and will help you in any way, they do not possess any qualifications necessary for these tasks. To connect your sink or tap, you will require the help of a professional plumber, while to connect the hob an electrician might be necessary.
We always recommend to speak to your kitchen fitter, as they usually possess these qualifications, and are willing to take on the responsibility.
In the meantime, our role ends on fitting the granite worktops, drilling necessary holes (e.g. for the tap) and gluing the actual sink to the worktop. Any pipes or wiring are left to other specialists with the right paperwork. If you do not have contact with such specialists, we'll gladly provide you some numbers to reliable people.
How are granite worktops attached?
Granite worktops and quartz worktops are usually attached to the cabinets with simple, clear silicone. Even if the worktop is an isolated island, vulnerable to potential movement, silicone will suffice entirely when it comes to securing the worktops. You do, however, need to let it rest and dry – so no leaning or shifting the worktop for a few hours, at least.
All in all, there's no need to worry – your children will be safe to play around the worktops. Meanwhile, you can relax and rest your elbows on the overhang. Our specialist fitters will ensure the worktops do not move an inch by being properly glued to the cabinets.
How do you support granite worktops?
It all depends on where the support is required. If you have hollow space under a worktop for a dishwasher, or washer machine to slot in, then the worktops must always contain support by the walls. While stone worktops are sturdy and durable, if they hover over a space for too long, they will eventually bend – we label that a 'banana effect'.
To prevent a banana effect, we recommend attaching or drilling in little strips of wood to your walls on the level with your cabinets. That way, the granite worktop will always have required support, resting directly on the wooden blocks, instead of hovering in space.
There are also different support systems required for solutions like breakfast bars. A breakfast bar should always be supported. Max overhang (without support) for granite is usually 20cm. For quartz this can stretch to 30cm. Anything beyond that, and we'd highly recommend extra support – a metal leg is a popular solution!
The quantity of metal legs will depend entirely on the length and width of a granite breakfast bar. If you have a slender BB, measuring roughly 40cm wide and 1m long, then a single leg should do. If the BB gets any bigger, then two legs should support the surface. But this is only an estimate – the actual support required will depend on many factors, including the product, overall kitchen context, placement, leg type etc.
If you're struggling with anything, or you require help, feel free to send our team an enquire! They will gladly answer all your questions.