Why should you invest in stone granite cladding for exterior walls?
Granite is a natural rock with plenty of unique qualities. Granite is most often used for creation of granite worktops, although there are many other possible applications for this material. For example, natural stone serves great when used for tiling and cladding of interiors or exteriors. Its use for flooring is also popular. And because granite is so unique and one-of-a-kind, its turns the cladded areas into stylish, shiny, and truly astonishing creations. What's interesting, wall cladding and flooring made of granite are becoming more and more popular – it's like going back to the times of ancient Rome and Greece, whereby natural rock was continually used for monumental decoration! People nowadays have finally started to fully appreciate the inner beauty of granite, coming to a realization that it can be wonderfully displayed upon walls and floors.
Now let's get down to some facts about outside stone panels
Granite cladding is a particularly interesting application. As was mentioned above, wall cladding can be used both outside and inside buildings. It's high in durability and can resist external weather fluctuations, even some of the most extreme factors: harsh winds, freezing temperatures, high temperatures, and constant rain (fit right for the UK!) which makes it a very reliable material. So those who worry about using it for external applications due to plausible damage should sleep restfully with this knowledge in mind. What's more, it is high resistance to moisture, heat, and humidity makes it ideal for internal walls of tiny rooms or even great halls. Thus granite wall cladding is highly recommended for its practicality – but above all, it's also very attractive. Many people walk past buildings encrusted with this material and marvel beyond imagination. Just look at the likes of Trafford Centre in Manchester – it's praised for its beauty and uniqueness: 'it resembles a palace' some may say. So if you're bored with your dull, metallic, or blandly-hued walls, then granite wall cladding can honestly be a superb choice. Granite wall cladding can draw attention, be reliable, applicable virtually everywhere, serve for a lifetime and gain you and your building a lot of respect. So why not make use of it?
Natural stone cladding – more on the practical aspects of granite panels
Granite wall cladding is vastly popular because its practical aspect is widely recognised. It not only offers great protection for a building, it serves great as an insulator. For example, if you layer your internal walls, it will help to keep the temperature inside warm and cosy, because warmth doesn't escape through it as easily as through brick or metal. On the other hand, if you layer your outside walls with the stone, the inside will be sheltered from freezing coldness that would normally pass through metal, glass or brick. Furthermore, granite cladding literally doesn't deteriorate, which means that you can enjoy its beauty for a very, very long time. And this isn't an exaggeration – just think how long the structures of the Romans and Greeks have survived, like the Parthenon! It's convenient that our current technological advancement and constant development of new tools makes it possible for us to create really distinct and unparalleled creations. Burnished stone is now being applied everywhere, and companies like Polish Granite can meet all expectations when it comes to cutting and shaping granite or quartz slabs. We have had plenty experience with this decorative-method already, for example we have cladded the walls and flooring of the entire Polish Embassy in Manchester, which to this day is being praised for its beauty.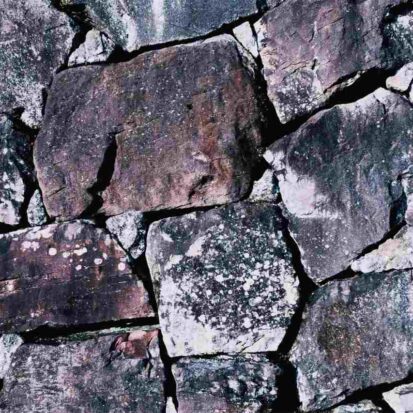 Granite wall cladding can be produced of small tiles which are neatly connected together. These tiles may have various patterns which incorporate into the whole design – for example natural veins and mineral particles are adored by those who request cladding systems. And as we already mentioned, with state-of-the-art tools and a little imagination it's possible to do wonders with granite stone. The only limit could be price or available space. Although many say that an investment into stone cladding has been the best choice, and it really paid off, because people in stone-displayed offices feel more special, and customers who walk into your granite-laid hallway are instantly mesmerised. This is why a host of corporate buildings, or even individual clients (who order it for their living rooms or bathrooms) have been investing in this method of decoration. Feel free to read some of our testimonials, which state true reasons as to why they opted for cladding solutions.
Stone tiles or façade system? Which stone cladding to choose?
The materials for cladding are quite numerous. So are the products that are made from them. In the form of stone cladding can be used:
stone panel
stone tiles
cracks and bricks made of stone
irregular sandstone
Each of these products is characterized by a slightly different appearance and installation method. Some products are cheaper. Others materials are more expensive, but most often, the final effect has similar prices. That is why it is worth search for the product that we like, and not the one that is cheap at first glance.
In the case of irregular sandstone, one meter of such stone we can buy even for £12.00. However, installation of this stone, including all glues, grout, and cleaning will be much more expensive than in the case of granite tiles or stone wall panels. The last two are definitely more expensive than wild boar, but the installation is much cheaper.
Granite cladding suppliers – who will complete your project?
Even though it's relatively easy to find granite worktop suppliers, in the case of cladding the matter can be slightly more tricky. Not all granite/masonry companies specialise in creation, fitting and installation of wall cladding and solutions alike. After all, it is a completely different product and the process is far more complex than with granite worktops. Luckily, there are suppliers out there, like ourselves, who are so experienced with granite and are willing to go for any project given. In our offer you can find not only granite worktops but also granite wall cladding, flooring and many other less common applications. And when it comes to our experience, we have many cladding projects behind us, some that have been grand and truly challenging. But we have executed each project with care, precision, heart and soul – as a result completing incredibly fascinating creations.
Feel free request any samples of our achievements (in form of pictures or testimonials), or to browse our menu or contact us if you have any questions, requests, or demands.