Cleaning granite worktops – how to do it properly? And which products are worth buying?
Stone surfaces look noble, unique and classy. With their flawless beauty they add elegance to any interior.
However, in order for them to remain in an unchanged condition for many years, one needs to take proper care of these stone surfaces.
Regular care and following certain rules of use turns out to be crucial. Do you have such a worktop at home? Find out how to act during every day cleaning procedures, and what to categorically avoid.
Why natural, clean granite countertops should be present in every kitchen:
Stone surfaces, especially those made of granite, have many advantages: they look stylish and elegant, are durable and resistant to numerous factors like scratching, burning or exposure to constant UV light.
After all, granite is a solid rock. And unlike laminate surfaces, is less absorbent when sealed, i.e. it does not absorb water as easily as wood worktops. Granite is also more resistant to low and high temperatures, not to mention it repels all sorts of scratching or denting.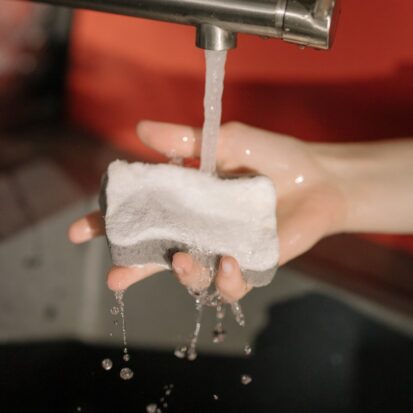 Granite in the kitchen can be appreciated for many attributes that make our lives much easier. For example, the fact that it does not contain any artificial substances in its structure – it adds nobility to any interior, safety and a hygienic quality that the current plastic-saturated market is lacking.
But above all, the maintenance of granite is very simple compared to other worktop varieties. Cleaning granite countertops is virtually a simple, 3 step process that takes less than 5 minutes to complete.
The first step in caring for a granite surface is to wet a sponge with some warm water, apply a little dish soap and scrub the surface. This should not take long, since the polished granite counter does not absorb any grime and stains. Likewise, dirt or food particles do not stick to the kitchen worktops therefore you'll rarely be dealing with tough stains that require a lot of handwork and effort to clean. This "homemade stain remover" method is very reliable, cheap and simple.
The second step is to pat it down dry either with a dry towel or kitchen roll. This step is important, as we don't want to leave behind smudges on the worktop leftover from drying out water.
Once the worktops have been thoroughly cleaned, it's time to give the polished surface a lustrous sheen. To do that, you will reach out for a specific spray bottle products – an agent that we recommend below (see below for list). And remember – never spray such granite cleaner directly on the kitchen worktops. This isn't because it affects the integrity of the worktop, but your own health. You want to bring a damp microfiber cloth as close as possible to the spray nozzle, and spray into the soft cloth or paper towel. Once that is done, feel free to give the installed granite a proper sheen, but don't use too much product. It's wasteful. A granite worktop surface of about 3m will usually only require one or two sprays.
Do granite counters need to be sealed?
Of course. This is a pivotal step to ensure proper granite countertop maintenance. After all – natural granite is still just a piece of rock. At first it is very porous, soaking up the water very easily, as it does in the wild. But that can be prevented with proper impregnation. This isn't a difficult nor time consuming process, and not every granite requires this procedure, but it is worth remembering that it needs to be done at least once in a while.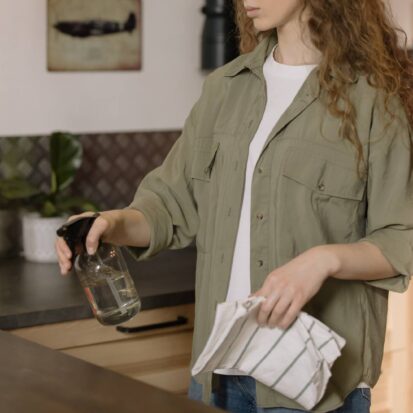 The first impregnation is done by a company which fits the stone. Like Polish Granite. Our procedure is always to ensure that your granite is properly impregnated once it's fitted. We spend around 10 minutes thoroughly soaking the granite with a special agent called hydrex. It imbues the granite with these waxy properties, therefore its much much harder for liquid to penetrate the surface, leaving the sparkling clean granite counters pristine and unaffected by discolouration.
Once the initial impregnation is complete, you can feel safe for another 4-6 months, depending on the chosen stone. Regular impregnation is important as the agent prevents any staining in the future. You can either call us to impregnate the stone for you, or you can do it yourself. We sell lots of hydrex granite sealer bottles – so simply ask us to purchase one bottle, which should last you for 4-5 years.
Such treatment should be done at least once a year, preferably every 4-6 months, as granite has a naturally porous structure which can be compromised if left untreated. The hydrex on the granite sealed wears off – it's not a permanent application.
Of course, after some time the water will evaporate, but in a kitchen environment water isn't always the main enemy. If we use cooking oils, acidic fruits, coffee or red wine – these can be very harmful to an unsealed granite surface. It's worth keeping the granite sealing in check.
It's better not to risk the damage a stone structure, and give the stone worktops a gentle wipe with hydrex once or twice a year. Maybe seal granite more frequently if you own granite floors. Remember, however, that while using hydrex you should wear gloves. Also use as little of the product as possible. If you use too much hydrex, you might actually damage the worktop, and placing hot pans on top might cause granite staining. For any advice on impregnation, you can always call us. Our team will happily provide you free advice, or even teach you if you visit out showroom. You can also read more here.
If you want to test whether your granite worktop needs impregnation, just put a soft microfiber cloth soaked in water on its surface for 5 minutes. If you remove it and a dark discoloration remains, it probably means it's time to think about treating the surface to some hydrex.
So, be mindful! Protect your worktop with a sealant!
What to avoid when caring for granite kitchen surface?
Based on the tips provided above, you should know how granite, quartz or marble surfaces should taken care of to maximise cleanliness.
Now we will briefly explain what to avoid in order to prevent any harm.

As you know, granite is a very study material. Very few things, including harsh impacts, will compromise this product's integrity. However, there are exceptions. Granite worktops can severely deteriorate when exposed to bleach or acids (e.g. formic, citric, acetic, hydrochloric), so beware of these. Do not use granite cleaners that contain these element and do not leave acidic foods on the surface (e.g. over night) which could contain acidic properties (this applies mainly to lemon juice and varieties of citric acid found in fresh fruit or veg).
Try not to let the natural stone come into contact with silicone oils, gasoline, vinegar or baking soda. The instances of something happening to granite during contact with these substances are rare, but the possibility of damage is there, nonetheless. Though in subtle ways, they can permanently and irreversibly damage granite – which isn't what you want.
We would like to stress that if you maintain granite countertops and follow our guidelines, they should last you in a great condition for generations. The way to clean granite is very easy and unproblematic, so it's really worth taking that 5 minutes on daily cleaning to avoid any upsets.
Under no circumstances should you clean the granite worktop with stainless steel scourers / steel wool. While a gentle press won't do anything, and no scratches will occur, using such harsh product for daily cleaning over years, could result in minute wearing on the polished granite surface.
Also, try not to move huge metal object over the surface. Once again, the possibility of scratching is unlikely, but it's still there.
What is the best granite cleaner for stone surfaces?
Natural stone surfaces are a special material in our living spaces that also places special demand on cleaning and care. Yes, using common household cleaners like warm water and just a few drops of mild dish soap on a sponge will clean these work surfaces nicely, but sometimes they should be treated with the correct cleaning agent.
We put extra stress on the word correct cleaning products. Not every agent, even if advertised as a cleaner for granite or marble, will be the most optimal cleaning product. You cannot just use any spray to maintain and clean a granite surface, especially harsh cleaners; you have to be careful about the properties of such agents.
For example, strong acidic or alkaline cleaners can damage granite and should be avoided at all costs. Likewise for any products that use bleach or other harsh chemicals as the main ingredient. Steer clear of those. In addition, cleaners that contain surfactants, are okay, but there is a danger of removing the existing impregnation very quickly, especially during deep cleaning, which in turn can lead to damage or stained granite.
If you wish to ensure that your granite maintenance worktops is faultless, purchase the products we list below. They are well rated commercial cleaners, are reliable, cheap and most of all can be purchased on Amazon, with a next-day delivery option. You may also visit our showroom in Manchester, to purchase some of these products directly from us. See more details here.
All in all, the cleaning products below keep your granite worktops in a fresh state; they disinfect the granite curtesy of hydrogen peroxide or rubbing alcohol, not only maintaining it bacteria-free, but also making the worktops smell amazing!
Granite kitchen countertops cleaners recommended by Polish Granite:
Should you choose granite surfaces or marble worktops for more convenient maintenance?
We would strongly advise against using marble as worktops altogether. This is a soft stone, and unlike granite, it's not as sturdy or scratch resistant.
Instead, we could recommend marble as cladding for bathrooms or a fireplace surrounds, but not as worktops, which are constantly subjected to cutting and slicing and potential wear and tear.
In terms of cleaning, we must say that granite is probably an easier, more convenient clean no matter which cleaning solution is used.
This is probably because marble is often supplied in its matte, original stone texture, while granite is usually glossed, like a plastic wrap, making it harder for stains or grime to stick. Therefore all you need to do to remove stains, spills or washing the counter is give it a gentle wipe, meanwhile with marble it could turn to a scrub and deep clean, which is yet another reason why this isn't the right product for worktops.