How to Clean Ceramic Worktops? The Expert's Advice
Cleaning any stone worktops is an easy and simple task. This is one of the prime benefits of quartz worktops, granite worktops and of course, ceramic worktops, on which we will focus in this article.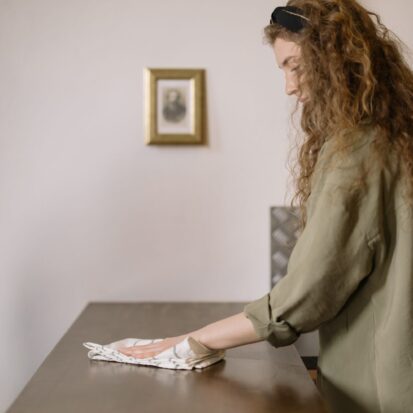 Stone worktops are filled with special qualities that make them extremely durable. Synthetic kitchen worktops, like quartz or ceramic worktops, are designed with increased strength, allowing them to outright repel damage, like scratching or chipping. This makes them essentially impenetrable to liquids, grime, stains or discolouration, as the worktops remain default free. No scratches, warping, gashes, chipping or general wear and tear, means that a 100% of dirt stays on the surface – hovering and sliding off with ease, like water on a duck.
Does a porcelain worktop stain? 
Liquids or food particles have nothing to cling on to when spilled over a stone kitchen worktops surface. The hard-wearing nature of man-made stone derives from the additives (like resin, ground quartz etc.) that make up the worktops. A combination of those, along with the process of slab creation (compression, pressure and high temperatures) helps these products retain a waterproof, non porous structure.
When things are non porous, it usually means they cannot be penetrated by any liquid – and therefore they also cannot stain, a bit like a sheet of metal. This is completely opposite to materials vulnerable to absorption and thus staining – think of laminate worktops or natural oak wood worktops. While wood can be beautiful in a kitchen setting, it's unfortunately more susceptible to damage.
Stubborn stains from curry splashes, an accidental wine spillage or oil spatters from the pan – these are all factors that will endanger wood, but not natural stone or man-made ceramic worktops.
How do you care for stone surfaces and perform correct ceramic worktop maintenance?
Taking care of your ceramic worktop will be a straightforward task, we guarantee. However, to be done properly, there are still a few procedures and precautions that you must follow.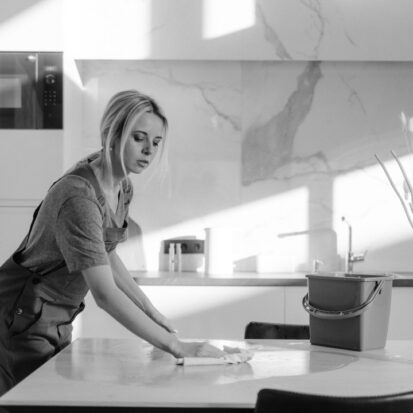 Cleaning ceramic worktops usually ends with adding a dollop of dish soap to your sponge soaked in warm water. Giving your kitchen worktop a quick wipe with this is guaranteed to solve the issue, making your ceramic worktops clean and free of grime or dirt.
That should be the extent of it. But you might be wondering whether you can youse any other household cleaning items during the cleaning process? Well, as our suppliers: Cosentino Dekton, Neolith, Techlam, Lapitec and Marazzi will agree, there are still items and practices you should avoid, when handling a ceramic worktop.
What should owners of stone tops be aware of during ceramic worktops care and maintenance?
Protecting the worktop for future
To ensure your ceramic worktop's longevity is prolonged, we strongly advice to take care of the stains as soon as they come in contact with your worktop. Indeed, absorption isn't an issue, staining does not threat a ceramic worktop – so what's the rush?
It's simply a precaution. Piling up stains that are left to dry won't harm your stone kitchen worktop, but abuse of such luxury might eventually impact the integrity of the worktop; becoming visible in 10 to 15 years time.
While it is rare that your ceramic countertop is harmed by piling-on stains, it can happen – ceramic worktop is a damage resistant kitchen tool – it is certainly not indestructible. If the stone worktop is treated to an un-cleaned acid or oil stains on a daily, it might, in a decade reflect on the stone.
Use of right cleaning tools
A microfibre cloth, a soft cloth, delicate sponge, a non-abrasive squidgy – these should be the main cleaning tools used for dealing with ceramic worktops. While a ceramic worktop does not scratch, things like steel wool or abrasive sponges can leave metallic residue on the stone worktop. This is counter productive, as the aim is to clean the work surface not compound the issue by adding more layers of grime.
Use appropriate cleaning agents
Warm water and ph balanced, neutral detergents or cleaners e.g. Fairy dish soap, multi-purpose cleaning sprays, anti bacterial agents etc. This is all you should rely on, and most of the time, this is the only thing you will need to polish your kitchen surface to a pristine shine.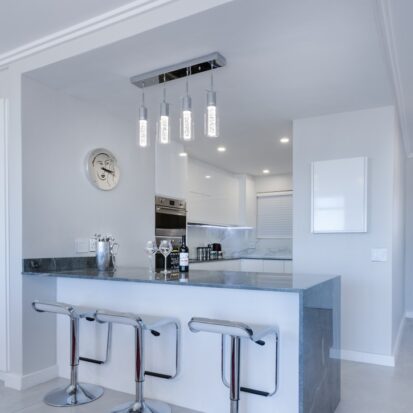 Exercise caution when handling strong acids (hydrofluoric), bleach, chemicals and solvents around your ceramic stone countertop. And above all, do not expose stone kitchen surfaces to these agents. Once again, a kitchen ceramic worktop is a surface resistant to damage, not damage-proof – there are chemicals out there that might severely impact the integrity of your ceramic worktops.
Handling tougher stains in a proper way
If, for some reason, you've left the stains over night: dyes, crayon marks, adhesives, wax, metal marks or dark inks, you are free to use agents which might facilitate the cleaning process: Rubbing alcohol, vinegar, nail polish liquid often known as 'acetone', glass cleaner, or mineral spirits.
If alkaline detergents or acidic detergents do not help right away, the above-mentioned products should suffice at removing deep markings or stains that have dried and embedded to your porcelain worktops.
We know that a lot of our clients use Dekton, Neolith or Marazzi products as ceramic tiles for their bathrooms, or as floor cladding on their patios. Whether the use is internal or external, we would advise the same cleaning procedures as for the worktops. It might be tempting to mop the dried soap off of your bathroom ceramic tiles with bleach, but if you can, please refrain from it. There are much easier, much safer ways to wash and eliminate tough stains on your porcelain cladding or kitchen ceramic worktops.
If you'd like to find out more about different applications for ceramic products (i.e. ceramic worktops and all else), we discuss everything here.
Following the right ceramic worktop cleaning routine will yield good results!
If you use and follow our guide, while adhere to all the provided precautions and warnings, cleaning ceramic worktops will be a breeze. Above all, however, your ceramic kitchen worktops will last you for decades to come, retaining their original, beautiful quality since the day of installation in your home.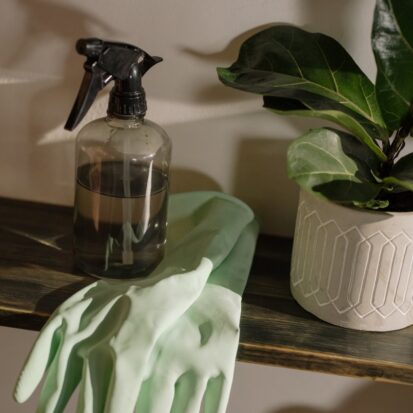 Remember: if you are dealing with tougher blemishes, like residue from grease, make-up or animal fats, or lichen that has coated your patio over wet and damp winter, then feel free to save and come back to this guide.
Contact us, and our team will hel you with all ceramic kitchen worktops questions
If you require direct, urgent advice, then we welcome all to contact our Polish Granite team, presiding in the office and showroom. They will gladly help you out with any questions and suggest the right way to handle your stone.
For example, only a few months back an old client of ours enquired whether he can power wash his doorstep that is cladded with Dekton Grigio product. Our staff let him know that it's absolutely fine to use steam washing and jet cleaners on the ceramic surfaces. This applies to outdoor cladding designs, kitchen ceramic worktops or a bathroom wall tiles situation.
Ceramic worktops care – effortless, time-saving, rewarding
All in all, ceramic worktops are incredibly valued products that make excellent additions to any kitchen design. They're easy to maintain and clean, they don't particularly require special agents or detergents for cleaning, and above all ceramic worktops do not damage, thus maintaining their stunning quality for decades. Regardless, there are certain precautions that we should heed and keep at the back of our minds. These are strong, highly resistant products, but they're not indestructible.
We hope that this blog was a useful and insightful read! And do not forget: if you wish to find out more, browse more webpages across our website or contact our staff via phone or email.