Are you wondering how and where to get granite samples? Contact us!
Our showroom has one of the largest granite, quartz and ceramic sample collections in the North West. But is every one of our samples free to give away? Are there any restrictions to the process? Find out for yourself by browsing our blog:
Are you looking for granite samples, quartz samples or ceramic samples? Look no further, get in touch with Polish Granite, and we will sort you out with the sample of your choice!
Polish Granite's showroom in the heart of Manchester has been praised for its great abundance of granite samples, quartz samples and ceramic samples. Our premise is brimming with small 10cm x 10cm stone samples of various textures, patterns and vibrant colours. We display Dekton, Neolith, Silestone, Compac, Levantina, CRL, Cimstone, Univstone, B-Stone and a range of other less known companies and their materials. Our shelves are filled with over 100 granite samples, 300 quartz samples and 100+ dekton and ceramic samples.
Over 13 years of being on the UK market we have gathered an enormous collection of stone samples. Currently, we are in possession of over 400 normal stone samples, although in store we also have another 400 duplicates for customers who wish to either borrow or keep the samples for future reference. This is an all time record number, not only for us but for Manchester as a whole, because few other granite and quartz worktops companies in this area display this impressive amount of material colours.
Do we give out quartz, ceramic or granite samples to customers?
Normally, when customers arrive in our Manchester granite worktops showroom, we suggest four solutions to ensure they are selecting the perfect colour:
We lend the samples they are interested in (so long as they are not in the rare section)
We can sell the sample (if they are large and of value)
We grant them sample/s to keep for free (so long as we have enough duplicates)
We allow them to take unlimited pictures of the display samples we currently own (i.e. the samples that are rare to obtain and are only used for display. Duplicates are rarely in stock)
It is as sample as that!
Which granite samples and quartz samples are met with the most demand?
Lately, the marble-lookalikes have certainly been very popular. Namely the Calacatta and Cararra ranges offered by Silestone, Fugen and Compac. These materials really bring out that marble effect and one can be easily fooled to think it actually is natural stone. But in effect, these quartzes are only very accurate mimics, which aim to reflect and represent the beauty of marble, seeing as marble itself does is not recommended for use as kitchen worktops (mainly due its proneness to scratching and general wearing).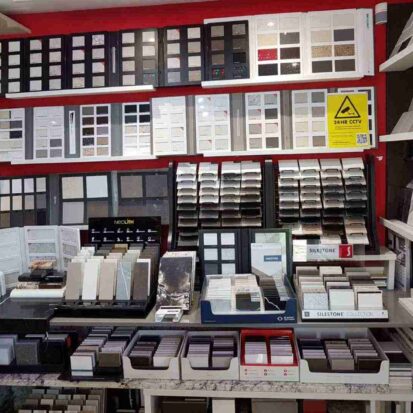 So, without a doubt the marble lookalikes are the current trend setters, topping our present sales. This is why we always ensure we have duplicate granite samples and quartz samples for each material, so that new customers can take them home and compare the material against their floor or cabinets.
Will a granite sample reflect the true nature of a stone slab?
It strongly depends on the material you have elected. If you have chosen granite, then a slab may vary slightly from the sample you'll be observing in our showroom. After all, granite is a naturally formed rock, and even though the composition of a single material may be the same, the blocks/slabs usually vary e.g. the crystals and minerals within may be slightly denser or of a darker/lighter shade. In other words, no single granite slab is the same, even if it is the same material by name. This is why granite worktops are deemed as truly unique and one of a kind.
On the other hand, quartz worktop samples are almost always accurate, and whatever you see on a sample will be exactly the material you'll be receiving upon the day of your kitchen worktop installation. This is because quartz is a man-made product, therefore the manufacturers have a full control over the composition during its formation. As a result, each product they make is predictable, consistent and unvaried. This is especially the case if you have selected a fairly uniform colour e.g. Azabache (black with mirror chips), White Mirror (white with large grains) or Brilliant White (plain white).
When it comes to the more intricately-patterned quartz slabs e.g. the marble-lookalikes that are heavily veined, or the 3D vein-grained materials like Compac's Ice Genesis range, then of course a tiny 20cm x 15cm sample will not give off the reflection of the whole slab, which has veins and patterns scattered all across, and in uneven places. Besides, such materials are also designed in batches, therefore vein patterns on one slab may be in a completely different place on another, and the whole arrangement + composition could differ significantly.
What about the customers who require samples, yet cannot pick them up from our showroom?
Not to worry. If you are unable to visit our showroom, because you either live away from Greater Manchester or perhaps you deem it a struggle to get to our workshop, then we can sort you out with a delivery of the granite samples, ceramic samples or quartz samples to your home. We just wrap them tightly in bubble packaging and sent them via safe priority mail or private delivery service. Simply give us a shout that you are in need of the samples, and we'll prepare everything for you.
Few things to consider:
In circumstances where the granite samples will be sent to an either remote UK place, or a location very far from Manchester (whence they will be sent), the customer may be asked to cover the costs of the delivery.
We don't usually send more samples than 4 or 5. Therefore it is vital that you narrow down your choices down to that number prior to us sending the parcel.
How should you find out if we have a granite sample or quartz sample of your liking in stock?
Simply give us a call or drop us an email. We'll be glad to inform you what samples we have in stock prior to you visiting our showroom. Feel free to call us on: 0161 877 8361 or email us on: [email protected] to make an enquire regarding granite and quartz samples or to reserve them for your viewing.
Alternatively, you may also complete an online form HERE and we will get back to you shortly.