Incorporating quartz worktops in modern kitchen ideas
A stunning, modern kitchen is something most of us desire. It's the one interior in the house, bar the living room, where the family will congregate, cook, chat, eat, drink or laugh as one.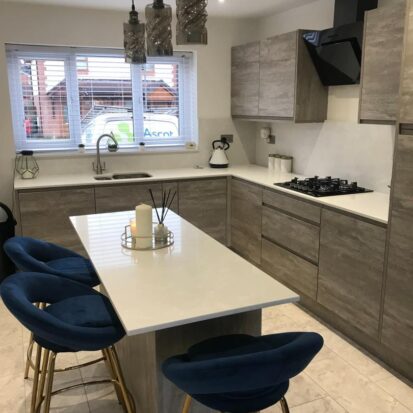 It's not just a functional space, utilised solely as a tool for cooking, it's also a communal interior used to integrate and make progress with the day. A modern kitchen should be minimalistic, cleverly designed, with little to no obstructions or hinderances. But above all, it should look stunning, and be a cosy, attractive place, and one that makes our lives easier.
This is exactly why quartz kitchen worktops will perfectly fit into every modern kitchen space. A focal point within the interior, they're not only an aesthetic improving piece of decoration, but also a hard wearing, durable material that withstands all perils faced during daily cooking.
Should quartz kitchen worktops be used in every modern kitchen space?
First of all, let's define what we mean as a 'modern kitchen' space.
A modern kitchen relies on the latest fashion and trends designs. These change every decade. In 2010 there was a lot of pressure on utilising sleek kitchen cabinets, tiles for flooring, tiles for wall cladding – granite worktops were often incorporated into kitchens. Above all, kitchens back in the day were cluttered. There was very little call for efficiency or eye-pleasing aesthetics. It only mattered that a kitchen = easy maintenance & comfortable space for appliances.
Now the modern kitchen trends have changed. There has been recent stress on including industrial elements into modern kitchen design. Steel trussing, concrete flooring, wooden support beams. It gives off that 'converted old factory attic' vibe and quartz worktops that resemble rough, harsh quartz worktop surfaces like that of slate or concrete are implemented into these spaces very frequently.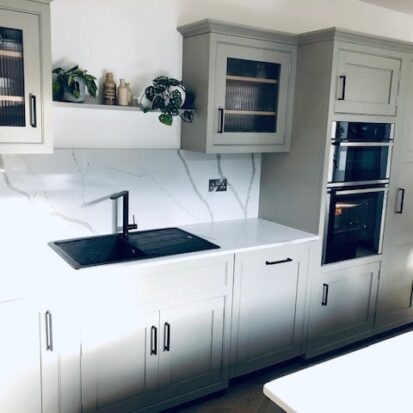 Another theme that has been resurrected recently is that 'cottage', aka 'farmer' atmosphere mostly associated with traditional kitchens. Another name for this design is 'shaker style kitchens' where the painted or coated oak or timber cabinet doors contain patters or depressions. This kitchen style is usually equipped with a belfast sink, stone flooring and natural stone or marble effect quartz kitchen worktops.
It's crystal clear that a quartz worktop will suit a modern interior – why?
Because these quartz surfaces are available in an immense variety of colours, that will suit virtually any kitchen design. Engineered stone is made by companies like Compac, Silestone, Fugen Stone, NQS, Cimstone etc. They produce hundreds of unique slab shades, patterns or hues – we then transform these quartz slabs into Silestone quartz worktops or Caesarstone quartz worktops that ideally fit your interior, from the kitchen to living room or bathroom.
This means that along with other superior qualities of quartz countertops, you can now select the colour of your dreams. This wasn't possible 15 years ago, as most people were restricted to a handful of colours and granite worktops, which are also limited in number.
Now, stone supplier companies can manipulate their fabrication process to create heat resistant, stain resistant, scratch resistant quartz colours and patterns of timeless beauty. Allowing you, the customer, far more freedom and far more choice. Way more than with other counterpart like laminate worktops or wood kitchen worktops.
Styling and decorating your new interior has never been as flexible as it is in 2023.
How to pick the right quartz kitchen worktops UK colours for your new modern kitchen interior?
Our staff will provide you constant help and advice when it comes to selecting the right stone. All you need to do is show them your design, and they will use their experience and skills to pair you with the right product. They assess everything: background colours, textures, the current, contemporary kitchen design trends etc. Most of our staff have at least 5 years of experience in interior design, so please know that you'll be receiving professional kitchen worktop and room décor help at all times.
If you do not have a plan, but a set of ideas, then we'll welcome that too. We can try to arrange a plan simply going from a verbal description. We'll explore a range of different options, compare the work surfaces and help you select that perfect worktop.
Before you order your quartz worktops direct with Polish Granite, what's the one solution would we recommend?
Must have contemporary implementations: a modern kitchen Island
A quartz worktop kitchen island is a dream of many people because it provides space to cook, arrange, cut vegetables, segregate the plates or even stack the meals during dinner.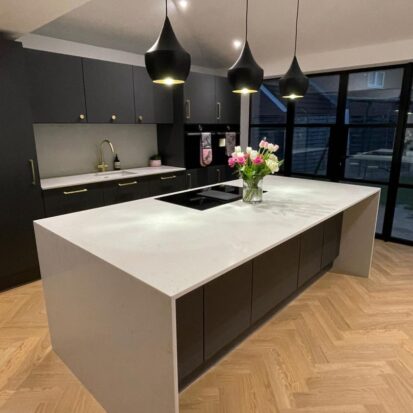 A quartz worktop island is a functional solution that will make every day work in the kitchen easier. Meanwhile the mess created by cooking will be easier to clean up. Many models offer additional drawers and kitchen cabinets will also offer you extra storage space.
Our professional tip: A quartz worktop kitchen island can also be used as a fantastic solution as a buffet! You can spread all sorts of meals during a dinner party across these quartz surfaces. It'll be an easy access for the guests to reach for drinks, nachos or sandwiches. Add matching bar stools and it will be a fantastic addition that will render your hosting experience even better.
Which quartz kitchen worktops and stone worktops are the most universal, for any contemporary kitchen?
There's no doubt about this one: white quartz worktops. These homogenous kitchen worktop surfaces fit virtually any interior, even the more traditional styles. White quartz worktops aren't only made to befit any interior or colour, they are also timeless.
For example, while grey has been in style in the 70s and 80s (associated with brutalism), then gone out of use for the next couple of decades, and remerged as an increasingly popular choice of decorative colour in the last ten years, white has always been popular. Especially now, when we associate an ice white kitchen worktop or pure white walls with cleanliness, simplicity and the trendy minimalism we had mentioned before.
If you're struggling to choose the right colour for your new kitchen design, don't hesitate to give the new quartz worktops a white aesthetic. We can guarantee that it will not only blend beautifully with the surroundings, whatever it may be, but it will also brighten up your kitchen, imbuing it with that welcoming, heart-warming charm.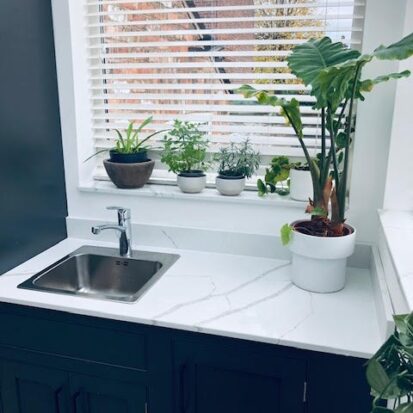 Modern kitchen ideas: combining quartz worktops with good lighting
Why does lighting play such an important role in modern kitchens? We have collected the most important facts for you.
Thanks to the correct lighting you can perfectly expose the shelves, chest of drawers or the cooking quartz worktop island. The under cabinet lighting is perfect for this.
Of course no modern style kitchen can do without LED lighting! It creates a real visual attraction and allows the use of light in many different shades. Polish Granite offers the choice to implement LED grooves into your worktops, which allow for highlighting of these intricate details like your copper handles.
Additional lighting, such as spotlights over the worktop, make the modern style kitchen very functional. They allow you to see even the smallest details on the worktops – minute bits of grime or food particles, allowing for better, more precise low maintenance. This is especially important in quartz countertops from granite or other natural stone, which make it difficult to spot these imperfections due to the dappled, mineral appearance. Unlike granite, quartz tends to be more homogenous in colour and pattern, and therefore the cleaning is made even more simple.
Modern kitchens are characterized by the fact that their lighting is rather minimalistic. We advise you choose kitchen lamps with smooth surfaces and simple designs. Such models are particularly well suited for modern styles of interior design. Preferably, also, lamps that have dimming options and integrated smart systems. Having a full control over your lighting and being able to determine the mood, all from the app console on your phone is a fantastic feature.
A modern kitchen should not only be functional but also cosy. It will quickly gain a homely, warm character if you place the lights in the right places. A bright lamp simulating sunlight above the table, LED lights highlighting the pictures of your loved ones or decorations like the sentimental travel souvenirs. Under cabinet lights that reflect that warm light off of the polished tiling and quartz worktops . . .
Can you get cheap quartz worktops for your modern kitchen?
Absolutely. At Polish Granite we offer new quartz kitchen worktops at very attractive prices. We can organise the slab material, the templating process and delivery + installation service at very little cost.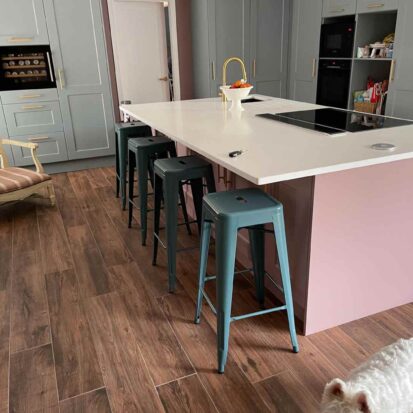 Indeed, the prices will still probably exceed that of laminate or wood counterparts, however, you must consider the parallels. The number of key benefits of stone worktops like quartz worktops e.g their non porous, highly resistant and hard wearing nature that prevents over-time irreversible damage like warping, staining, scratching or discolouration is very important.
This is something that cheap laminate worktops will not grant you. So while you might save a little money now on purchasing a cheaper kitchen worktop, over time you will be expected to frequently replace the product, while granite or our selection of cheap quartz worktops has a life expectancy of 30+ years. A whole generation!
If you still aren't sure whether to spend a bit more on quartz worktops, feel free to either call us or do more research. We can guarantee that 99% of people who had purchased stone worktops never regretted it once.
Is a mix of styles in a modern kitchen popular?
Modern kitchens perfectly combine with different styles of interior design. Since a kitchen in this mixed style does not have a defined, imposing character, you can boldly decorate it with beautiful accessories, a flamboyant glamour, simplistic themes or an industrial style.
A mix style kitchen is still a popular solution. It allows you to depart from the standard and become more unique. A carefully planned mixed style can lead to an excellent finish, provided there is some class and arrangement to it. It needs to be a nice, complementing blend, not w whirlwind of different themes.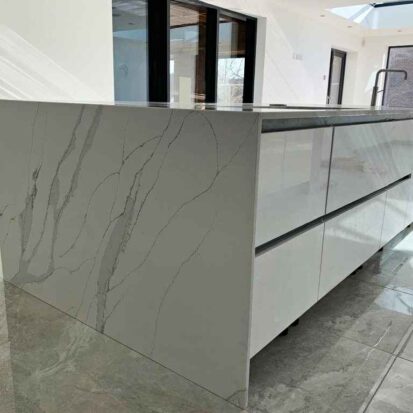 Copper pots and pans will give your modern kitchen a vintage atmosphere. Leather chairs for the wooden oak table will grant it that country style. Metal stools by the breakfast bar can be strictly modern. You can also introduce some fashionable elements and beautiful gadgets. Or some personalised elements – even a painting.
When the quartz worktops are made up of natural elements like marble veins, cracks, fissures or blemishes, it adds that organic motif to the whole composition. If you wish to make your modern kitchen more original, you have many possibilities. However, it all needs to fit like a puzzle. You cannot adopt the 'random' vibe, otherwise you might encroach onto the 'tacky' mishmash that will leave your guests flabbergasted.
Natural granite worktops or quartz kitchen worktops in your modern kitchen?
As with choice between colours, it all depends on your preference. A natural stone surface is composed of an unpredictable compression of various minerals, imperfections, veins or blemishes. Meanwhile quartz is a man made structure. What you see on the samples what we showcase in our showroom, is usually what you'll be expected to get.
The chances of your quartz worktop being slightly varied in hue or range of patterns is low. Because it all comes from the same batch – artificially made conglomerate blocks that are split into individual slabs. Therefore the combination of colour features on a quartz worktop doesn't differ all that much from a quartz worktop someone could have ordered across the other side of the globe. This is even the case for the white quartz worktops from the marble lookalike range.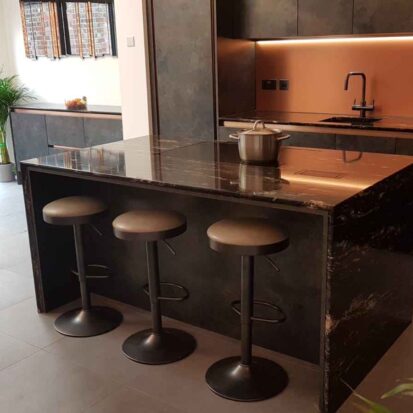 Meanwhile granite kitchen worktops are very individual. Every slab, every slice and section of a granite piece will vary from the other, even when the same granite slab is taken from the identical batch. All in all, with granite worktops you know for a fact you'll be getting a unique, original and one-of-a-kind product full of intricate patterns, depth and more detail than with quartz worktops. The sheer understanding that the granite stone kitchen worktop in your modern kitchen a million years old and completely unique, is enough to persuade some people into selecting this stone worktops product.
What else could impact your choice between granite worktops and quartz worktops?
The functionalities of each material. The way you will use your modern kitchen on a daily basis could have a huge influence on your choice.
If you plan for your new kitchen to be a simple cooking hub, where on a daily basis you are preparing complex dishes like curries, sauces, cocktails or you work with an oily pan, then either all, granite worktops and quartz worktops will be fine choices. After all, both of these materials are easy to clean and maintain, plus they are resistant to oil splashes, wine spills, knives scratches or impacts from your meat hammer. But please bear in mind, that your granite worktop will require sealing with special agents, at least twice a year.
If you are doing a lot of baking, where using your oven is frequent, then you might be better off with granite worktops, as granite is heat proof and resistant to immense temperatures. Therefore you won't need to utilise dozens of cork hot pot stands to limit contact between your kitchen worktops and the baking trays. These can be placed directly on your granite kitchen countertops.
While quartz countertops are less resistant to extreme heat, they have one attribute which granite lacks: resistance to damage and discolouration. Indeed, when granite is sealed it it still very resistant to exposure to liquids or UV light, but once again it's only resistant not completely waterproof.
With quartz worktops there is no need for impregnation. A quartz worktop will withstand even the most harsh spillages like from wine or coffee, or even acidic liquids. These can be left overnight or rubbed into the quartz worktop surface – nothing will be absorbed.