How to buy a stone worktop online at an affordable price?
In many homes it's the kitchen that plays particularly important role. The kitchen serves a gathering place, where all the most important things occur. Therefore, it's particularly important to have a beautiful kitchen, warm and welcoming of prospective visitors and guests. There are many ways to achieve this – yet it's particularly important to remember about the furnishing, especially kitchen worktops. After all, kitchen worktops, along with cabinets, will be the striking feature of that interior.
They serve as working surfaces, places to eat or, if they are extended, as places to perform some additional activities like playing board games or finishing homework. Kitchen worktops matter a lot and as such they need to be made of proper materials, shaped in the most convenient way and located in the most accessible places. But despite being such a prime product, are they affordable? Can an average, working-class man afford these 'luxurious' commodities?
Granite, quartz, or laminate kitchen worktops? Which is cheapest?
Prior to exploring the prices, first let's ask which of the wide range of worktops is best: wood, stone, or laminate worktops in stock?
When decorating a kitchen, even the smallest details matter. It's important that all the elements of the kitchen, when put together, form one cohesive whole. Starting with the colours on the walls, the choice of fronts, ending with the floor – each element should reflect the style and character of our kitchen. The kitchen worktop has a dual function – it is where we prepare meals, but it is also a decorative element of every modern kitchen. But what is the best material for a kitchen worktop?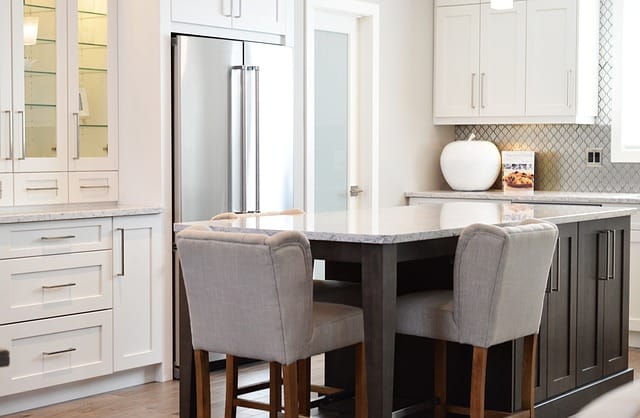 Solid wood worktops as breakfast bars
The first very popular kitchen worktops material is wood. Solid wood surfaces are very popular and compact worktops. They are extremely effective – they emphasize the style and originality of our kitchen, while warming it. The most durable ones are kitchen worktops made of beech and oak – they are characterized by low shrinkage, that is they hardly react to moisture and temperature changes. When deciding on the wooden kitchen worktops we have to remember about its impregnation. You can use oil or acrylic lacquer for this purpose. Wooden kitchen worktops are easy to 'fit' – we can easily cut it ourselves. Wooden kitchen worktops (after impregnation) are durable and can serve for many years, unfortunately, they also have disadvantages. They are quite easy to scratch and hot pots left on them can leave marks. Wood is a natural material and therefore requires impregnation and maintenance – you need to take care of such solid surface regularly.
+ have a natural look                            – they are not resistant to high temperature
+ warm to the touch                             – need for impregnation and proper care
+ easy to renovate and install             – they are not stain resistant
Quality laminate kitchen worktops in the kitchen
It is time for quality laminate kitchen worktops. They perfectly imitate natural materials (wood, stone) and at the same time have an affordable price. They can have a uniform pattern, motifs from photographs or chosen by us patterns. Laminate worktops are very hard but at the same time easy to cut, thanks to which we can adjust these work surfaces by ourselves if 'something sticks out'. It is important to protect the cut places with a strip so that they do not absorb moisture (the core of laminate worktops is chipboard). They are resistant to stains and various chemicals. They do not fade over time and are very easy to install. Laminate kitchen worktops are not also difficult to clean – just a damp cloth and detergent. Unfortunately, under the influence of water vapour such solid laminate work surfaces become dull. They are not resistant to temperatures over 180'C and are easy to scratch. Damaged laminate kitchen worktops can not be repaired, and poorly protected cuts absorb water and 'swell'.
+ cheap                                                         – specified length and width
+ wide range of patterns and colors       – low resistance to mechanical damage
+ waterproof laminate worktops            – low resistant to high temperatures
Stone solid core surface as a good alternative to compact laminate kitchen worktops
Stone kitchen worktops are among the most durable worktops. The most popular are granite and marble breakfast bars. They are extremely effective and enhance the character of any kitchen. We must remember that the more porous the material, the more susceptible it will be to permanent staining and will be more absorbent. When choosing marble, granite or travertine solid surface, remember that they require special impregnation. Stone kitchen worktops compared to laminate worktops are very hard breakfast bars – they can easily serve us as a cutting board. They are very durable – over time they do not change their appearance. They are easy to clean and hot pots left on them do not leave marks. Stone kitchen worktops are very heavy and quite difficult to transport. Cutting such kitchen worktop requires the help of a professional – we are not able to shorten it ourselves. Compared to laminate worktops stone surfaces belong to the cost-effective and solid surface worktops, that is why they are still a natural material of a higher class.
+ very durable                                                             – very expensive
+ easy to keep clean                                                   – very heavy
+ waterproof                                                                – difficult installation
+ wide range of kitchen layers and structures
What kind of worktop to choose for the kitchen – light or dark?
The effect of the arrangement is largely determined by the color scheme. In this regard, very often asked question, which worktop to the kitchen – light or dark – choose? Each of these solutions has its pros and cons, so we have prepared for you a brief summary of the most important benefits and risks of using compact worktops with a strong, saturated color in light or dark tones.
Advantages of light kitchen worktops
If you are wondering what kind of worktop for a kitchen in a modern style is chosen most often, you may be surprised by the popularity of light laminate worktops models – especially those in a white shade. These types of quality worktops are perfectly suited to fashionable arrangements, which include the Scandinavian style. Non-uniform surfaces with marble or wood grain also look great in modern decorations, but light wood worktop is much more versatile – it will also work in a rustic or Provencal kitchen.
The biggest advantage of light-coloured laminate kitchen worktops is that they optically enlarge the room. So if you are wondering what kitchen worktop to choose for an annex or narrow kitchen, bet on a light shade. High gloss finish will be an additional advantage in this regard.
Disadvantages of a light-colored worktops
Among users of light laminate worktops circulate opinions about the problems of maintaining the surface in pristine cleanliness. Indeed – a solid and smooth finish exposes any dirt or damage, so a crumb, a stain or an irremovable scratch can significantly affect the design effect. However, there is a way out – all you have to do is choose a worktop with wood or stone breakfast bars. The pattern will effectively mask any minor imperfections.
Advantages of dark breakfast bars
Wondering which worktop for a wooden kitchen in loft style will look best? Attractive laminate kitchen worktops in dark colors (especially black, grey and navy blue) will bring modern elegance to the room. Unusual shade will contrast in an interesting way with wooden accessories, but equally interesting effect can be obtained in combination with white fronts and tiles. This combination also allows the introduction of strong color accents, such as yellow and red.
Disadvantages of a dark compact worktops
Dark worktops are considered to be elements difficult to arrange. Improperly used can visually overwhelm the decor and make the kitchen seem not only less spacious, but also gloomy. The solution is to combine dark laminate kitchen worktops with light fronts and colorful accessories, which will bring a little more life into the kitchen space.
Still wondering which worktop to choose for your kitchen? If you are unable to assess which of these solutions is better for your apartment, bet on a universal model. Bright laminate worktops with a delicate pattern will easily fit into any arrangement.
Now to the price: Are stone kitchen tops as affordable as wood or laminate?
The quick answer is no. But that doesn't necessarily mean they are a lot more pricey. An average-sized kitchen can be fully furnished in high-quality quartz for less than £2.5k. By comparison, wood or laminate worktops can cost just over £1k to produce and fit.
So essentially, for a £1,500 more, you can have a high quality stone product that is defined by the aforementioned qualities, and in our opinion, they surpass wood and laminate greatly. For that £1.5k more, you're essentially investing in a long-term surface that will not warp, de-colour or scratch – you're paying more for the luxury of not having to replace the worktop every few years due to wear and tear. You're saving yourself money and the constant anxiety over being overly careful with the worktops. Not to mention that aesthetically, quartz worktops are a lot more compelling. Surely that's worth that extra £1.5k?
And even if £2.5k for worktops might seem like a lot, Polish Granite constantly have slabs on Sale, which can sell for as little as few hundred pounds. You can check with us the availability on our SALE page and complete the form below to find out how much a whole slab to installation project would cost. But a lot of our customers who purchase our discounted slabs fit into that £2k budget, provided that the kitchen is small and labour not too intensive.
Find perfect kitchen worktops online – playful design
If you're having difficulties with choosing your perfect kitchen worktop think of possibilities of the Internet. You can easily find plenty of kitchen worktops online. Kitchen worktops online include series of creative worktops designs with a range of kitchen colours, shapes, types of cutting and polishing. Yet, it's not the end – there's plenty of other interesting ideas that you can easily discover online. Kitchen worktops online include also pretty inspiring arrangements of given worktops, which are both traditional (think for example about rustic laminate worktops set in natural surroundings) as well as modern ones (consider smooth and shiny white washed kitchens with sleek cabinets and fixtures). Finally, let's not forget about the possibilities offered by online tools allowing to design your own worktops. Kitchen worktops online visualisers have a lot of features that allow you to among others: see how different decors work together, play with various projects, save and print them.
Finally, you also don't have to worry about the possible costs. Online quotes are also pretty popular tools, some of them have pretty advanced features allowing to design and calculate the final costs of your perfect granite or laminate kitchen worktops.
Remember, after selecting a kitchen worktop online, you can always visit your granite provider to finalise things, view the sample in real life, and above all get to know the team better. We have a granite worktops Manchester showroom, open from Monday to Saturday, where clients can visit, browse, ask us for advice and above all, book their granite or quartz worktops project.