Back
Wigan
Operating areas:
West Yorkshire
Merseyside
Lancashire
Greater London
Dundee City
Wales
Bristol
Greater Manchester
West Midlands
Newcastle City
Cheshire
Nottinghamshire
South East
Cambridgeshire
Staffordshire
Yorkshire
Quartz worktops Wigan Greater Manchester – is Polish Granite the most commonly chosen quartz worktops company in Wigan?
Indeed! Over 12 years on the British market, we have visited Wigan roughly 300 times, to fit quartz, granite and ceramics more recently! The word of mouth spreads quick, it seems, because 1/3 of our customers from that area have admitted they've been recommended by a family member or friend who had their worktops completed by our company. Leigh, Wigan, Abram, Atherton, Tyldesley – we've visited all of these towns & cities, and performed our templating & fitting services briskly but with utmost success, leaving clients impressed, relieved and cheerful.
Thanks to our high work standards, our levels of respect in Wigan and Manchester as a whole have been surging. Now, we visit this borough at least a couple of times a month, and our most ambitious projects lately have been accomplished precisely there.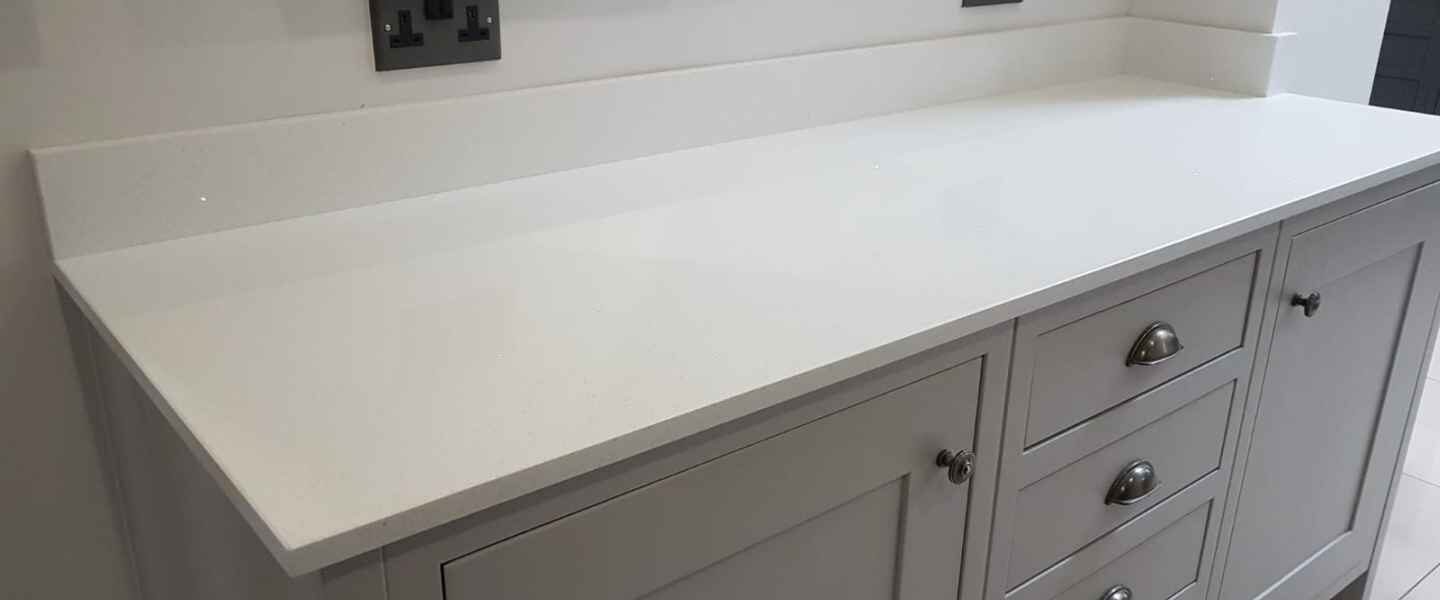 Why is Polish Granite's templating service so swift yet efficient and reliable?
Avoiding over-reliance on electronic measuring programmes
A lot of granite companies rely on the constant use of contemporary laser techniques to measure out the whole surface area of cabinets. And despite this method being quick, there remains a 20% chance that issues will arise along the way. Why is that? Well, primarily because the technique uses computer technology i.e. special laser measuring tools that are prone to computing errors, especially if used improperly by incompetent fitters. A couple of our customers who enquired about quartz worktops Wigan mentioned that they're after a quick but well grounded service, we instantly convinced them that this is exactly what they can expect from us.
The laser tools, in addition, are rarely used to measure out each single side of the wall. Rather, in order to save time, the laser fitters will shoot specific points along the walls, and even fewer along the overhangs, mainly just in the corners. This instantly creates problems, because not every inch of the cabinets is recorded, and the shots taken along the overhangs may not necessarily parallel the shots taken along the walls – thus discrepancies arise. Likewise, the shots on the overhang edges are always taken with approximation i.e. as long at the laser touches the edge, that will suffice. Unfortunately such approximations are often the chief source of errors (such as gaps and irregularities) arising on the installation day.
More precise laser measuring is possible, and will account more shots i.e. more points being recorded. Although, ironically, this is far more time-consuming than traditional templating methods, which are a little more effort demanding, albeit relatively fast. Beyond this, of course, traditional templating does not conjure risks of mechanical errors. More on this below:
Utilising traditional template techniques to fit quartz worktops Wigan – guaranteeing finest accuracy
Speaking of traditional templates – this is exactly what Polish Granite utilises. Yes, we still deal with thin synthetic wooden strips, and manually spread them across the cabinet surface, thereafter gluing them together to resemble true worktop templates. That's because this method is sound and dependable. In contemporary, very technologically advanced times, such techniques may be deemed as old-fashioned. Indeed, they likely are, for more and more firms are reaching out to laser technology. However traditional templating has a gigantic advantage – they offer 99% success rate. That's right, nothing measures out more precisely than templates, which offer a good perspective and understanding of the wall/cabinet nature, guaranteeing a perfect fit upon installation (see picture to the left). They record every single millimetre of the wall, not sporadic points like the lasers. The overhang, the corners, joining of the cabinets and walls, hobs/sink egress details, curvatures and bends of cabinets/walls etc. Everything can be easily documented via the templates – this is something a machine program can do, but with greater chance of error, inadequacy & miscalculation.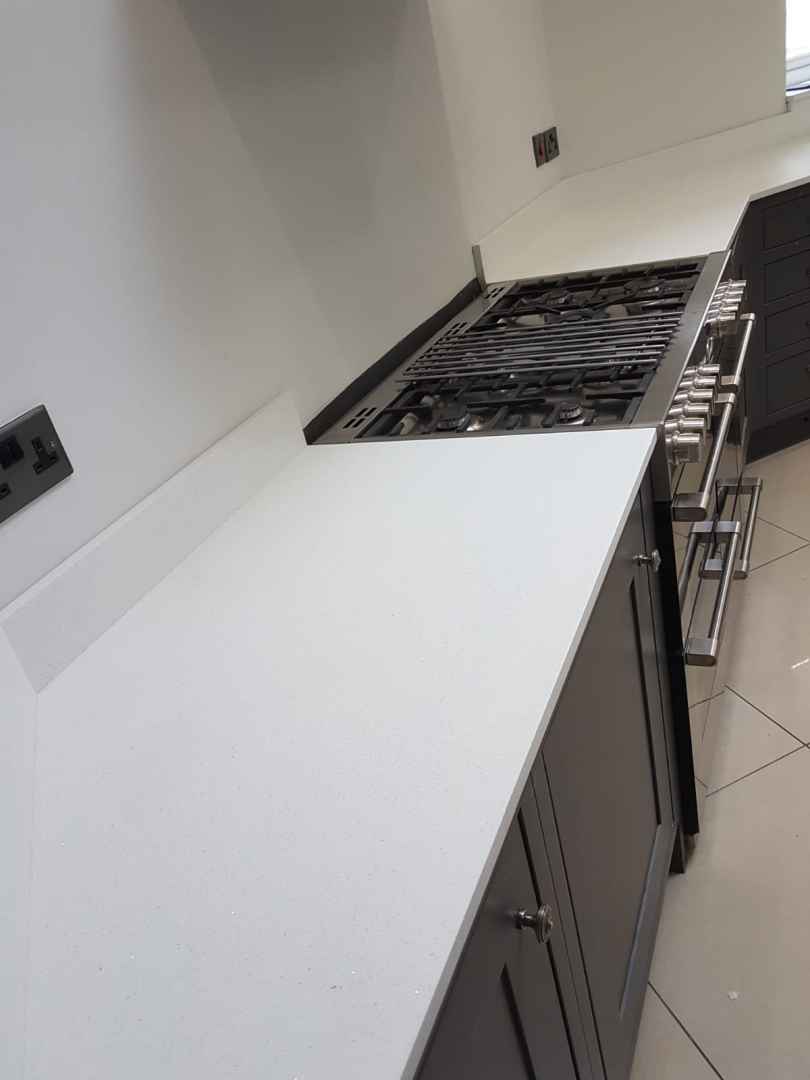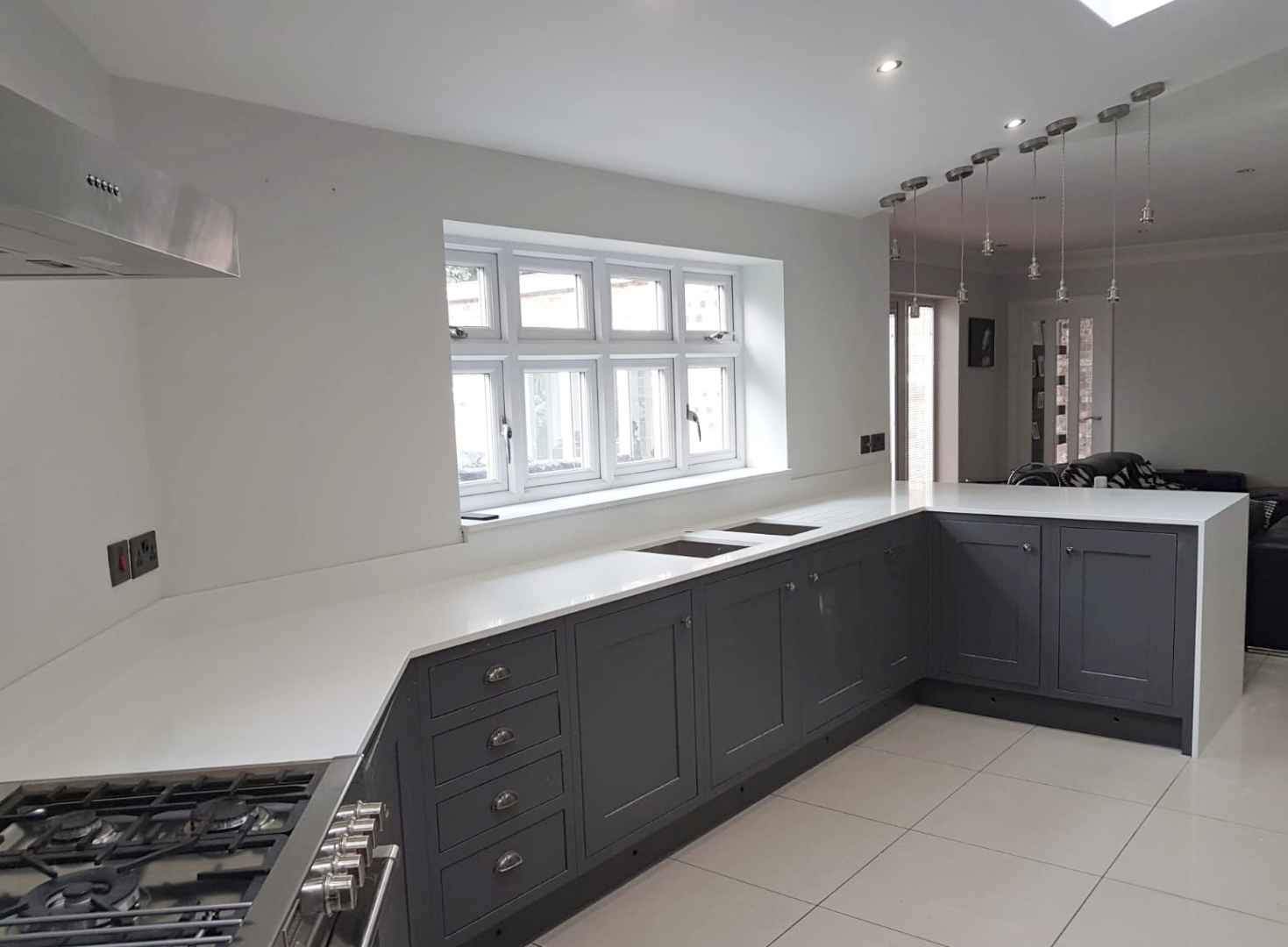 Using traditional (non-technological) methods does not mean slower/lagged service
In the end, it takes us roughly 1-2 hours to complete the whole templating, even if a kitchen turns out to be very big. We once had a customer who wanted quartz worktops Wigan fitted in his very large kitchen (roughly 20×20), with may complexities and variations: kitchen islands, breakfast bar, primary worktops (accounting to about 8 metres), upstands, splashbacks and even side panels for some cabinets. This template service lasted around 2.5 hours but doing anything beyond that is pretty unusual.
The biggest attribute is that the standard 1-2hrs we take to template, is still relatively short time period, almost directly comparable to laser treatments, and yet the measuring is far more accurate. Using standard templates is a little more costly due to constant use of material (i.e. the synthetic wood strips), but we recycle all of the strips, and purchase new ones only when there's urgent need. Besides, the costs are on us, we never burden the customer with the strip costs – the customer always pays solely for the fuel and labour.
In reality, a lot of granite firms have entered the laser technology into their work programme in order to save themselves the effort and time, but all this comfort comes at the cost of higher chance of errors cropping up. We don't mind spending a little more of our own time and effort to complete the templates, so long as it assures that the final product we'll deliver will be unsullied and fault-free. After all, it is you, the customer who pays for the project, so our priority is to complete a prime quality job. Showing off new toys which result in apparent advantages is not the objective.
Eliminating the human & computer error – methods of fitting quartz worktops Wigan with ultimate precision
The laser-technology isn't yet advanced enough to allow the machine an automatic scanning of the whole surface area. Man-power & revision is still required for laser-based methods, which prompts chances of human error too. And indeed, you may think that there is still room for human error when it comes to traditional templating, but that's very unlikely, because the system of templating is very simple, even to novice employees. The only thing an employee is required to do is to place a strip on the overhang (assuring the piece sticks out roughly 3cm from the cabinet-frame), upon which these are hot-glued to the cabinets. Then a piece is added to the back of the cabinet so that it aligns with the wall (if any gaps crop up, the fitter makes a note of it with a marker pen and calculates the gap length + width, then applies it to the template). Such marking is the only element throughout the process which could result in human error – although due to limited complexity of the task, this occurs very infrequently. Templating is usually undergone by two fitters anyway, so in order to minimise or eliminate the human error completely, each recording is checked over by the second fitter. To finish, the strip elements at the front and back are joined by smaller strips (measuring roughly 60cm) and thus the template form is created (see picture above). To finish off, the team makes a recording (via writing on the templates) of where polished edges ought to be done, where upstands go and the height of them, any obstacles (e.g. the sockets), where hobs, sinks, and support panels are located – everything is marked down in an instant.
Quartz worktops Wigan – assuring the manufacturing process is carried out without fail
Finally, these detailed templates are delivered to our workshop where they are placed upon slabs, drawn out and cut to size with accordance to the instructions. We have practiced this error-free method for over 12 years now, and it hasn't once spoiled our granite or quartz worktops. The manufacturing that follows the templating process is always smooth and uncomplicated thanks to this brilliant, unfailing technique. So to sum up, this way of working may be conservative, but it works, and it saved us countless pounds and time, allowing us to deliver your impeccable worktops.
Our manager has always repeated: why try to apply a fix, if it isn't broken? W have proudly followed that notion ever since we first started operating.
Why our installations are always executed with great success and without complications?
Templating serves the job
Thanks to the complex templating process described above, we can rest assured that all the delivered pieces will be cut flawlessly and to size. So when it comes to our fitters stepping though your home-threshold, and then placing the worktops in the right positions upon the cabinets, only a perfect fit will be expected. No unexpected gaps or off-sizes (forcing the fitters to dig your wall or shave/cut the worktops on site), no wasting time and increasing chances of damage. None of that, because the measurements of the product we deliver will reflect that of the template.
So, as long as our masons and manufacturers follow the templates when cutting, grinding or polishing in our workshop, nothing should go wrong. And because all of them have now at least 10 years experience of working with natural and synthetic stone, mistakes are truly very scarce. Besides, their primarily task is to simply follow the templates, so this already narrows down the possibility of arising errors. As such, we can deliver your quartz worktops Wigan in immaculate state.
Elaborate & professional planning
During the templating and manufacturing process, our team works out all the logistics before the saw is set in motion. For example, we work out how big, or small, the pieces need to be, so we are able to carry them through to your kitchen with ease. This means we have to keep in mind the size of your entire kitchen and the room available for us. So, if your kitchen measures 2×2 (i.e. it's a very small and compact interior), we ought to calculate the length and width of each piece so we can actually squeeze it through the door, under and over your cabinets etc. Easy and confident manoeuvring is key, otherwise damage could betide to your cabinets or the material itself. Therefore, if your kitchen is small, your breakfast bar might have to be composed of two joined pieces, rather than a single one. Otherwise issues could emerge during installation or obstacles may be encountered that could hinder the fitting.
The logistic thinking also comprises of determining where the stress on the cabinets lies. So, if, for instance, you have very little panel/leg support under the worktops, we will either ask the customers' fitters to amend the precarious cabinets, so that they are more rigid and sturdy, or re-design your worktops so that the cabinets can withstand the weight of the stone without it breaking. For example, we can support bigger stone pieces with steel rods that are glued underneath the worktops. Alternatively, we can play around with joins – i.e. gluing the pieces in such places so that the stress of the worktops is placed on the well-supported cabinets, and away from the joins, which can break if exposed to immense stress.
There are many more examples we could list here, proving that logistic thinking & pre-planning is a crucial part of our work process. Without it, our fitting service of quartz worktops Wigan would be heavily burdened, and likely result in many failures that could betide either during the installations, or after. Thanks to this we can enter a kitchen with a peace of mind, and confidence that everything will go smoothly, and 9/10 times it does. Over 12 years on the market we haven't been called up for a single service that would involve repair of broken worktops/joins. Precision and long-term planning is key – thanks to such attitude we've saved our customers, and ourselves, a lot of money and stress.
Our team of fitters are a bunch that know precisely how to carry out joining to the highest standards. They have a good facility for colour mixing, and thanks to epoxy, pigments, their expertise and steady hand, they are able to create glue-hues that will be identical representations of the shade of your worktops. As a result, the joins will not only be resilient, durable and seamless, but also well-nigh invisible, providing a sense of unity to the whole worktop composition. The use of clear silicon for quartz worktop binding is an old and ineffective method, barely practiced nowadays, generating more risks than benefits.
Our fitters have undergone hours of training in order to prepare the best glue-combinations possible. They were trained to deal with ceramics, quartzes, granites etc. Since then they've gathered countless hours of experience during installations. We can vouch for them to perform an excellent service.
The skills of our fitters must be versatile. If the fitters of the kitchen aren't present at the time of our granite worktops Wigan installation, the tasks of levelling and carpentry fall into our hands. Unfortunately, there's only as much they can do, so the kitchen needs to be at least 95% ready when they arrive at the property. Things like occasional cutting, shaving wood off or levelling can be carried out by them, so long as it does not take up much of their time.
Nonetheless, when it comes to it, our fitters will prepare your cabinets to an impeccable state, so that when the hefty worktops are put on top, they will be in level at all times. To do this they often manoeuvre the legs in order to achieve the perfect flush. Whether some legs are raised lowe and others higher depends on multiple factors e.g. join locations, wall bends, uneven/unstable flooring etc. They are also prepared to shave off, grind or cut bits of the cabinets out so that your worktops are never laying on the surface unevenly e.g. one end is raised because the firmly set panel sticks out upward, disturbing the level. Leaving an unsteady level with worktop laying on top could be very dangerous for the worktop, increasing the risk of snapping or breaking, especially if the material is made in thinner sizes, e.g. 12mm ceramics. Amending the cabinets is also necessary if some panels interrupt the sink/hob-hole entries – they need to be hollow at all times so that the sinks/hobs can be rightly inserted; if panels obstruct the entries, they must be eliminated. Once again, we usually ask the kitchen fitters to do this, but in some cases this job becomes our domain.
Granite worktops Wigan – Our primary goal
Our team is willing to carry out these services and do anything in order to assure that your worktops remain in a perfect condition for many years to come, and that risk of snapping, breaking or chipping is fully eradicated. If you're paying for a high quality worktop material, which is guaranteed to last you a lifetime, then it would be a shame if faulty units were source of their damage. If we assure that all conditions and circumstances surrounding your worktop are top notch, then we, and you will sleep in tranquillity and harmony for years to come.
The projects we have completed of late and the result of outstanding servicing: Ice Blue Granite – The ideal (imperceptible) joins
This is Ice Blue Granite supplied by Levantina. We fitted the granite worktops Wigan in roughly 2-3 hours, and the gigantic island (showcased at the bottom of the picture) caused us the most hassle. It took roughly 6 grown men to carry it through the doors. After that the fitters worked on cabinet levelling in order for the whole surface area to be evenly spread out. This is so that all of the worktop pieces could be joined in a flush. Any discrepancies, after all, could cause uneven join-gluing and emergence of bumps and notches, which is highly unacceptable. The glued surface must always be done to level so that when a bare finger is ran through the join, a flat, smooth, uniform surface ought to be felt and discerned. Any bumps, sharp edges or sign of unalignment means that the job hasn't been undergone correctly.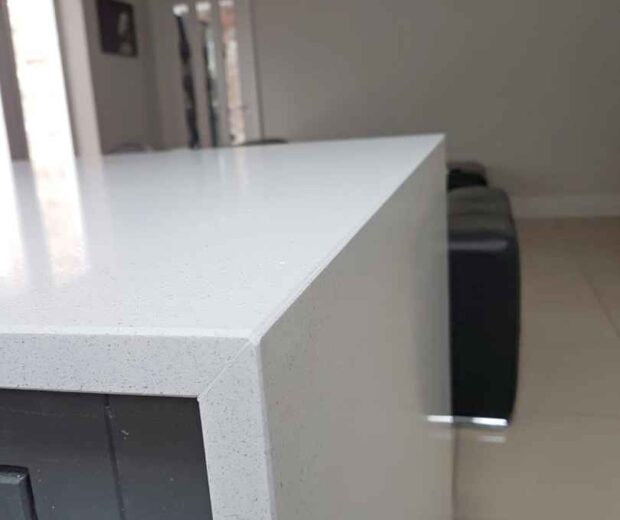 Although the identical level of all worktops is also vital. You don't want one end to be resting on a slight angle, for example, and the other end of the kitchen being a perfect level. In order to assure all worktops are fitted in a perfect flush we utilise a variety of spirit levels – from small 0.5metre even up to those measuring 3metres. Although, for extra precaution we use a very simple trick. A can of fizzy drink. That's right, a can filled with a drink is a very good determined whether a worktop is on level or not. Upon being paced on the surface, it should stay in place, unmoved. However, if any irregularities in levelling are present, the can will gradually roll towards the uneven side.
On the picture above it may appear that the worktops are composed of a single unit, when in fact five different worktop pieces have been used to assemble the whole thing. This should mean that we have completed a satisfying job, right? Of course, the nature of the granite itself also aids in highlighting this effect. Being filled with vast veins, minerals, reflective patterns and grains, the joins simply get lost in all this detail, eventually becoming near invisible. Of course, as we mentioned above, the fantastic concealment of the joins is also attributed to our expert fitters (and their colour-binding knowledge). For the Ice Blue granite worktops Wigan, they used an epoxy glue & hardener, mixed with beigy pigment, then filled the joins. After that they mixed some epoxy with blackish pigments, and inserted this mixture into the gaps, corresponding with the running dark veins.
Once everything was appropriately levelled, joined and cleaned, the fitters were able to place all of the upstands against the wall, creating a wow-effect of the magnificent whole.
Calacatta marble-lookalike – When pre-planning pays off
These worktops were rather tricky to create. Because we only had one slab to utilise for the project, we had to come up with a solution to achieve a seamless whole. The reason why it became challenging is because we tried to get all the veins to run in the same direction (in this case south as you're looking straight at the worktop). However, with one slab only, we only had limited space to cut out all the pieces. As such, we took a picture of the slab, and put it onto a special programme of ours where we can layer on the needed pieces, in their according sizes. The way we could play around with the pieces on the surface area, to assure, the veins ingrained into the worktops and the upstands more or less flow in the same direction. In the end we figured it out, implemented the design into the manufacture, and the project turned out beautifully. The customers was over the moon, especially when she beheld how the dupont edge (the step by the overhang) turned out.
It was our utmost pleasure to create such magnificent worktops as this, and this project highlights the importance of key planning and organisation prior to the cutting. If possible, we will always try our best to layer the templates appropriately upon the slabs so that the final project will create a unified whole. This of course isn't always necessary e.g. if the material has a plain colour, or is uniformly filled with mirror chips, speckles or grains. But when blemishes, large patterns or veins – like the ones showcased on the granite worktops Wigan pictures above – are dispersed throughout, then attention to these details is needed and appropriate arrangement and positioning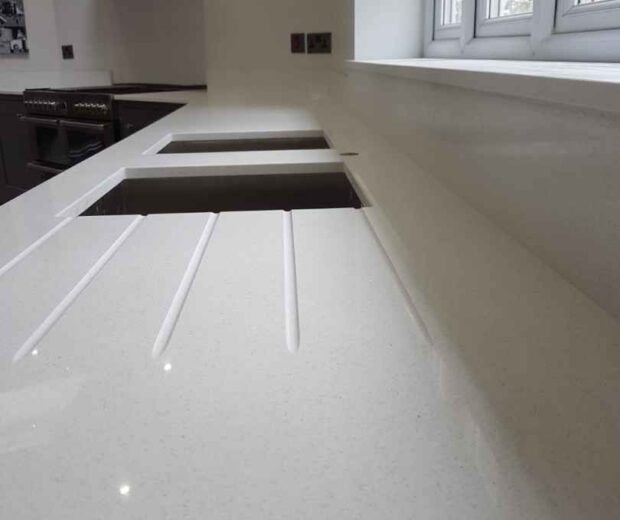 Granite worktops Geater Manchester – proof that we tackle all demands
The worktops showcased to the left have also been fitted in Leigh, Wigan, Greater Manchester. As soon as the kitchen fitters put everything to place we went out to template. Upon initial inspection, and a thorough chat with he customer it turned out that he wished for the Compac Cool Functional worktops (as they are named) to take up as much sight as possible. He desired for the stone to be striking, and stand out above the rest of the kitchen. Therefore he asked for it to be implemented in as many places as possible.
Naturally, after consulting the slab surface area, and checking how many pieces we can harvest, we gave the customer some suggestions. Firstly, we planned to locate a large breakfast bar by the edge, with big overhands around each side, roughly 30cm, so the people sitting upon their stools are capable of sliding their legs underneath the stone. Secondly, we recommended some upstands, which can run along each rear edge of the worktop (in contact with the wall). Also two extended splashbacks were planned to cover the back of the hob & sink-area. The latter splashback is implemented into the windowsill which sits just below the window and seamlessly joins with the splashback, and thus the worktop, itself.
The customer loved this idea, so we templated everything (this took around 2 hours due to the sheer size of all elements), and thereafter proceeded to manufacture everything in our workshop (this lasted 4 days). We were back at the property on the 5th day and successfully installed everything after 3 hours. It turned out superb, and to this day we're very proud of this particular project! With décor being placed all around, the kitchen looked even more pristine
Plain worktops – Putting the O in Wonder
These Absolute Blanc worktops are mesmerising to this day. A charming, elegant white kitchen full of splendour. The effect created has been so potent that the customer stared at the worktops in awe. It was almost as big as the granite worktops Wigan project we mentioned above. Upon it being cleaned, the polished surface reflected so well that it resembled more of a mirror than a worktop, and the joins were almost non-existent, as we mixed the epoxy with a purely white pigment.
Indeed, the kitchen on the picture hasn't been fully finished, but in spite of the extractor not being inserted and the middle column unplastered, the kitchen already looked fabulous. This is yet another example of a project which grants the bewildering appearance of a unified whole, rather than giving off the impression of pieces being joined together. This is why plain-hued quartzes/ceramics and multi-patterned granites are the best materials for joining.
Another cool feature about these worktops was also that the units have been taken off from the back piece, and hollow space was created. This can be seen in the background on the image above. Thus a breakfast bar was formed, supported entirely by a leg from the same Absolute Blanc material, which had been polished from both sides. This gave the whole thing a fantastic effect of unity and continuity, seeing as the floors were white too. Initially, the customer wanted to opt for two metal legs, but we had plenty of material left so we advised against it and recommended the panel made out from the same material. At the end of the project he couldn't be more grateful for suggesting that decision.