Back
Cottam
Granite worktops Cottam
Operating areas:
West Yorkshire
Merseyside
Lancashire
Greater London
Dundee City
Wales
Bristol
Greater Manchester
West Midlands
Newcastle City
Cheshire
Nottinghamshire
South East
Cambridgeshire
Staffordshire
Yorkshire
Polish Granite – Offering one of the best stone worktop installations in Cottam
Worktops are one of the most important elements of a kitchen or bathroom project. They perform a significant role, so they must be made of durable and resistant natural resources. The nature of the work surface significantly affects the esthetics of the room and a nice experience with cooking. Thanks to them, the kitchen can gain expression and originality. If you are wondering what would be best, be sure to read our guide. You will also learn other users' opinions on granite and quartz worktops.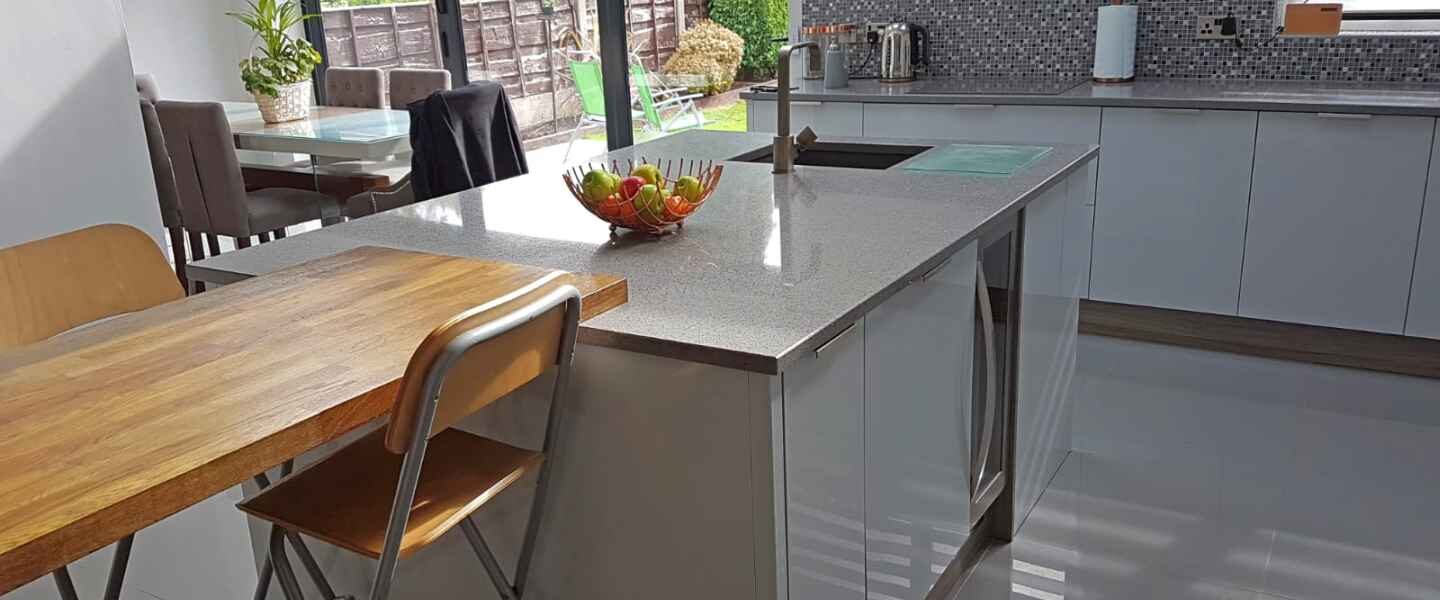 What kind of kitchen worktop can we choose?
When choosing a beautiful bespoke kitchen worktop we take into account not only its appearance but also practical considerations. The ideal worktop should be resistant to high temperatures, abrasion, stains during cooking and cleaning as well as resistant to mechanical damage. The price, in that case, depends mainly on the material of the countertop.
Inexpensive kitchens can be equipped with laminated countertops, but you must remember that they will not be a purchase for years. More expensive, and therefore more durable, are beautiful granite and quartz or marble countertops with a unique design.
The cheapest solution is laminate countertops. In this case, however, you have to remember that they are not the most durable. Among the solutions available on the market, we will find much more resistant and quality materials such as granite, marble, or quartz.
Granite worktops: new design in your bathroom
Quality granite worktops appear more and more often in British kitchen projects, slowly replacing wooden and laminated ones. Natural stone is not only durable but also a beautiful material that fits into any arrangement. Bespoke granite worktops in bathroom are suitable for classic, minimalist, modern, or Scandinavian style. In a word – it is a safe choice for every house. The Stone countertop is characterized by exceptional durability, and it will serve you for many years. In terms of stone countertops, it is worth looking at those produced from granite or marble.
Visit us on our address: 415 New Hall Lane, Preston, PR1 4SY Manchester
Granite worktops for your new bespoke kitchen
Granite is an extremely durable product. The kitchen worktops Preston made of this material are made with the use of two different structures: a lined and a grained one. The structure of beautiful granite worktops in a kitchen is distinguished by unusual motifs and patterns, whereas granite worktops are more uniform, however, they differ in the size of grains used.
The advantages of both types of granite worktops for the home include durability. They are considered almost indestructible. They are not afraid of hot pots, dirt, or mechanical damage. You can also cut fruits and vegetables on them. Then remove possible scratches on quality granite countertops Preston used to polish the surface.
The advantages of this beautiful material include such features as:
they do not change their appearance over time – they will serve you for many years;
such surfaces are easy to clean;
give a unique visual experience –  available in a wide range of colors.
Stones come in different shades. Therefore, you can easily buy a granite countertop in black, white, or any other shade matching the whole arrangement.
Such policies make Polish Granite LTD a truly one-of-a-kind masonry
company – and the feedback we recieve proves this.
Granite worktops – reviews
Granite kitchen worktops have their supporters and opponents. Therefore their reviews are also gaining and negative. The downsides include high prices and heavyweights, which can be difficult during transportation and installation.
In addition, people who decide on granite worktops in white or in another light shade must remember to protect them from staining with strongly colored liquids such as red wine or blackcurrant juice. Such stains are difficult to remove, and sometimes even polishing does not help. Quality granite countertops Preston to the kitchen should also be properly well-cared for all the time.
It is recommended to wipe even the smallest drops of water from them to prevent limescale.
Quartz worktops as a great alternative for granite worktops
An alternative to stone countertops in the kitchen are those made with granite quartz. They are manufactured from natural stone aggregate, especially quartz and other substances that give it the right color, luster, hardness, and esthetic design. With a variety of range of service offerings, you can find quartz countertops with a polished, honed, or brushed surface. Quartz worktops' appearance is similar to granite worktops, but they are less varied. Like marble and granite worktops, quartz surfaces are very durable, resistant, more lightweight, and flexible.
In addition, quartz worktops Preston can be glued seamlessly, shaped, and combined invisibly with sinks made of the same material. Plus, they are easy to clean – we can wash off most stains with a damp sponge and detergents and they are mostly resistant to acids, staining liquids, vinegar, etc.
The quartz like the granite has low absorbency and low abrasion.
We should also remember that similarly to granite worktops they are resistant to high temperatures – they can withstand temperatures up to 200 degrees Celsius and that is why we do not have to worry about possible damages after contact with hot dishes. Unfortunately, unlike stone countertops, quartz surfaces are a bit more prone to scratches and other mechanical damage, which we can correct very quickly by grinding. What is granite quartz is a lighter material than stone, which eliminates the necessity of reinforcing cabinets, on which the countertop is to be placed.
Contact us
We can make worktops from a combination of materials, all you need to do is send your inquiry. Our company, which offers all kinds of stone products and services, will give you free comprehensive information about the design, quote, and installation of your worktop. If you're from the Cottam area, look for our showroom, where we can help you choose the right material for your perfect and completed granite worktop from our range of colors, new finishes, latest prices and performance characteristics.