Back
Darwen
Granite worktops Darwen
Operating areas:
West Yorkshire
Merseyside
Lancashire
Greater London
Dundee City
Wales
Bristol
Greater Manchester
West Midlands
Newcastle City
Cheshire
Nottinghamshire
South East
Cambridgeshire
Staffordshire
Yorkshire
Polish Granite – Offering one of the best stone worktop installations in Darwen
When decorating a home, we look for materials that will look good for many years. We pay even more attention to what we choose for the kitchen, which is the heart of every home. It's right there, we spend most of our time, preparing meals for the family, eating, receiving guests, or just chatting. The kitchen is a room where every detail should be carefully thought out and arranged. Everything should be consistent, functional, and durable as well as blend in with the interior style of the entire house. Even more so if we have a living room combined with a kitchenette.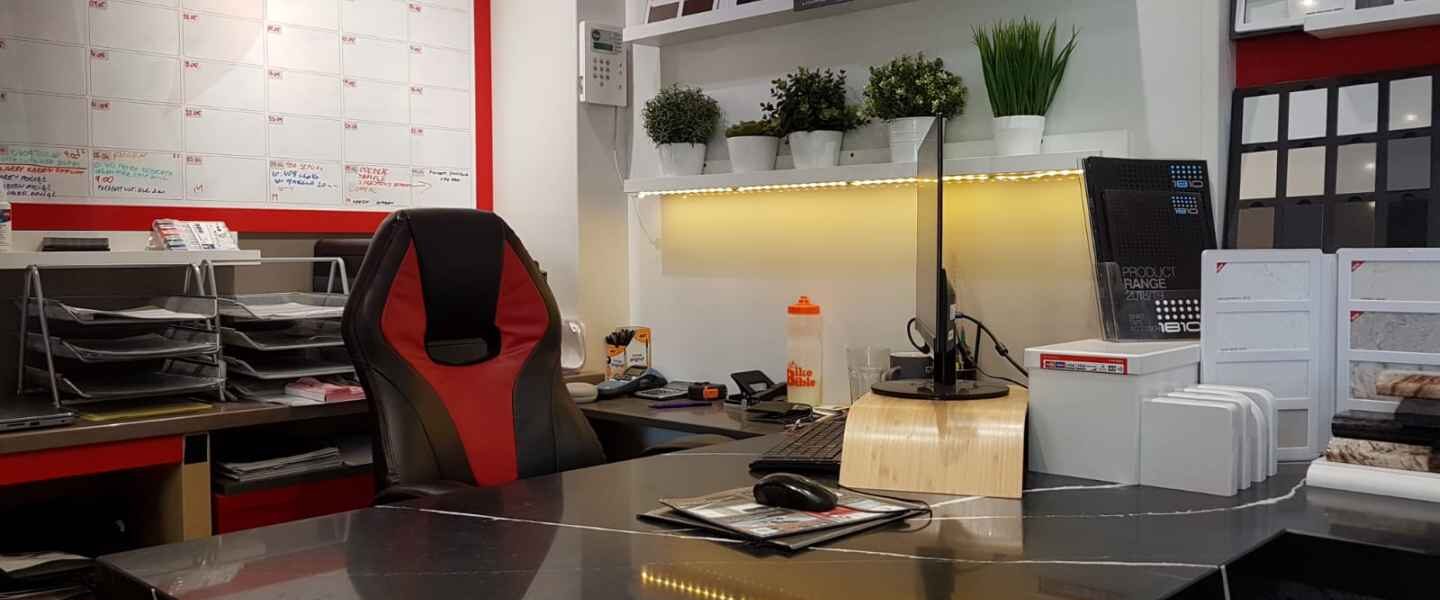 Why are granite kitchen worktops a better choice than laminate worktops?
One of the key products of any home is the kitchen surface, so you should bet in this case on durable and resistant material. It is worth opting for a fantastic stone worktop because such a surface will not only give kitchens a new great look but will also ensure great durability and functionality for many years.
Kitchen worktops made of stone materials have many advantages. First of all, they stand out with incredible durability. This is extremely important when it comes to the kitchen worktop. It is worth paying attention to granite kitchen worktops in Darwen, from which we probably will not find anything more durable. Fantastic granite worktops will be resistant to all kinds of mechanical damage – we can cut freely on stone kitchen worktops without a board. Besides, such solid products are resistant to temperature changes. Granite is a magma rock formed at a temperature of over 1000 degrees Celsius, and therefore we can safely put a hot dish straight from the oven on granite kitchen worktops!
Another advantage of granite worktops is that they are water-resistant. Popular worktops made of particle board products are most often replaced for one reason – swelling from water. Deciding on stone worktops, we will not have to worry about this problem, which in the case of a kitchen or bathroom is a huge advantage. Such a natural and solid surface has very low water absorption, thanks to which we do not have to worry about water spilling on the countertop. Granite worktops Darwen also boast acid resistance, thanks to which citric acid, wine or vinegar are not dangerous substances for granite. Keep in mind that marble will not be the best choice for kitchens due to its lack of acid resistance. However, a solid marble surface is definitely suitable for bathrooms.
Stone worktops like laminate worktops also offer us a wild range of great proposals when it comes to patterns and colors. We can easily match the color of the worktop with the rest of the kitchen so that the whole arrangement creates an esthetic and coherent whole. Granite Darwen is a product that we can find in a wide range of shades – from black to white, through browns, grays, green or yellow. Kitchen work surfaces made of natural granite, like laminate worktops with their great appearance will complete and decorate any kitchen.
Speaking of appearance, it is impossible not to mention the marble, once decorating the palaces. Such a product will look beautiful and natural in our bathroom. Marble materials are chic and elegant in themselves. Apart from this use, the beautiful stone is also suitable as a great finish for walls, floors, window sills, or stairs.
Are quartz worktops better than granite products Darwen?
Quartz worktops are made exclusively of natural minerals, including quartz sand, slate clay, ceramic pigments, as well as granite quartz. Quartz worktops in Darwen are therefore a very strong competitor to granite worktops and are even considered by many designers to be a better solution in terms of esthetics as well as functionality. Quartz worktops are a relatively new option for kitchen interior design but have already gained recognition of many supporters of modern design and above-average high quality.
Large sizes of quartz boards enable the worktops' production without joints (even up to 3 m!), which significantly increases the aesthetic value of the room. Thanks to low water absorption they are not afraid of water, and high durability provides comfortable long-term use. In contrast to worktops made of natural stone Darwen, sintered ones are lighter and resistant to all kinds of stains, such as coffee or strong tea. What is important is that quartz worktops, which have no pores, are ideal products for contact with food. Their solid surface eliminates the penetration of bacteria and microorganisms.
Visit us on our address: 415 New Hall Lane, Preston, PR1 4SY Manchester
Granite kitchen worktops – installation
In the beginning, it should be noted that the implementation of the worktop will be impossible without accurate measures. Only well-made measurements will give us the guarantee of the perfect match to the furniture, and trouble-free assembly of the worktops Darwen. Taking the measurements and checking all elements and kitchen furniture is necessary to make the worktop efficiently assembled.
The place of the installation itself is also an important thing. Kitchen worktops made of stone can weigh a lot, so even such a seemingly insignificant thing should be marked when planning the service. Also, it is worth remembering that the finished granite worktops' width is no greater than 62 cm (the depth of typical kitchen cabinets with doors is 60 cm). So if the worktop is to protrude beyond its outline more than 2 cm, it will have to be made to order. It can be done at a kitchen studio, but you will have to pay more for it than directly from the manufacturer, a stonemason, or a carpenter. However, such studios Darwen offer complete services: measurement, design, advice, and installation (including cutting holes for the sink and cooktop). It saves the time of having to visit the contractor and personally supervise the progress and quality of the work.
What is the best height for granite kitchen worktops?
The kitchen worktops Darwen is not only a decoration of the interior but first of all, a place used to prepare meals. Although it is hard to believe, we perform over 50 activities on it every day. What matters now is mainly comfort, so if we replaced the worktop and kitchen cabinets, it is worth adjusting its height to the user's heights. The most important is also the location of the granite kitchen worktops, which are positioned at a height of 85 cm. However, this optimum height applies to people with a body height of 165 cm; if the users are higher or taller, the worktop can be lowered or raised. There is another way to determine the height of granite kitchen worktops: it should be 10-15 cm below the level of the elbow-bent forearm.
Such policies make Polish Granite LTD a truly one-of-a-kind masonry
company – and the feedback we recieve proves this.
How thick should your granite worktops be?
The thickness of the worktop depends primarily on the material from which the worktop is made. The granite worktops Darwen are normally available in the form of slabs 2 or 3 centimeters thick but we can also order them in non-standard thickness. It should be remembered that in case of granite material each insignificant difference in the thickness of the worktops translates into their weight and thus into the necessity of appropriate reinforcement of the cabinet structure. In practice it turns out that the type of the worktop and its thickness should be determined precisely already at the stage of designing a furniture structure.
What determines the price of granite worktops?
Many factors determine the final price of granite worktops. The biggest influence is the size of the countertop – kitchen worktops will definitely be more expensive than bathroom countertops, as they are usually much larger. Also important is the type, color, and finish of the stone. We have cheaper and more expensive granites available on the market, and each of them features amazing granite properties. Thus, the price range also allows customers with a smaller budget to buy a countertop. Granite kitchen worktops Darwen will also be more expensive with more holes, as there is extra work for the stonemason and a greater risk of cracking the stone when cutting. The place of installation also determines the price – firstly, depending on the size of the kitchen worktop, a different number of installers are needed, and secondly, installation in a detached house will be much easier and faster than on one of the floors of an apartment block, in an extra cramped kitchen. However, it is not worth undertaking the assembly of the countertop on your own because we deprive ourselves of the stonemason's warranty, which makes the responsibility in case of damage fall on us.
An accurate valuation is a process that ultimately not only gives you an idea of the price of the kitchen but allows you to see all the possibilities that the company offers. Most of the functional and technological solutions of the kitchen worktops Darwen can be determined at the very beginning of the free quote. We strongly recommend that you use the forms available on the stone companies' websites, which will help you in your first contact with the experienced staff and facilitate the introduction to your dream kitchen countertop project. Remember that you can always contact the company by phone or e-mail.
How much does a granite worktop cost per meter?
Granite worktops in Darwen vary in quality, dimensions, thickness, and designs. The less attractive granite worktops tend to be cheaper and cost between £40 and £180 per square foot in the UK. The more fancy and patterned ones are often much more expensive. Some of the high-end granite worktops could even cost up to £450 for every square meter.
It is hard to pinpoint a single price for a granite worktop. The final price will depend mainly on the type of worktop, its attractiveness, and the material of construction. However, for sure, marble countertops are among the most expensive ones. So if you do not have enough money for a granite worktop, it will be worth considering buying a conglomerate countertop – it will be a bit cheaper but with equally good properties and performance.
What are cheaper granite or quartz worktops?
The cost of quartz worktops usually oscillates within the range from £50 to £100 per square foot. More expensive will be new granite kitchen worktops, for which we will pay from £270 to even £450 per square meter. While estimating the cost of granite kitchen worktops Darwen, it may turn out that you also have to take into account the cost of specially reinforced kitchen furniture – because of its weight.
Why are kitchen countertops worth ordering online?
Today, ready-made granite kitchen worktops can be purchased in many stores. We do not recommend this solution for several reasons. Firstly, it is difficult to find a countertop of the required dimensions, and the purchase of a larger one is connected with expensive modifications. Secondly, there is the assembly of the purchased countertop Darwen – it should be done by experienced people working every day with stone worktops.
Stone companies are experienced in both designing and making kitchen countertops from various natural and artificial stones. Employing professionals, they can prepare marble and granite kitchen countertops according to the expectations of each customer. Often, their offer is very comprehensive because it also includes the installation of finished worktops, and this means that the company Darwen takes full responsibility for the product sold.
Do you want to make your new kitchen worktop design easier?
A showroom is a place created especially for demanding customers and architects, which can significantly facilitate their work on a given project. This is where you can touch, check, closer look and also ask about the kitchen countertop of your choice. It happens many times that the investor changes his mind about the type of granite Darwen after visiting a showroom. For example, he realizes that the chosen pattern or shade will not match the kitchen arrangement.