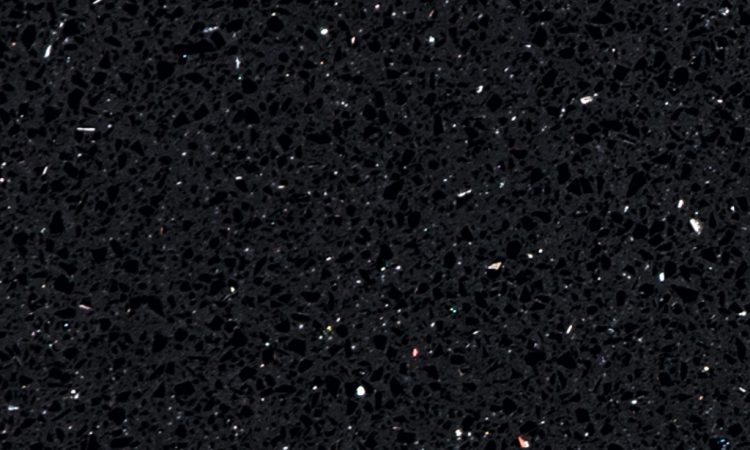 Astral Azabache
Large grained
Mirror chipped
Thickness:
12mm
20mm
30mm
Azabache quartz worktops – the universal material
Azabache quartz is one of our most popular materials, and to no surprise, because this black speckled material suits any interior. In fact, many call this stone (and its granite equivalent Star Galaxy) the 'universal stone' or 'Safe Choice' – after all, no matter where you implement these flawless worktops, whether it be in traditional or modern kitchens, they will fit in perfectly. That means it presents itself great even against varied cabinets (their styles and colours), from chestnut, grained wood to green or red laminates, a bit of black & sparkle will be enough to impeccably complete the kitchen.
In the past month we have completed one of the finest kitchens out there. To put it simply, it was a white laminate kitchen, with white tiles on the floor, purple glass splashbacks hanging up on the wall (between the cabinets and the worktops). Somewhere in the background a modern, purely glass table stood, surrounded by four stylish white chairs. A beautiful orchid rest on the windowsill. The appliances, tap, sockets and other kitchen accessories were made of metal and in the midst of all that we have lain Azabache quartz worktops, so beautifully composed in the white, purple and metallic setting. But that's not all, the customer chose to implement LED lighting wherever he could (like under the top cabinets and under the quartz overhang), thus every detail, every mineral and every sparkle on the worktops was highlighted.
The customer ended up being extremely satisfied with the overall result, and we're proud to say we took part in this truly stunning creation. More than ever we were in awe after our fitters installed the worktops and afterwards showed us some of the pictures. In real life it must have been a true experience, especially in darkness when the LEDs worked their magic. This is precisely the result that you can expect with these worktops.
Azabache kitchen worktops – great result for a decent price
The good thing about Azabache is that it isn't an expensive material. It looks to be, and many claim it is to establish its repute, but in fact it's very affordable. Over the past couple of years we've been getting customers who are on a tight budget and those who are willing to splash out the big bucks on the worktops, and both types of people are always pleasantly amazed when we provide them with the quote for Azabache kitchen worktops. So even if money is an issue for you, don't hesitate to request a price plan for this alluring quartz, because with our services and our Polish Granite price ranges you certainly won't be disappointed.
Azabache quartz worktops – a must if you love the hue of black
As we mentioned above, with Azabache kitchen worktops you will never be disappointed, rather you will gaze upon that stone each day – in day and night – and find that special charm. That is of course, if you like black colours, mirror flecks and a glaze, and know that combination of all these elements sends your eyes into a trance of pleasure.
Nevertheless, if you are still dubious and thinking of going for something else, feel free to visit our showroom so we can present you with a real-life version of the material, in form of a sample or a larger offcut. Then you'll be able to envision how the material will appear in your kitchen. And chances are that even a large slab of the stone will be available to inspect in our workshop, seeing as it's purchased at least four times a month. Once in the showroom we'll be able to advise you more on how to take care of it, what methods of cleaning and maintaining to use etc. So, don't be afraid and pop in if online descriptions and pictures of the quartz aren't enough to persuade you!
How our customers rate this product
Reviews