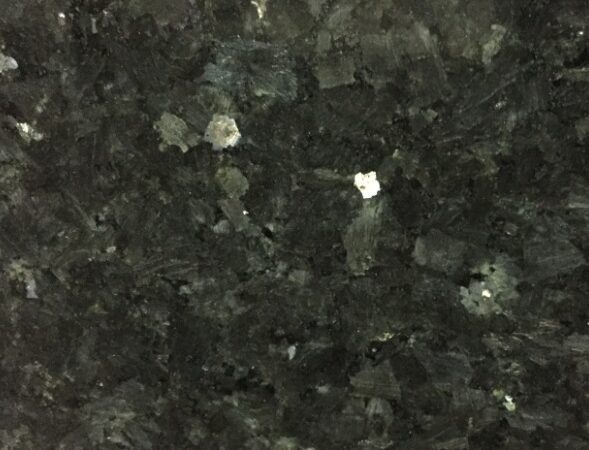 Emerald Pearl
Mineral rich
Mottled
Emerald Pearl granite is an option that is guaranteed to look absolutely stunning in any kitchen, and will certainly infuse an element of class and beauty into the living space. This beautiful granite stands out with deep shades of green and black, interspersed with flashes of peacock blue and even gold. Truly, this is an option of granite that is perfect for creating a kitchen space that is timelessly elegant and effortlessly modern.
The colours you see in Emerald Pearl granite are subject to the refraction of the light. This means you will be able to see an array of beautiful colours ranging from deepest black, rich emerald green and those stunning flecks of vibrant blue and warm gold. One of the most wonderful things about this granite is that it will work wonderfully among any design. But it complements dark woods and light tones such as cream and white especially well.
Choosing granite as the material for your kitchen worktops is one that comes with a number of benefits. Granite is particularly useful in family homes with young children, or for those who do a lot of cooking as this hard natural stone can withstand high temperatures with ease and is also water-resistant. Granite countertops are low-maintenance products and are easy to clean, so the antics of your little ones can be easily managed in the aftermath. Because of granite's durability and hardness, it is not easy to break the solid rock and it's unlikely you'll chip or crack the surface.
While they are, in general, one of the more expensive options out there as opposed to others such as laminates and natural woods, granite worktops such as Emerald Pearl will last decades and really do stand the test of time brilliantly, which means you are getting more for your money. Unlike with other options, you are unlikely to find yourself having to spend extra money on repairs or replacements, as granite is extremely difficult to damage. Granite countertops also have the added benefit of adding value to your property, a factor that is particularly useful if you can see yourself selling your home in the future.
No matter your desired look, Emerald Pearl granite is sure to look utterly amazing in any design you can imagine. This beautiful colour is effortlessly elegant, timeless and still uniquely modern at once, making it suitable for many styles and preferences. Choose it an you'll have a kitchen that will never fail to impress you or your visitors when completed.
How our customers rate this product
Reviews