Rustic kitchen ideas: Recommending the idyllic interior design
Every house has a central place, where all the actions take place, where people gather to talk, celebrate or simply enjoy their time together. In many cases it's the kitchen that serves as such a gathering spot. The kitchen can be the heart of your home – yet it needs to fulfil a few conditions in order to do so. First of all, the heart of your home needs to have proper space. Space arrangement and layout are key factors when it comes to home design. Perfect kitchen needs to have proper amount of space, it can't be crammed or awkward. Still, it can't be overwhelming – too much space can make you feel small and therefore uncomfortable. Secondly, ideal kitchen needs to have an atmosphere. The general feeling of a given room is an outcome of many overlapping factors – colours, type of furniture, details, light etc. In spite of the fact that there are so many things – one thing is always essential – it's the kitchen worktop.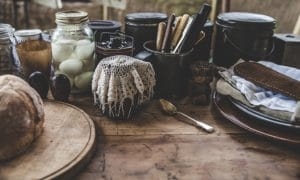 Rustic kitchens: design rooted in nature
Styles and designs constantly change over time. Interestingly, they are always somehow rooted in nature. What's even more, it's quite a fad now to go back to rustic design. Rustic kitchen design is truly gaining popularity now. Basically, a rustic kitchen refers to refined home design that's deeply rooted in nature and natural surroundings. Although, this may seem a little vogue, (after all what's a natural surrounding?) in practice rustic kitchen is pretty easy to identify. First of all, rustic kitchen can be recognized by its palette of colours. Rustic kitchens are usually filled with colours frequently encountered and associated with nature such as earthly browns, beiges or greys. What's more, it's all about natural textures. Think for example about the exquisite texture of wood, natural stone or raw building materials of walls. Yet, let's not forget about the fact that contemporary rustic kitchens don't look like the kitchens from the past – raw and rough furniture and fixtures that are also sturdy and solid, no subtlety at all. Modern rustic kitchens rooted in natural materials and textures are perfectly balanced with sophisticated finishes.
Granite worktop – the perfect completion
Clean lines, smooth surfaces and clear edges are things that definitely distinguish contemporary rustic kitchens. Such modern accents are paired with natural accessories and materials and as a result create stunning kitchens. Granite worktops are perfect examples of modern elements that work perfectly in rustic interiors. After all, they are made of a natural rock. What's more, granite isn't just a rock. It's widely recognized for its stunning beauty – unique colours and underlying veining. Granite worktops fit in perfectly in rustic kitchens where it's particularly important to rely on natural surroundings. What's more, granite worktops with their perfect cutting and polishing create balance and harmony. Natural texture is somehow tamed with smoothness and clean lines. Modern embodiment of nature is therefore perfectly achieved in such granite worktops.
Rustic kitchen ideas – country kitchens' arrangement in several ways
As we have already mentioned, we can give the rustic kitchen a certain character, following our own taste and aesthetic choices. Among the most interesting ways of arrangement, we have selected for you those that are most common.
Rustic kitchen with a predominance of wood
This is the quintessence of farmhouse style. For such kitchen interior choose wooden furniture or at least make sure its fronts are made of wood. Colour – preferably natural, although whitewashed, varnished or dark wood cabinets, e.g. oak, also works well. Wall cabinets should include models with glass doors, behind which you can display stylish crockery or other utensils. Worktops and kitchen island may be of wood or stone. Both materials need to be properly impregnated, which extends their durability.
The arrangement will become more dynamic if you hang a few open shelves on the wall, and on them you can place containers for herbs, old mills, mortars, etc. Your rustic kitchen can't do without a wooden table and chairs, on which you must place soft cushions with flowers or other floral patterns. When it comes to flooring, go for solid planks.
Modern rustic kitchen with black accents
This is a proposal for people who like simple interiors, but avoid the impression of excessive idyllicity and associations with an old country style kitchen. In such a room, bet on furniture in black, wooden or imitation wood. Choose simple cabinets without any decorations. Use crockery and decorations to liven up the look.
Copper pans, bowls and pots look fantastic. You can buy one or two dishes and treat them as a stylish decoration. On the shelves place clay bowls, mugs, wooden containers for spices, brass mortars. In such a kitchen, the floor can be finished with large terracotta tiles, while the walls can be tiled, for example with white tiles laid like bricks, i.e. offset by half a tile's width from the previous row. Don't forget live or dried herbs, which will not only brighten up the styling situation, but also provide you with fresh spices.
White rustic kitchens
The colour white is a symbol of purity, even sterility. It can be freely combined with other colours, especially pastels, which have a hint of white in them. White is very popular in interiors. It will also suit your rustic kitchen, as it goes very well with wood. A white rustic kitchen is a great option for a not-too-large interior, as this colour optically enlarges the rooms.
Of course, it is best to choose white painted wooden kitchen furniture. Fronts may be decoratively grooved or milled, thanks to which single-colour cabinets gain an interesting structural decoration. Other decorations can be e.g. impressive metal handles, often with porcelain elements, as well as any rails, on which you can expose nice dishes in a country style. The tops can be natural wood, as can the flooring. A table with a wooden top and stylised chairs will complete the arrangement.
Rustic provencal and English kitchen
Both belong to rustic kitchens. Both are based on white furniture, although in the French kitchen its shades, écru, delicate grey, beige appear more often. In addition, the furniture is sometimes decorated with a lavender motif, as well as a distressed finish. It is not uncommon for lower cabinets to be covered by a curtain instead of doors, or for their fronts to be openwork. Countertops are often stone, while the floor is made of terracotta imitating stone. The table must be wooden. Kitchen decorations in this style can be recognised by lavender or olive motifs.
A rustic kitchen in English style is based on white furniture, which is usually finished with mouldings and decorative cornices. Walls are sometimes decorated with white panelling. This style likes open shelves for decorative trinkets. What distinguishes English and French kitchens most are the patterns. In the English kitchen, classic roses flourish. They reign on fabrics – tablecloths, napkins, curtains – and on porcelain, especially tea pots and cups.
Rustic kitchen with stone walls
The most common choice for a country kitchen is a brick wall in the classic edition, i.e. in a reddish shade, although there are also supporters of white painted bricks. Such a wall looks stylish and visually warms the interior. This is an arrangement solution used in old houses and tenement houses, where the brick is often an unplastered element of the restored wall.
However, if you live in a block of flats and you love brick on the wall – you don't have to worry. You can use stick-on wall tiles of small thickness, e.g. gypsum, which imitate the effect of old brickwork. To create the atmosphere of a rustic kitchen, in addition to a brick wall, choose furniture made of natural wood. You can also opt for old-style kitchen appliances such as cooktops with decorative knobs, ovens, hoods, sinks and faucets.