Stone decoration ideas – How to correctly use granite rocks and stones in the garden:
The garden is the place where we spend most of our free time in spring and summer. Fresh air, sun and pleasant temperatures are a great alternative to television, computer and the hustle and bustle of the city center. So it is worth to make sure that its arrangement was prepared with due care.
One of the materials matching the style of elegant gardens is granite rocks and stones. Due to many variations allowing to finish it in a specific way, it also has many applications. Check which one will perfectly fit your property.
Nature stone garden ideas – why it's worth it?
As a representative of magmatic rock, granite is a stone formed by the solidification of magmas as the final product of a chain of magmatic processes. It is composed mainly of quartz, potassium feldspar and plagioclase, and biotite. It is a very durable building stone. Due to the availability of large blocks, ease of cutting and polishing, aesthetic qualities as well as strength and acid-resistance it is used in construction as a building and decorative stone. Especially that it comes in various number of stone colors which meet the requirements of really every customer. From gray, light gray, sometimes almost white, to white and pink, green, red, dark gray and other shades of stone. Very often the individual tiles create colorful compositions of color, wonderful mosaics and unusual patterns that a good architect will certainly be able to use, giving the interior a fresh and unique look. Granite rock and stone ideas highlight everything that is beautiful. It perfectly combines with other textures and materials, creating very durable compositions.
The qualities of granite stone are appreciated in modern interiors, where an exclusive form and good quality of finishing materials go hand in hand with the natural uniqueness of granite. Its exceptional resistance to abrasion and absorption of stains allows for its use on kitchen worktops and in spaces of frequent use. This building material is unique in every respect. It will be perfect in the kitchen, bathroom, living room and lobby. Its durability is unquestionable and its beauty will delight any lover of natural interior solutions.
Exceptional resistance makes granite stone also perfect for stone gardens. It ideally decorates balconies, terraces and paths images, thus becoming a part of the picturesque garden architecture. Its frost resistance, functionality and the fact that it is not easily scratched will prove useful in conditions which characterize the climate of green spaces. Outdoors you can admire its exclusive character for years.
Granite stone in the decor garden – the perfect plan is the basis of every garden project
Planning a rock, pebble or stone garden is theoretically not a complicated task. It should take us much less time than painting or decorating the interior of an apartment or house. In practice, however, it turns out that achieving a satisfactory result can be much more complicated than it seems. It is therefore necessary to make a detailed plan, drawing out the individual elements and the entire space in a specific scale. For this purpose, free and widely available mobile applications for smartphones can be useful. These are advanced tools of high accuracy, with the possibility of visualization in 3D.
Stone ideas in every beautiful garden
Wondering how granite can be used in the garden? First of all, it is worth noting that a lot depends on the style of your garden, its purpose, size, what area it is located on, etc. We should also consider how much time we are able to devote to the care of the stone garden and what are our financial possibilities. Below are some inspirations on how you can use granite in your home space!
Easy garden ideas DIY: art driveways and curbs
The front of the house can be considered the representative part. Visitors and tenants see it first when they arrive at the place and address indicated. So it is worth taking care that this space is arranged in an elegant way, with a high level of aesthetics – after all, we can only make a first impression once. Granite paving stones are therefore a great choice found in the most luxurious projects. Today, however, you don't have to be a bank director or an oil tycoon to have your driveway to your house or company paved with granite. Great quality pavers and curbs are available at your fingertips. How, on the other hand, do you apply it to your recreational area?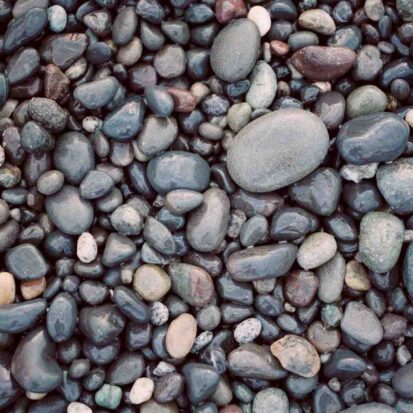 Decorative garden ideas: paths and sidewalks
The planned garden will definitely have several paths. They will lead, among others, to storage rooms, garage or various sculptures, fountains or additions in the form of benches, gazebos, etc. Granite is a material that in a well-planned garden will look almost magical. For classic arrangements it is worth choosing split blocks of irregular shape, while for rough modern arrangements, cut and polished options will work better.
Create beautiful and natural stairs, terraces walls
Polished granite slabs can be used to finish functional elements such as stairs, terraces or walls. In combination with a well-kept garden, granite stone will look impressive. It will add monumental style to the building – regardless of whether the building itself is large, medium or relatively small in size.
Fun garden ideas: hand-painted art made of granite rocks and stones
Granite stone is great for making sculptures or fountains. It is resistant to weather conditions or mechanical damage. Thus, investing in decorative elements for the garden made of granite, you get a guarantee that these will be reliable and durable works of art with an outstanding level of durability.
Decorate outdoors gardens with high-quality rocks and stones
The grade of the rocks and stones, and the attention to detail when processing it is the basis by which you can achieve a fantastic result. The quality of granite also has an impact on its durability. Therefore, it is worth verifying the origin of the material and if it is uncertain, abandon the purchase. However, when you use art granite you can be sure that you will receive high quality aggregate from the best specialists.
Remember also that granite stone is available in many colors and finishes. When arranging the garden and the whole property, it is important to maintain a coherent whole. The property will gain a prestigious design this way.
Stones ideas
We hope that our article has cleared up some of your doubts and you already know how granite ideas can be used thoughtfully in your garden. Follow our ideas and transform your home space using this beautiful magma rock!