Choosing a solid surface countertop: Ceramic worktops pros and cons
Ceramic, or 'sintered-stone', is a product that is widely known to be a superior kitchen worktop surface. In the last decade, ceramic worktops have been shot into prominence, praised for being scratch resistant or heat resistant – generally ideal kitchen worktops that do not sustain damage, and last for years, if not decades. It is a revolutionary kitchen surface product that has altered the UK interior design market.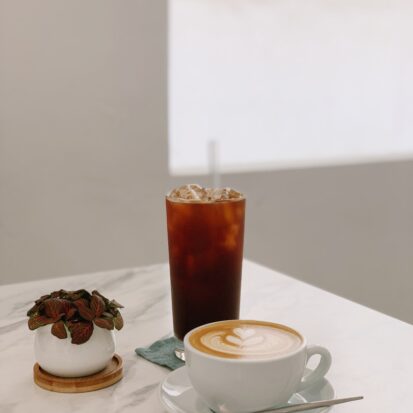 But what are the details and specifics of this superiority? What constitutes this unparalleled damage-resistance? What are the other advantages of ceramic worktops that quartz, granite or laminate worktops do not offer? And above all, are there any cons to this product? We answer it all in this blog.
Ceramic kitchen worktop: how it's made?
Ceramic kitchen worktops are made in a unique way, compared to all other stone worktops. While granite worktops are made from natural stone, quarried across the globe, quartz worktops and ceramic worktops are entirely man-made. These synthetic solid surface materials are created from scratch in colossal factories. However, the production process between quartz and ceramic also differs.
Quartz slabs are made through mixing of ground quartz sand along with resins, epoxy and pigments, that are then pressed together. To create a ceramic slab, on the other hand, the sheets of ground pigments, along with natural minerals and other raw materials are mixed with water – this mix is then subjected to enormous pressures and heat (sinterisation), which dries and compresses these amalgams into near indestructible slabs. Ceramic slab creation is therefore far more ecological, as no glues or artificial elements are utilised in the process.
These effective methods of ultra compact surface fabrication have been developed after years of thorough research. Leading companies like Dekton Cosentino, Marazzi, Neolith or Techlam have invested millions of pounds into testing, which eventually resulted in a fruitful development of sintered stone. Currently, these materials are distributed across the globe, available for architects, designers and general public. When worked into ceramic tiles, modern kitchen worktops or cladding material, these solid surfaces satisfy millions of people in the UK alone.
Sintered Stone worktops pros and cons – Analysing the effectiveness of Ceramics
Because of the cutting-edge technology utilised to design and engineer ceramic slabs, these surfaces can be regarded as infallible. And indeed, the advantages are vast, but there are a few drawbacks to ceramic worktops you should be aware of.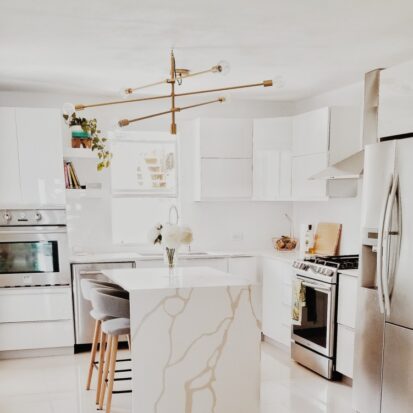 Are Ceramic Worktops any good? Discussing the pros:
VARIED THICKNESSESS – Thanks to the exclusive 3mm, 6mm, 8mm, 12mm, 20mm thickness options available to sintered stone products, you can apply these surfaces to anything: furniture, bathroom walls, cabinets, reception desk cladding etc. The possibilities are endless.
EXTREME DURABILITY – Ceramic worktops are known to be scratch resistant and impact resistant. You can cut your bread directly on these work surfaces, you can shove appliances along the stone countertop and it will never scratch, chip or sustain mechanical damage. These kitchen countertops are also resistant to humidity or moisture, making them great fit for outdoor solutions: patio flooring, terraces or BBQ worktop cladding etc.
STAIN RESISTANCE – a ceramic kitchen worktop will never stain, irrespective of the colour or texture chosen. If you spill an acidic liquid, or a heavy one like coffee or wine, the non porous quality of this stone surface will prevent all liquid absorption. There's no need to impregnate or wipe the surface with detergents – ceramic worktops simply do not stain.
VARIED TEXTURES – Ceramic worktops are available in the traditional finishes like polished or matte, but compared to quartz worktops, for example, they offer vast other textures. Riverwashed, honed, XGloss, leather, you name it. Whether you prefer bumps, coarseness or clean, slick textures, with ceramic kitchen worktops you'll find the right one for your kitchen design.
HEAT RESISTANCE – We've already mentioned resistance to scratches, but another advantage of ceramic countertops is the unparalleled heat proof quality. If you place your boiling, oily pan on a wooden worktop or laminate worktop, you're guaranteed to burn, scorch or stain the surface. This isn't the case with ceramics. These materials have an immaculate resistance to all types of heat, therefore you can treat your kitchen worktop as an extension of your hob, in essence.
LARGE COLOUR SELECTION – The abundance of ceramic tiles and their colours & patterns is immense. Even pedantic people, who are set upon a very specific colour, will find a suitable solution for themselves that will fit their unique kitchen project. Dekton Cosentino, Techlam Levantina, Neolith, Lapitec or Marazzi have a more-or-less combined catalogue of about 300 different colours of ceramic slabs – all ready to be ordered and manufactured by us into stone kitchen worktops. From homogenous plain hues to marble lookalike, veiny patterns – it's all available to purchase.
SIMPLE MAINTENANCE – Cleaning a Ceramic worktop is a breeze. It's virtually a 3-step process, consisting of a dollop of Fairy liquid (or other mild detergent), a damp cloth and a singly, effortless wipe on the ceramic kitchen surface. Because of the advanced textures of ceramic worktops, even the heavy, dry stains like that of curry, grease or general grime do not stick to the surface. You won't need to spend hours scrubbing this modern worktop material with abrasive sponges – all that is a thing of the past.
UV RESISTANCE – Apart from the hard wearing features, ceramic worktops are also incredibly UV resistant, meaning they repel sunlight. A lot of pigments get bleached by harsh light & sunrays, but not so with ceramics. Brands like Dekton, Neolith, Marazzi, Techlam or Lapitec ensure to create ultra resistant, durable materials which never fade in colour. This is why ceramic tops are perfect solutions for indoor and outdoor projects, where exposure to weather elements will not harm them.
Are Ceramic Worktops Practical? Discussing the cons:
THICKNESSES – We specified above that the exclusive, abundant range of thicknesses is an advantage of ceramic worktops. Then again, it's also worth mentioning that those who prefer kitchen worktops with a more traditional thickness e.g. 30mm, will struggle to find anything in that depth among ceramic products. Most of them are available in the thinner varieties, which could cause some hindrance.
PRICE – Ceramic worktops cost is very reasonable. For that quality of stone, with some many perks and incredible longevity, the price of ceramic worktops is 100% worth it. Ceramic worktops are the hardest wearing kitchen worktop surfaces on the market, after all. Nevertheless, many of our clients may find that these products cost a tad more than quartz or granite counterparts. If you're a client on a tight budget, then opting for contemporary quartz worktops or granite worktops is recommended.
LIMITED EDGE PROFILE – While these ultra compact surfaces prove to be one of the best kitchen worktop solutions on the UK market, their limited thickness has yet another flaw. Intricate edge profiles like Shark Nose, Flat Bullnose or Ogee do not fit the thin kitchen worktops. Anything under 12mm is usually restricted to 4-5 more standard, simple edge profiles.
If you require more information on anything ceramic worktop related (properties, uses etc.), visit our webpage dedicated to ceramic worktops.
Scratch & heat resistant ceramic worktops – an interesting alternative to laminate, stone or stainless steel worktops
When installed, ceramic worktops will be a fantastic tool for everyday use in the kitchen. Their flexibility, aesthetic and functional characteristics make them a superb addition to all interiors. And the fact that these kitchen work surfaces can withstand almost any damage further proves their worth, and why it's such a popular material on the UK and European market.
This product is a fantastic alternative to other kitchen worktop varieties. Whether it's stainless steel, laminate worktops or wooden worktops – ceramic worktops are not only beautiful but surpass all other kitchen worktops in quality, stylish beauty and function.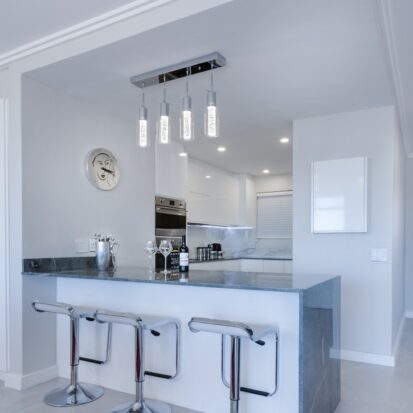 Whether you have a stainless steel sink, Belfast sinks, wooden flooring, black or white cabinets – ceramic worktops are a perfect fit for every kitchen environment.
Best of all, thanks to our expert manufacturers, they can be customised and designed to suit your individual needs.
Where can you buy ceramic worktops at affordable prices?
If you wish to get a decent price of ceramic worktops, we cordially invite you to request a quote from Polish Granite LTD. We have some of the best ceramic worktop prices in the North West of England, if not the whole of UK!
Feel free to get in touch with our team either via phone, email or by visiting our showroom. Upon contact, we will prepare you a ceramic worktops price quotation, outlining the cost for the entire project. We are happy to present budget friendly options, help you pick the right, matching colour and finally book the slab delivery, and set up a templating & installation dates at your property.
Apart from presenting you the ceramic worktops cost, our team will also showcase plenty of images from our past projects. By displaying the vast option, hopefully we'll enrich you with plenty design inspiration.
And remember, you don't always need our help to understand how much ceramic worktops cost. You can also browse our website online quote calculator, which will estimate your ceramic worktops price in under 5 minutes.
Alternatively, you can fill out one of the contact forms scattered across our website.