A kitchen with granite worktops or quartz in 2023? What should you choose?
Home styles, just like clothing fashion change all the time. Year by year we see new solutions for contemporary kitchens. In 2016 we saw a heavy surplus of grey kitchens and grey elements e.g. metallic, industrial themes. Steel grey window frames, burgundy steel support pillars, brickwork and concrete looking kitchen granite worktops.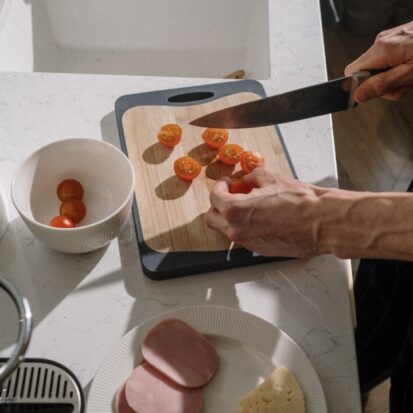 A few years before that, there was a lot of focus on glass elements – everything from stair frames to splashbacks had to be made out of clear or coloured glass.
Every home design style since the 2010s could be classed as 'modern'. And even though rustic industrial designs could be labeled as 'Victorian', the association of steel, factory themes, concrete, brick or rough unpolished edges define the 'contemporary', 'urbanised', 'progressive' motifs.
Since 2019, there has been a certain revival of the traditional. The marble looking kitchen worktops rose to prominence. Not only professional designers or architects, but average consumers wanted to replicate the organic themes and insert these elements into their homes.
The look of natural or painted wood, tiled floors, the belfast sinks, white tiles and of course, granite or marble looking quartz worktops. It's safe to say that this 'cottage' theme is the current trend. Majority of new homes in the North West of England in 2021 & 2022 have had this design implemented. Will this carry through to 2023?
Traditional kitchen & granite worktop – the biggest trend today?
Traditional, cottage-like kitchens have indeed seen a rise of late, but it's important to highlight that this type of kitchen doesn't suit every place.
It's rare to see such design in flats or apartments for example. It's still a fantastic look, but it feels a little off. Apartments and flats, especially those located in new-built blocks suit more of a 'contemporary' design. That industrial look, we mentioned above, handle-less cabinets – a black sparkling quartz and underfloor heating instead of an open fireplace.
In our opinion, a traditional trend for kitchen designs is mostly applicable to homes – spaces with a back garden or a patio. Homes that display some greenery either on the inside or outside. That organic vibe we spoke of earlier.
We are quite confident that this trend will carry through to 2023 and beyond. After all, it's biggest attribute is timelessness. Traditional kitchens have been 'a trend' for centuries. Metro wall or Verini Encaustic style tiles; wooden oak floor panels and granite worktops from natural stones. These features transcend the meanings of 'trend' & 'stle'.
You can drive deep into Yorkshire countryside and find 'traditional' homes that are now admired and considered a building standard. Meanwhile, modern kitchens are everchanging – the perception of 'modern' is a fluid concept.
Granite in traditional and quartz in modern kitchen design?
Not necessarily. While we already established that its the traditional kitchens that mostly reach out for organic themes e.g. natural rock like granite, the imitative products like quartz are also implemented.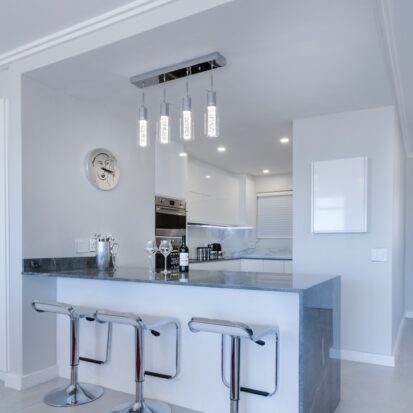 Quartz suppliers today are masters of art. They can truly turn a man-made product and make it seem as though it's pure quarried marble, that's been sitting within a mountain for millions of years.
Their stunning range of exquisite designs isn't a coincidence. Each supplier employs qualified artists and designers who help produce these solid surfaces.
Which quartz worktops or granite worktops colours for your kitchen type?
'At the moment, there is no single rule in the field of kitchen designs,' says Anna Bielik, a kitchen designer from Stockport, UK. 'Granite kitchen worktops are known for their minerals or natural, unpredictable and compositions. Meanwhile quartz worktops are available in a variety of designs: some imitating the natural, others are entirely plain or obviously man-made – for example the mirror-chip products. So the pairing combinations are unlimited.
'All in all, it will all depend on the kitchen layout, project as a whole and the owner of that kitchen. I can only suggest that the colours are done right. I would avoid red, mineral-rich, eye-wondering granite worktops in a humble, plain and grey context. While this might be perceived as a nice contrast, it actually clashes. The variables vary, of course. One plain, humble kitchen, might be a green space, full of plants, wood or other stone. We often see that in luxury hotels. In that case a kitchen design with quality granite worktops might make sense. I do hope you get the gist . . .'
Anna, who we spoke to last week, provided us more interior design context. And she is absolutely right. Sometimes a 'modern' kitchen project by current standards and conventions will beautifully fit a natural stone like Emerald Pearl granite worktop. In other instances, a traditional kitchen will suit a plain grey quartz worktop. In the end, it will all get down to three issues:
The customer personal preference.
The deeper context i.e. décor, appliances, accessories, density of furniture etc.
Colour matching
We did ask Anna what she would suggest to a client that is unsure, a client that is clueless in terms of colour pairings. In other words, if she was to go for some 'stereotypes' of reliable worktop + kitchen pairings that 'go together'. She said the following: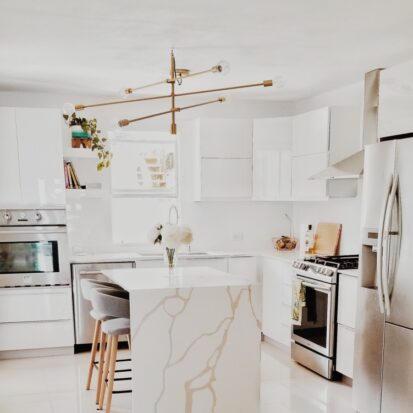 'Different colours in a closed room context is an interesting topic. I could speak for ages on what goes together and what doesn't. I do have some pre-fixed kitchen ideas for customers that seek a "ready-made interior" so to speak. I think the black and white contrast is a timeless solution that always works well. This applies to other dark + white combinations. Absolute Black granite worktops go well with cream cabinets and white or light brown flooring.
In other situations opting for off-white or green kitchen cabinets, and another shade of white, marble-looking worktop is a great idea. Then to switch up the colours, the floor could be a contrasting brown or blue. Or vice versa: A deep Volga Blue granite, white floor tiles and a creamy, neutral cabinet colour with a sky blue splashback.'
This topic is indeed endless, and Anna herself mentioned that she could list these ideas for hours.
The main point is to have a good colour pairing in mind, and creating that balance. If you're struggling or require some affirmations, a quick Google keyword search on 'colour pairings, kitchen colours, room colour matching etc.' should generate tons of articles that provide insightful, dedicated content.
Alternatively, you could email or call us – we'll either try to provide you some advice ourselves, or give you Anna's contact number so she could point you in the right place and direction.
What's cheaper in 2023 – granite or quartz?
It's common knowledge that when it comes to the great attributes, granite and quartz are almost equal in that sense. Quartz is stain resistant, scratch resistant, and impact proof. Meanwhile granite worktops are resistant to scratches, impacts but are also extremely heat resistant.
In terms of cost, it's a bit of a different tale. Granite worktop prices are usually a little cheaper, mainly because these stone varieties aren't commonly elected nowadays. As we mention above – there are far more flats being built than new homes. And even when new estates and homes are created, they reach for that 'modern' design we spoke of.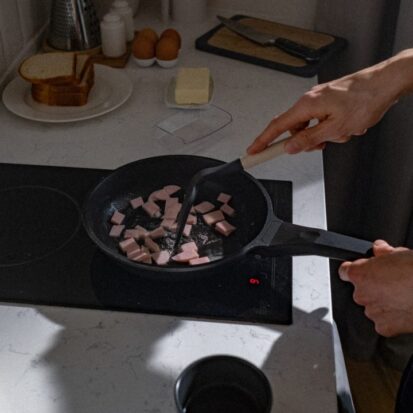 And since these large kitchen designs are driven by stereotypes and little creativity, people tend to select quartz instead, which has a bigger palette of colours, that fit that contemporary, edgy style. Another aspect which makes granite a secondary option is the need for granite worktop impregnation.
After all, granite worktops are made from natural, porous stone, and roughly every 6 months they should be impregnated with a special sealant that enhances stain resistant properties of granite. This is only a quick job – roughly 10 minute – and we warn our customers. But many people are already deterred before even hearing the procedure.
And it's not a surprise – in this day and age we require minimalism, effortless work, less work!
This is the main reason people opt for stone worktops like quartz tops, because their maintenance is minimal and need for replacement due to stains or discolouring very, very rare. These kitchen worktops are nearly indestructible . . . a perfect compliment to any kitchen.
In turn, it's granite worktops that are often discounted by suppliers as the demand for natural stone has shrunk ever so slightly. Of course, the difference between granite and quartz cost isn't massive. Granite won't offer you huge savings, but if you're keen on saving every penny (this is often the case for new home owners), then granite could be a wise choice.
Kitchen Granite worktop prices in 2023 – The cost effective way
If you are really keen to save a little money, granite worktops will be your solution. Vast amount of granite worktops colours are available at discounted prices: Indian Jet Black Granite, Blue Pearl Granite, Baltic Brown are some of the few examples. But that's not to say quartz worktops aren't available for that price. There are many quartzes that are even cheaper than granite nowadays, with manufacturers improving their fabrication process and making it more efficient and therefore affordable.
We highly recommend that you explore our Online Quote webpage. You can filter between the range of quartz or granite colours, then pick a few, run through the fast process and learn + compare the price for yourself.
At the end of the process, you will receive all the details i.e. your quotation selections broken down + price and VAT clearly displayed. Please bear in mind that each quote automatically includes the worktop price for templating and fitting.
Granite worktops, quartz worktops and the matching accessories
Selecting the right kitchen accessories or appliances to match your granite kitchen worktops can be a real chore. Not only do you have to worry about materials for your units, but also the flooring and wall paint colour scheme.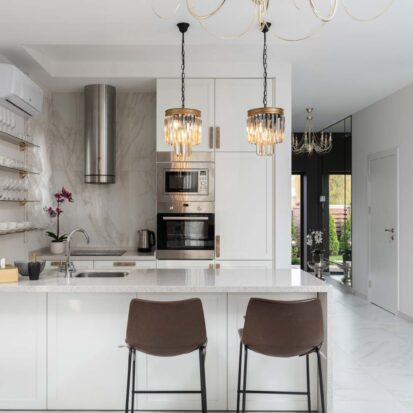 Whether you want to take the minimalistic approach, and completely hide or mask the appliances with similar colours, or use the accessories as a source of contrast, is entirely a preference thing. Many people design a kitchen in such a way that it hides the appliances altogether e.g. the microwave is built into the oven, while the kettle is stored within a bespoke unit module.
If you decide to blend the colours in, ensure you don't make easy mistakes. For example, you have a white kitchen worktop and cream cabinets. You also purchase a white toaster that's constantly out on display. Remember that over time a toaster like that will blacken or develop 'burn marks'.
On the other hand, your white coffee maker might rust over time. If you really wish to conceal these appliances and go for the 'single-colour' look, then ensure you display the items that won't sustain charring or rusting. With the ones that do, you might be better off utilising that cupboard space to hide them away.
Remember one thing: a bit of contrast in your kitchen will always be a decent idea. Of course we don't want to justify charring or rusting marks, we're talking about composition of pre-selected appliances & their colours, not defect, blemishes, discolouring etc. . . .
Many of our customers select their granite kitchen worktops, flooring and units in bright warm colours, but use the 'accessories' as the tool for breaking that colour tension. Therefore selecting the kettle or cabinet handles in black or grey is an ideal solution. While the sleek lamp hanging from the ceiling could be made entirely of made copper and storage doors framed with a black rim.
In other words, subtle yet refined tones that complement the overall colour scheme and form a unifying whole with the granite worktops, cabinets and the floor.
To gain more inspiration for kitchen ideas and kitchen worktop colour matching – visit our gallery & social media pages
On a weekly basis we post new pictures from our past and current projects either to our website Gallery or our social media pages.
Everyone may freely browse through multiple digital images that display varied kitchens, with different granite kitchen worktops, quartz kitchen worktops and ceramic kitchen worktops.
Our gallery in particular makes the browsing process very simple. You can filter between different kitchen worktops by selecting material type (granite, quartz, ceramic) or choose a method of application e.g. bathroom surfaces, utility worktops, bbq worktops etc.
The gallery also permits selection of colours & patterns filters as well as granite worktop 'additions' i.e. range of material modifications like upstands, hob & sink cut outs, splashbacks or rounded kitchen worktop corners.
Therefore if you are seeking inspiration for your kitchen, or you are struggling to find a good, elegant colour matching ideas, then we welcome you to explore our gallery & social media sites. But as always, to learn the best way of choosing the right worktop, don't hesitate to contact us. Our staff will be more than happy to provide you invaluable advice.